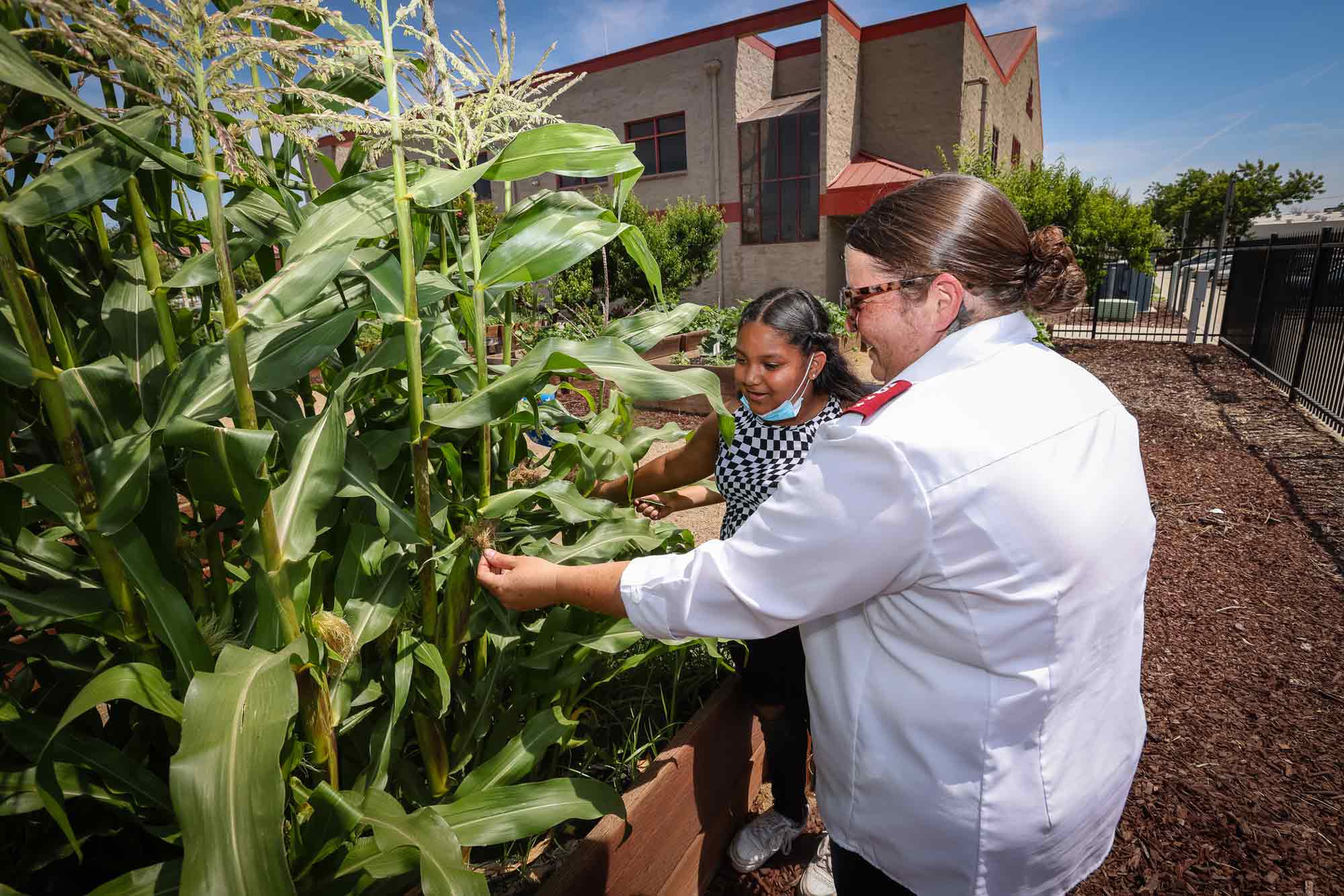 22 good things that happened in 2022
In 2022, like so many years before, The Salvation Army continued to meet the needs of communities around the world without discrimination. From providing resources for people facing pandemic inflation in the U.S. to offering humanitarian aid in response to war in Ukraine, The Salvation Army was there with one mission: To love others beyond all else.
And while the last year was full of hardships, so many good things continued to happen alongside them. Join the Caring team as we remember 22 of our favorite things that happened in 2022.
1. A theater program in Coeur d'Alene, Idaho, celebrated people with disabilities.
The Salvation Army partnered with local nonprofit Celebrating Different Abilities through Art and Community Theater (CDA ACT) to put on a production of "Frozen Jr." The cast included 35 actors of all abilities, plus 19 shadows who helped actors with anything from cueing lines to providing mobility support.
2. In Modesto, California, boxing coach Juan Barrera built a better community one boxer at a time.
Boxing coach Juan Barrera grew up attending the Red Shield Center in Modesto, California—a safe haven for him. Now, he gives back to his community through a boxing program where he instructs boxers young and old in the basics, in addition to offering mentorship to youth boxers.
3. People took the #BettyWhiteChallenge and raised millions for animal shelters and rescues.
In honor of what would have been Betty White's 100th birthday, the internet movement called for individuals to make donations to animal shelters and rescues as a celebration of the actress's great love of animals. More than $12 million was raised on Facebook alone to support the campaign.
4. UNLV medical students partnered with The Salvation Army to learn about the needs of their community.
A long-standing collaboration between the University of Nevada, Las Vegas and The Salvation Army allowed medical students the opportunity to volunteer with the organization in order to better understand their community. In the end, student Oscar Toro opted to continue his volunteer work, joining Echelon, The Salvation Army's emerging professionals arm.
5. The Salvation Army in Anchorage, Alaska helped kids retain what they learned over the summer.
In order to keep kids from backsliding academically over the summer, The Salvation Army in Anchorage, Alaska, held a day camp focused on reading, math and having fun. The students also took field trips into their community and learned about different cultures.
6. The once-endangered humpback whale population is growing globally.
After being nearly hunted to extinction in the 19th and 20th centuries, the humpback whale population is on the rise thanks to a global conservation effort. With numbers once as low as 10,000, the population reached almost 80,000 this year.
7. One man used arts, crafts and coffee to build community in Bell, California.
Patrick Doran, who lives at The Salvation Army Donald and Priscilla Hunt Bell Oasis Apartments, teaches arts and hobbies to fellow residents as a way to give back to his community and help those facing chronic mental illness or disability.
8. A culinary program in Chico, California, taught kids how to make meals instead of turning to snacks.
Lts. Jeffrey and Kristin Boyd, corps officers at The Salvation Army Chico Corps, realized that while many kids were home alone during the summer months they'd often turn to snacks instead of healthy meals when hungry. To combat this, the Boyds hosted cooking classes for kids ages 7-15 to teach them how to make simple meals at home while out of school.
9. Doctors in Canada were approved to prescribe year-long passes to national parks as treatment.
In four Canadian provinces, doctors are now able to prescribe a year-long pass to national parks as a treatment to improve mental and physical health of patients. Studies show that exposure to nature can effectively treat many mental health issues. The passes give patients unlimited access to over 80 national parks, historic sites and marine conservation areas for one year.
10. In San Diego, youth activists' efforts supported women and children at The Salvation Army Door of Hope campus.
15-year-old Simran Saluja knew there were people in need in her community, and she decided to make an impact. Simran founded The Optimism Project (TOP) with the help of a friend, and TOP has since collected over 1,000 items of clothing and dozens of canned food items for the Door of Hope, a women's and children's shelter.
11. A community garden in Turlock, California, flourished thanks to after-school kids and volunteers.
Unable to engage their community as normal due to the pandemic, Salvation Army Turlock Corps Officers Jeff and Katie Breazeale turned to the corps' dormant garden. With the help of students, volunteers and generous donations from community partners, the garden flourished.
12. The Irwin family saved their 90,000th animal at the Australia Zoo Wildlife Hospital.
After wildfires burned more than 12 million acres of land in Australia, many animals were left vulnerable and injured. Ollie the platypus was orphaned as a result of the fires, and as the 90,000th patient of the Australia Zoo Wildlife Hospital, he received round-the-clock care until being released back to the wild.
13. In Seattle, an unhoused family found home twice with the help of The Salvation Army.
Following struggles with addiction and homelessness, Dina and Kori Flores found permanent housing with the help of The Salvation Army's Street Level program. Since beginning operations in 2019, Street Level has placed more than 400 people in permanent housing, with 97 percent remaining housed.
14. One grandma recruited volunteers and struck gold for The Salvation Army's addiction rehabilitation program.
After Cheryl Tuck-Smith experienced the transformative results of The Salvation Army's addiction recovery programs—she's the mom of a graduate—she wanted to find a way to stay involved in the effort. Now in retirement, Cheryl oversees Grandma's Jewelry Box, where she and other volunteers sift and sort donations to be sold in her community's seven thrift stores.
15. California approved plans to build the world's largest wildlife overpass.
In an effort to provide safe passage for wildlife over a 10-lane highway through the Santa Monica mountains, a crossing bridge will allow animals safe and unrestricted access to their natural habitat. The overpass will feature native plants and vegetation, and will attempt to reduce noise and light pollution from the highway to protect nocturnal animals.
16. The Salvation Army hosted its first adaptive summer camp in Estes Park, Colorado.
The pilot program welcomed young adults with disabilities to High Peak Camp's adaptive camp—The Salvation Army's only camp surrounded by the Rocky Mountains. Campers enjoyed arts and crafts, challenge courses, campfires and more.
17. A partnership between The Salvation Army and United Food Bank helped keep food out of landfills and onto tables of those in need.
The Salvation Army Mesa (Arizona) Citadel Corps partnered with United Food Bank to retrieve food from stores that would otherwise go to waste. The Grocery Food Rescue Program provides the corps' food bank with meat, poultry, bread, fresh fruits and vegetables, milk and other staples—some days totaling up to 10,000 pounds of food.
18. For the first time, U.S. men's and women's soccer teams received equal pay.
The historic agreement, which is valid through 2028, ensures that players on both teams will receive equal pay, in addition to equal treatment, game promotion, support and development, training and bonuses.
19. In Honolulu, The Salvation Army kept hungry kids full for the weekend.
Each Friday during the school year, The Salvation Army Kauluwela Mission Corps provided food bags to 200 children from three neighboring schools to keep them fed for the weekend, when they won't have access to free meals from the cafeteria at school.
20. The Suicide and Crisis Lifeline launched across the U.S.
Anyone experiencing a mental health emergency in the U.S. can now call "988" and be connected with a network of 200 crisis centers and trained counselors 24/7. In 2021, more than 2 million people with "serious mental illness" were booked in jail as a result of calling 911 during a mental health emergency. The new hotline will provide better access to resources for mental health needs.
21. Bike shop owners in Tucson, Arizona, donated bikes and turkeys to neighbors in need.
Bike shop owners Jessie and Gary Menard donated new wheels to those who are less fortunate or experiencing homelessness, in addition to providing The Salvation Army with bike donations and turkeys during the holiday season as part of the Adopt a Family program.
22. Concerts for Hope brought the gift of music to those in addiction recovery.
World-renowned composer and pianist Eric Genius founded Concerts for Hope to bring music to "dark places." This year, he performed concerts at seven Salvation Army rehabilitation centers across the Western U.S.
---
Do Good:
You've probably seen the red kettles and thrift stores, and while we're rightfully well known for both…The Salvation Army is so much more than red kettles and thrift stores. So who are we? What do we do? Where? Right this way for Salvation Army 101.
It's because of people like you that The Salvation Army can serve more than 31 million Americans in need each year. (That's almost one person every second, every day.) Your gift helps The Salvation Army fight for good all year in your community. It's an effort to build well-being for all of us, so together we rise. And that good starts with you. Give to spread hope with a donation of funds, goods or time today.
What cause best fits your personality? Take our quiz and discover where you can make the biggest impact today in the Fight for Good.