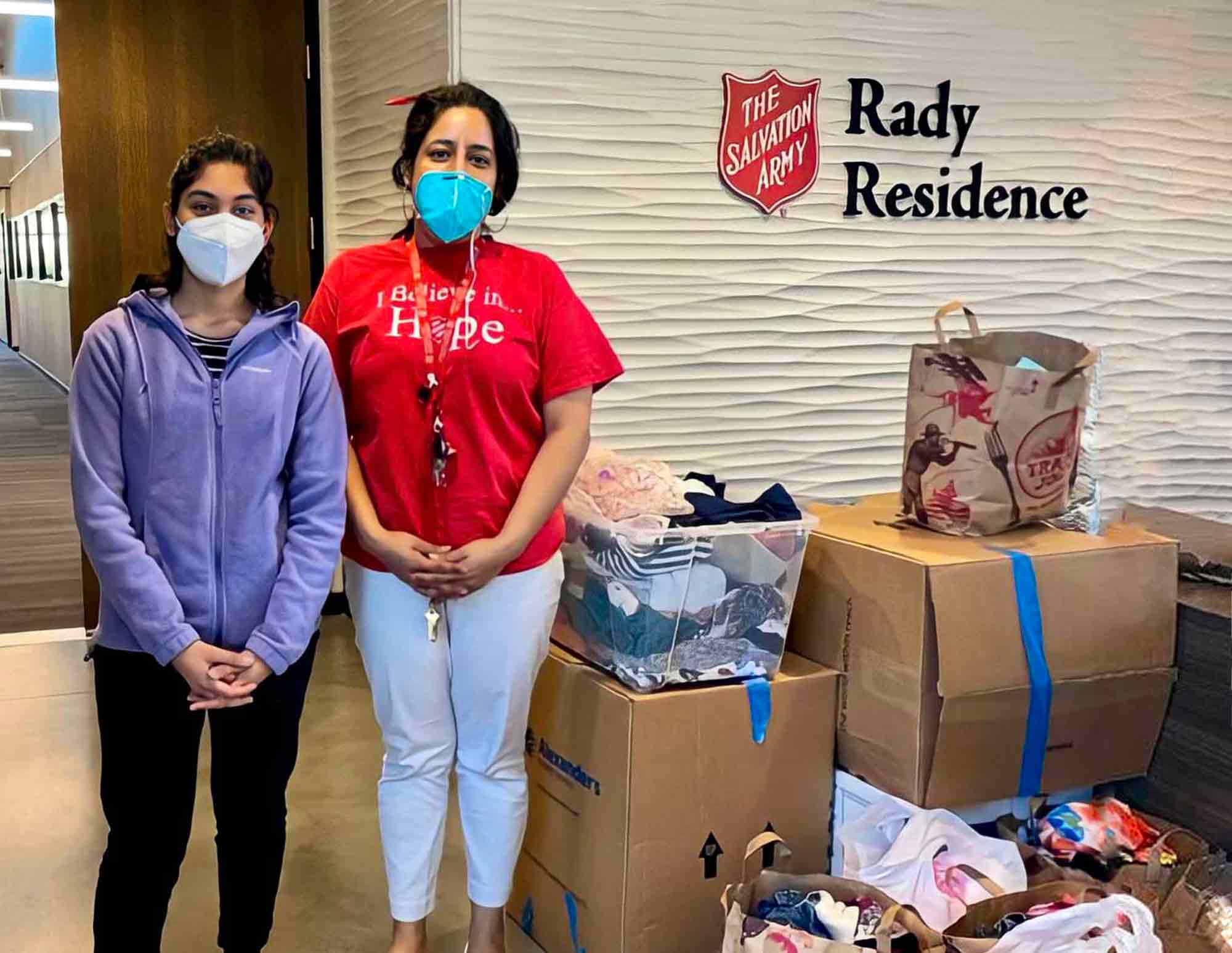 Youth activists' efforts support women and children at Door of Hope
As the daughter of Indian immigrants living in San Diego's North County, 15-year-old Simran Saluja has always known the world is full of those in need. "My parents would tell me stories about how women and girls live in other countries and how they don't have the privileges and resources that we do here," she said. "I realized that even here in San Diego County, help is needed, so I decided to make an impact right where I live."
Simran is the founder and president of The Optimism Project (TOP), a youth organization she launched with the help of a friend in May 2021. In addition to providing resources for and raising awareness about mental health, TOP helps those in need through online classes and food and clothing drives.
To date, TOP has collected over 1,000 items of clothing and dozens of canned food items, which were donated to Salvation Army's Door of Hope (DOH) Rady Campus women's and children's shelter in San Diego. TOP also has branches in Oregon and Arizona, established by TOP's Vice President and a friend of Simran's, respectively.
Simran chose to initially partner with The Salvation Army because of its influence locally as well as globally. "The Salvation Army has helped so many women, children and families," she said. "It motivated us to see how we could help in our area, which we've identified as needing more resources for those dealing with mental health, food insecurity, and other issues."
The teen says her biggest source of inspiration, however, is her mother, Rajinder, who works as a patient care coordinator at a San Diego hospital. "I've seen firsthand the impact she's made on people's lives," she said. "I believe that helping others through acts of kindness will aid those who are struggling to find hope."
Mental wellness is a key component of TOP's mission because youth, in particular, often don't know where to turn for help or how to care for themselves, said Simran, who has had friends and other people in her life who have depression and other mental illnesses. To manage her own mental wellness, she takes "at least 10 to 15 minutes every day" to do something she loves: cooking, baking, drawing and volunteering.
In addition to providing resources like food, clothing, hygiene items and books, Simran has led online classes teaching basic self-care and mental health awareness, and partnered with Door of Hope's own educational programming, which includes parenting classes and job training.
In the future, Simran hopes to offer the latter for "older women or women who want to transform their lives, like leaving a domestic abuse situation."
For Door of Hope resident Sandra Gonzalez and her four children, the shelter—in combination with TOP—helped her get back on her feet after she said she left an abusive marriage.
"It's comforting knowing I have help," she said. "Door of Hope provided me with formula, diapers, hygiene products, cleaning supplies, a car seat, bassinet and crib, and because of Simran, we also had clothing and food [which are supplemented by DOH's onsite garden and Food Pantry]." Door of Hope also has a boutique where residents can find clothing for job interviews or other need-based circumstances.
The Optimism Project initially launched on social media, creating posts about mental health, discrimination and poverty issues in the regions they serve. The next step was providing resources, online programming and developing fundraisers, and connecting with local shelters.
"It can make a world of difference to provide women with assistance," said Simran, adding she'd like to expand The Optimism Project to schools, to "inspire and educate" other teens. "Just because we're young doesn't mean we can't have an impact," she said, adding that they're always looking for people to start their own branch.
Gonzalez is proof places like DOH and youth organizations like TOP work. "I'm so grateful for this place; Door of Hope has honestly changed our lives," she said, adding how inspiring she finds Simran, especially given her age. "She's helping not only her community, but her county. I think my oldest daughter, who is 11, can learn from that, as well. I'm just overwhelmed with gratitude."
Heather Aime, director of DOH, agrees.
"I think TOP shows the power of youth," she said. "Sometimes kids aren't taken seriously, and to establish something like this and provide resources is huge."
For Simran, the experience of creating an impactful youth organization has led her to decide on a career that helps people improve their lives. "I could never have imagined this would grow the way it has," she said. "It feels amazing to me that I'm able to make a difference."
---
Do Good: