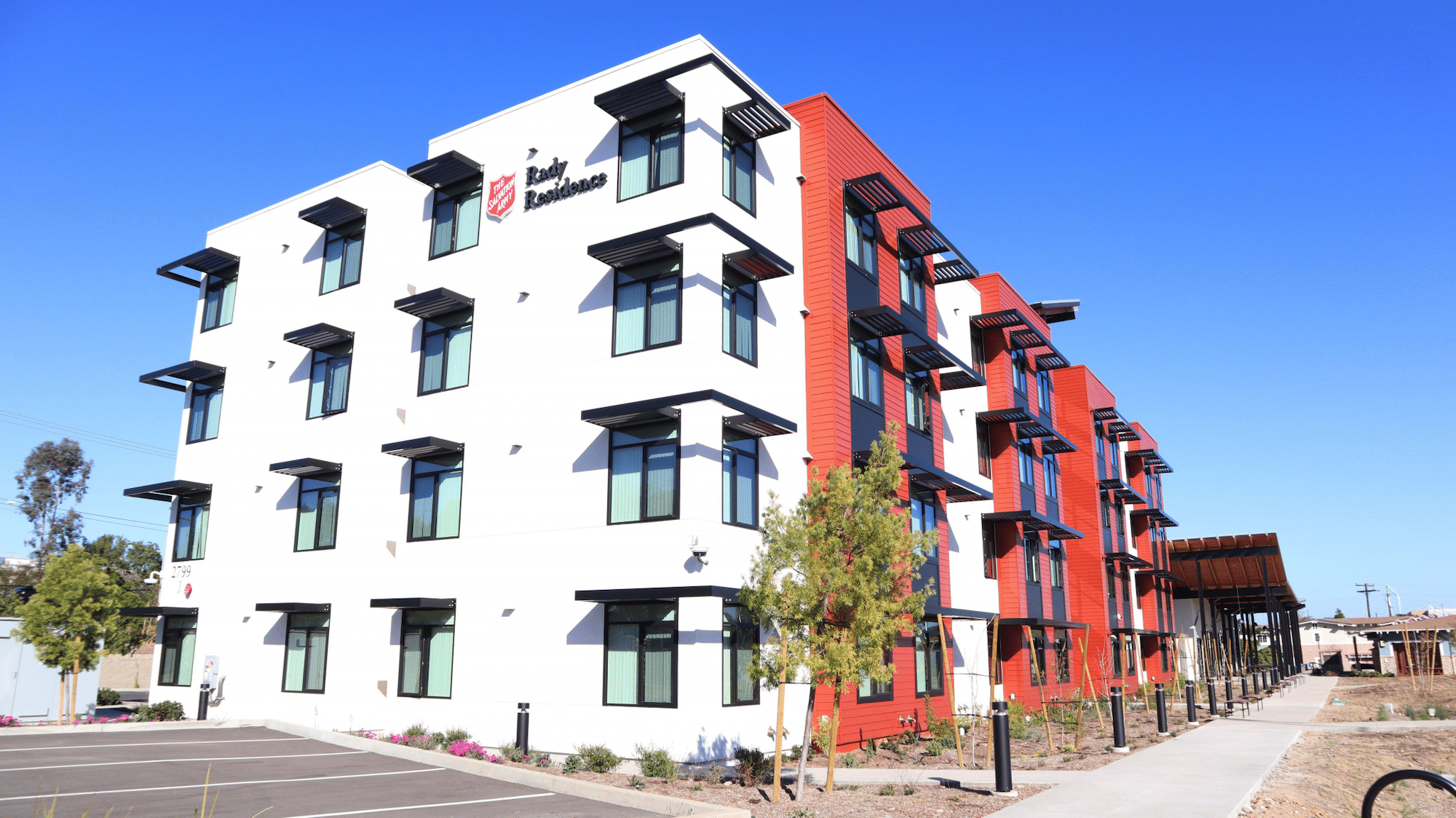 New Rady Residence restores hope to people experiencing homelessness in San Diego
San Diego families now have hope for a better future thanks to the official opening of the Rady Residence, held Oct. 1. The new facility was brought to life by a historic gift from philanthropists Ernest and Evelyn Rady.
The Radys generously pledged a $50 million donation to The Salvation Army that is part of an $80 million capital campaign to build and endow two new facilities with programs designed to bring men, women and families from homeless to home. 
The donation goes on record as one of the largest charitable gifts ever given to support homelessness in Southern California.
"Evelyn and I are privileged to work with people of the quality of The Salvation Army," said Ernest Rady. "The community is blessed to have the quality of people at The Salvation Army. The country is blessed to have your people care for others. So, we're grateful for you. I'm just a small cog. I did the easy part. You guys do the hard part. God bless you and thank you for all you do on behalf of all the folks you've helped who can't make it here to say thank you."

The project is separated into two major phases: First, The Rady Residence at the Door of Hope. The Rady Center will be built downtown after The Salvation Army raises the additional $30 million to complete the campaign. 
The Salvation Army Rady Center will serve single men in downtown San Diego, and The Salvation Army Rady Residence at The Door of Hope will help two-parent families for the first time in addition to the single mothers and children, single women and women in recovery who currently live and participate in programs at The Door of Hope. 
San Diego has the fourth largest homeless population in the United States. Homelessness impacts the quality of life for all San Diegans where, on any given night, the county-wide homelessness population exceeds 8,000 men, women and children.
The Salvation Army's holistic approach to helping clients enables them to identify, address and work to solve the matters that caused them to become homeless. By assisting with food, shelter, educational support, counseling services, rehabilitation programs and vocational direction, The Salvation Army's unique group housing programs help residents learn the life skills needed to lead successful lives and live independently. 
The Salvation Army has been in San Diego since 1887, providing services addressing many human needs, and helping more than 267,000 individuals every year. At The Salvation Army's current downtown Centre City Transitional Housing program, 8 out of 10 individuals are successfully returning to permanent housing. 
---
Do Good: