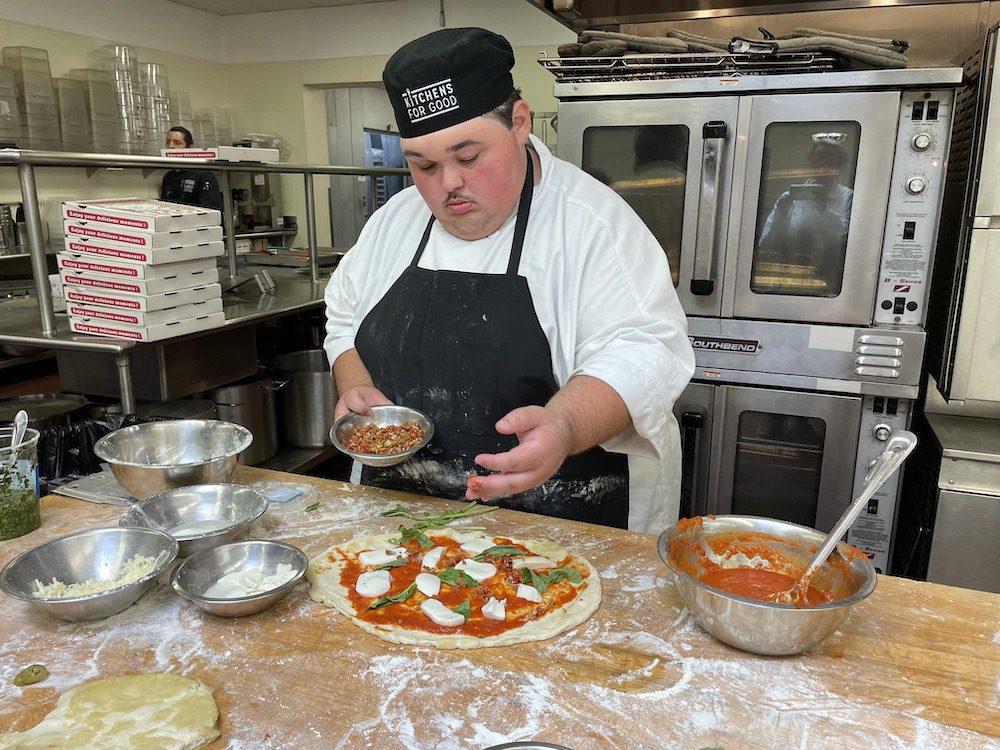 Kitchens for Good: Delicious meals and second chances in San Diego
San Diego has the fourth-largest population of people experiencing homelessness in the U.S., with an estimated 5,000 people living on the streets. This growing problem is in desperate need of more solutions. 
For The Salvation Army, the goal has always been to not only take people off the streets, but to give them the tools and resources they need to be independent.
When the opportunity presented itself for Door of Hope and Kitchens for Good to collaborate in San Diego, it was a no-brainer. 
"Kitchens for Good has a similar mission to us. Through our partnership, we can show the community at large that you can work together as nonprofits," said Amy Vance, Director at Door of Hope. "The cost of renting space is so great, that being able to use the space together has been beneficial."

Kitchens for Good is dedicated to helping people access careers and the fresh start they deserve. Through their apprenticeship program, the apprentices gain "knife skills and life skills" so they can launch a meaningful career in the culinary and hospitality industry, which is currently in desperate need of workers since the pandemic. 
The seven-acre Door of Hope Rady Campus opened its doors in November 2020, and has 32 apartments available for residents. Kitchens for Good moved on site in January 2021, and accepts interested residents into their apprenticeship program. Coordinators arrange an interview and trial in the kitchen and then they evaluate if the resident is a good fit. 
"As long as we have room, they will make it through the program," said Lori Love, Director of Operations at Kitchens for Good. "At the same time, we want to make sure there's passion." 
Apprentices have the opportunity to learn from talented chefs like instructor Amanda Palomino, a two-time "Hell's Kitchen" contestant, who taught Class 23's recent graduates. Together they honed their skills while making nutritious meals for food-insecure families on site, fulfilling two needs at once. 
"Some of our families are not on EBT or SNAP and it can take 45 days to get on that, so these meals are really important for food vulnerable families," noted Vance.
Nine of out 10 graduates find sustainable employment, and Kitchens for Good has more than 100 restaurant partners ready to employ these graduates. Recently apprentices received jobs at places like The Cheesecake Factory, Louisiana Purchase and Maya's Cookies. They fill positions like caterers, cooks, line cooks, dishwashers, and some work toward the role of sous chef. 
"Our apprentices come back to Kitchens for Good to show us what they have. They have established a place to live, and have new cars. Some people have even bought their own homes and share the excitement of getting their first set of keys," Love said. "They are very proud because they have come from a place where they have not heard enough that they could be successful." 
Kitchens for Good offers lifetime job placement, which is a big lure for applicants. If they find themselves unemployed again, they can come back and use their services to get placed in another position.

"We advocate for them," Vance emphasized. "They are not just that conviction; they are a different person now. We can make a difference in people's lives by believing in them." 
After 12 weeks, the apprentices have the opportunity to attend a promotion ceremony at the Rady Campus. Class 23, the most recent cohort, hosted a pop-up café for their final exam where they got to demonstrate their newly acquired skills for the community. "They get to test their skills on us, which is fun," Vance said. 
If the apprentices want to continue on, they can do further training and gain their culinary certificate through Grossmont College after completing 2,600 hours. For some, it's the first time in their life that they have been able to stick with something and succeed. It's a test of patience, discipline and resilience. 
"After the first 12 weeks of my culinary training, I continue on because I want to do better in my life, give back to my family, expand my knowledge of food, and become the person I was meant to be," said Austin from Class 23. 
Now that Kitchens for Good and Door of Hope have an established partnership, they plan to expand and launch additional pilot programs. 
"Going forward, we want to get more of our residents into the program," Vance said. "We want to coordinate some of the move-ins to be aligned with the apprenticeship program. It's exciting to see people move through the system and finally have hope." 
---
Do Good: