On top of that, most families living in poverty spend at least half their incomes on housing—which means any unexpected expense could send them down the spiral of housing instability, eviction and homelessness.
And yet, having a safe and stable place to live is at the very foundation of overall health and well-being.
That's why, in The Salvation Army, there's no such thing as no place to go.
The Salvation Army has group homes, emergency shelters and transitional living centers that provide housing to displaced individuals and families for varying amounts of time. But it's not just a bed—we seek to serve the whole person so every shelter service is supplemented with emotional and spiritual support. This includes counseling and educational and vocational services to help lead people back to self-sufficiency and independence, to weather the storm.
As the only provider of social services in every U.S. zip code, The Salvation Army uniquely understands that the statistics on those experiencing homelessness don't provide a full picture of need. With one in six people living in poverty today, housing insecurity is not limited to a certain "type" of person.
That's why The Salvation Army welcomes an average of 30,000 people every single night to safe shelter across the U.S.—and we've been at it since 1865. From emergency shelters to utility assistance or permanent supportive housing, we meet the need for refuge.
Your gift of $100 will help The Salvation Army provide three nights of safe shelter to someone in need.
This year, the need for shelter is greater than ever—
and The Salvation Army is there to serve.
For residents of an emergency shelter.
For a young family seeking asylum.
For a man who'd been homeless for 38 years.
Will you join us in the Fight for Good?
Here's how it works:
1
Decide to join The Salvation Army in our fight against homelessness.
2
Give $100 to help provide three nights of shelter to someone nearby in need
(that's less than your average Target run).
3
Lay your head on the pillow tonight knowing you're helping a neighbor sleep a little more soundly.
Yes, you could keep "do good" on your to-do list.
You could set a resolution to help others this year.
Or, you can decide to choose love today.
Act now to get in the Fight for Good.
Give to fight addiction in your community today.
Fight for GOOD with $100 now here
Our Promise
to Donors Like You
The Salvation Army is dedicated to Doing the Most Good, assisting more than 23 million Americans annually with food, shelter, rehabilitation, disaster relief, child protection and more.
By meeting tangible needs, we give the world a lasting display of the love behind our beliefs. Since 1865, we have been working to provide sustainable solutions for the most vulnerable. We stay not just until the job is done, but long afterwards, to ensure that the healing continues. With 82 cents of every dollar dedicated to directly supporting the needs of the community in which it was received, The Salvation Army is committed to stewarding every donation with integrity.
Click here to see our most recent annual report.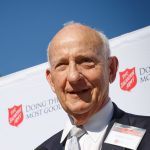 "We have great confidence in this organization, so we are happy to put our resources in their hands, and we look forward to a successful conclusion. I'm really proud of what we're doing."
– Earnest Rady, Donor, San Diego, California
When I walk through the shelter, I see a mom. I see a dad. I see a child that belongs to a family. God has still got a plan for every individual. This mission that we have is a vital one...we don't want people stuck in this continual cycle of poverty and homelessness. We want to give people an opportunity to move forward.
We were overwhelmed by the love people from the corps gave us—everything you can think about. They came with the truck to pick up up, they drove us to the church apartment and they told us, 'hang out here as we figure out what's next,'
It's more than just providing a good and safe place for people to be. It's introducing them to Jesus Christ.
When I first came here, I remember laying in bed saying, 'God, this is what it feels like to be home again.'
About Us
An international movement, The Salvation Army is an evangelical arm of the universal Christian Church. Our message is based on the Bible, and our ministry is motivated by the love of God. We preach the Gospel of Jesus Christ and meet human needs in his name without discrimination.
Looking for more ways to help?
Curious what cause best fits your personality? Take our quiz and discover where you can make the biggest impact today in the fight for good.