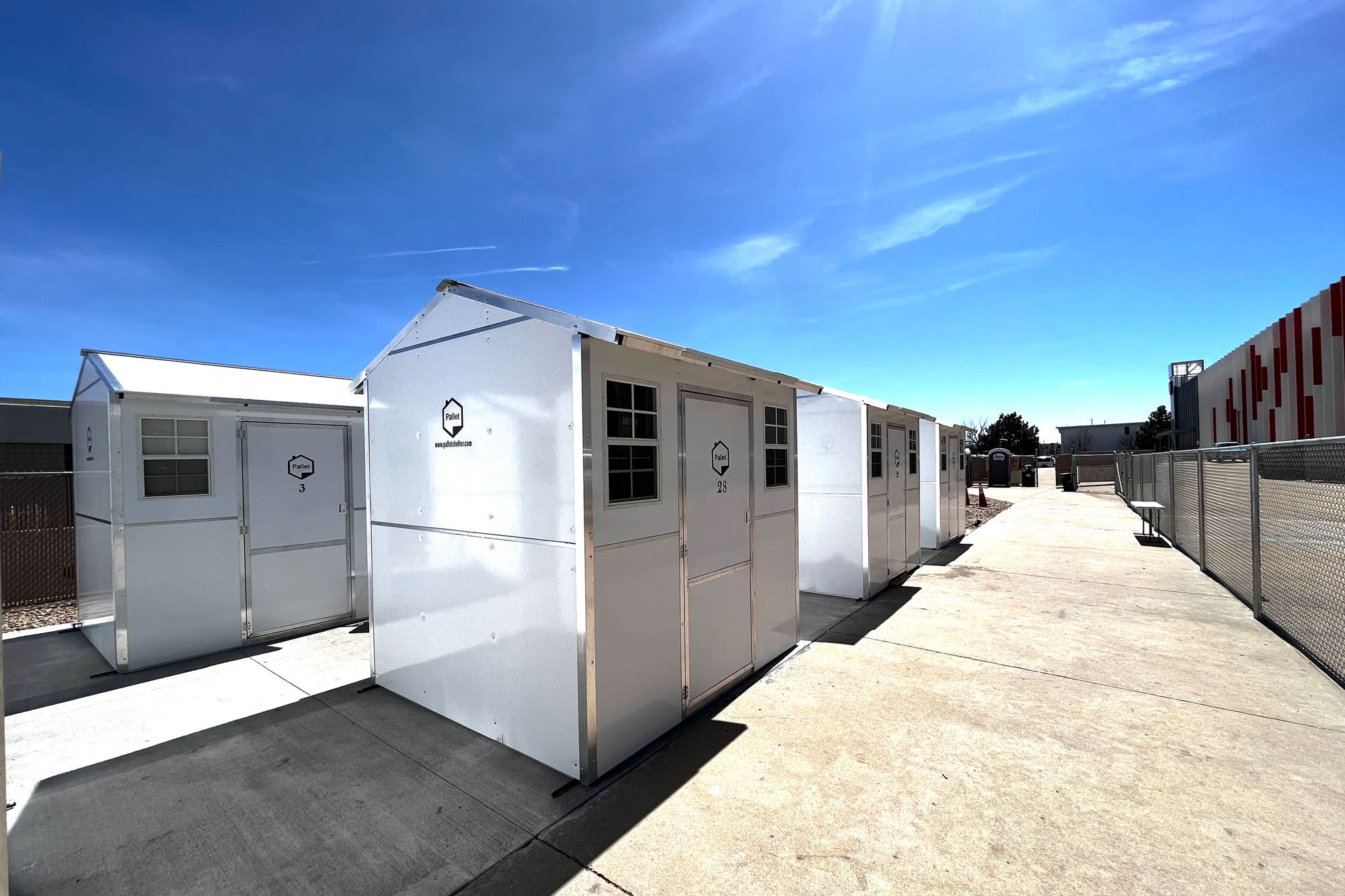 From unhoused to (tiny) home
Pallet shelters provide new approach to addressing homelessness.
Last year, Tim Mackay celebrated his 61st birthday in his apartment in Aurora, Colorado. For some, it would be a routine happening, but for Mackay, the moment signified more. After having undergone a season of being unhoused, he was home.
While Mackay was still in the process of accumulating furniture and making the finishing touches, he said having a home of his own means a lot—it's given him some solitude and a sense of security.
"I love it," he said. "I can't quit smiling enough. It took a long time, but I'm back to having a permanent address. My own place with my own things in it—don't have to worry about curfews, nothing."
Mackay said he was homeless for two years following a series of events that resulted in him and his roommates not receiving an invitation to renew their lease after their apartment complex was sold.
Eventually, he said he ended up in several temporary shelters before finding the Restoration Christian Ministries (RCM) Safe Outdoor Spaces (SOS) in March 2022. The Salvation Army in Aurora runs the RCM SOS site that's named for the property it's on. At the time, the space featured all-weather fishing tents as the lodging option.
Later, pallet shelters—tiny homes complete with space to sleep and store belongings along with amenities like heat, air and electricity—replaced the tents, and Mackay got a unit of his own. He said he immediately decorated it with Hot Wheels cars, which he collects.
The RCM SOS site is one of two tiny home communities The Salvation Army operates in Aurora, along with the Peoria Warehouse site in the parking lot of The Salvation Army Emergency/Disaster Services warehouse. Between the pair, The Salvation Army provides services to 96 pallet homes.
The Aurora sites are part of a growing number of tiny home communities The Salvation Army has across the Western U.S., and are part of a larger trend among local governments and social service providers to embrace the option as a solution in the growing epidemic of homelessness.
Tiny homes, while not a one-size-fits-all solution, address many of the common barriers associated with more traditional congregate shelter models, like privacy. Instead of sharing a room with a number of other individuals, Mackay said it was refreshing to have a solid door and his own key along with the fact he could come and go as he wanted.
"Life was good for what they provided. I loved it," he said. "Anybody that is homeless that doesn't go up there to put yourself on the list. They're stupid, if they don't do it."
The list Mackay referred to is the waitlist for the Aurora sites. Program Manager Austin Foote said about 50 people are waiting for a pallet home to open up. In addition to the privacy and safety the tiny homes afford residents, Foote said a number of other factors have driven the demand, including access to resources, consistency and lack of affordable housing available.
In the Denver Metro area that includes Aurora and nearby Lakewood, the fair market rent for a one-bedroom apartment is $1,538 in 2023, according to the U.S. Department of Housing and Urban Development (HUD). Residents of the tiny homes work with case managers to achieve permanent housing, often beginning with sourcing vital documents that sometimes go missing during times of homelessness, like IDs, social security cards and birth certificates.
This kind of engagement allows staff members to build relationships, Foote said. "When people are consistently here, we can touch base with them, we can have conversations with them," he said, highlighting the difference of living in a tiny home community versus a traditional shelter, where residents typically exit the space during the day but return to sleep. "They're engaging with case management. They can get to know our staff, get to know us."
For Mackay, who lost most of his personal documents with his storage unit when he became homeless, the process took around eight months before he received word the Aurora Housing Authority had awarded him a lifetime housing voucher that covers a majority of his rent. Today, he said he still remains in contact with his case manager from the RCM SOS community, who he said helps him "keep things in line." He even returns to the community periodically since his new home is a short bus ride away.
In addition to the consistency people need to achieve permanent housing after sleeping on the streets, tiny home communities have other benefits, Foote said.
"It allows for hope to finally come into the picture…this is a possibility because I can actually be safe. I can actually stay warm or stay cool," Foote said. "In a community like this, you begin to see your neighbors moving forward, they are getting housed, and that creates a kind of a culture or a motivation, I think, among the community to be like, 'Oh, this is possible, we can do this.'"
He's found with engagement and time spent, individuals typically spend 6-9 months in the community before achieving housing. In the first year of the homes, Foote said about 40 people were housed.
"That can seem small, but that's actually a pretty extraordinary number, given the length of time it takes," he said.
Addressing homelessness
Across the U.S., more than 580,000 people are experiencing homelessness, according to the National Alliance to End Homelessness' 2022 "State of Homelessness" report. Notably, the figure is from the 2020 Point-in-Time Count due to the coronavirus pandemic.
"It could happen to anybody," Mackay said. "It was out of our control…I was donating plasma on a regular basis and using all that money to pay for a hotel room just so I wouldn't freeze outside."
Both Mackay and Foote emphasized the misconceptions surrounding people experiencing homelessness—that it's harmful to assume all are criminals, violent or addicted to substances.
"I think there is a stereotype there that really hurts people experiencing homelessness and creates an invisibility when we need to bring more visibility to it," Foote said. "I can't tell you how many mistakes I've made in my life, and if I didn't have access to resources or a family member or a friend, I would be in a similar situation…There's a lot to it, and a lot of it comes down to just the lack of support in people's lives…It's complicated."
In California, The Salvation Army is on a mission to double the number of beds it has available to those experiencing homelessness in the next five years through the Way Out Initiative, named after Salvation Army Founder William Booth's vision for helping those in poverty, contained in "In Darkest England and The Way Out." Currently, the nonprofit has a little over 9,000 beds in the state, said California State Director for the Way Out Initiative Dr. Vince Beresford.
The effort pools resources across The Salvation Army's three California divisions—Southern California, Golden State and Del Oro—to address the homelessness crisis, which grew over the pandemic to more than 173,000 people in California alone, according to Cal Matters.
Beresford said he receives consistent calls from city officials throughout the state asking for The Salvation Army's help, often after the city had gone with a different, smaller service provider who had over-promised and under-delivered.
"We're really being invited to the table," Beresford said. "We're really put in a position of influence, maybe more so than we've ever had."
Through these interactions, Beresford said leaders from The Salvation Army can pull from its deep experience and heritage of serving those experiencing homelessness, like in the case of the Salvation Village in Harbor City, California, The Salvation Army's first tiny home community in the Western U.S. that opened in June 2021. Salvation Village has served as a case study for other areas considering tiny homes.
Common Barriers to Housing in America
The needs of families and individuals experiencing homelessness vary widely, according to the U.S. Department of Housing and Urban Development, with common barriers to housing ranging from:
– Poor or lack of rental history
– Insufficient savings or poor credit history
– Sporadic employment history or lack of income
– No high school diploma/GED
– Recent or current abuse and/or battering (fleeing domestic violence housing situation)
– Criminal background
– Recent history of substance abuse or actively using drugs or alcohol
– Serious health problems/conditions or severe mental illness
– Unable or unwilling to participate in supportive services
"The learning curve that we've had here that we've been able to apply up and down the state to be able to address and help save cities and counties money as well as us in being able to get things done and built faster and better," he said. "It's just been part of the process that's really helped us move forward as well."
Tiny homes fit in with The Salvation Army's range of shelter offerings that provide a continuum of care, from getting people off the streets, into shelter, to self-sufficiency, Beresford said. While the Way Out Initiative uses the metric of beds for progress, the effort is about much more.
"I think when we look back in years from now in our nation's history, and realize that we're going to look back and be able to say 'The Salvation Army was uniquely placed at this time, at this state, for such a time as this,'" Beresford said, quoting the biblical story of Esther, and noting that California has about half of the unsheltered population in the U.S. "We have an exceptional challenge and a mountain of opportunity here. And yet we really can consider ourselves the people that come with a very unique approach."
A pallet home
As Program Director of the Salvation Village, Stacie Washington has led a number of groups who are interested in replicating the model through the site. She said she sees tiny homes as "a new era" for individuals experiencing homelessness, adding that "economically it's affordable, and it's something that I believe that the participants will be able to maintain on their own."
Washington said one group who visited had five acres of land they were considering creating a tiny home village on, and were looking at budgets. She was able to show them what a $1 million project looked like, compared to the Salvation Village's $5 million, 75-unit village.
"Economically, it's probably more efficient than waiting years and years for more structure buildings to be available," she said.
While other tiny home communities The Salvation Army runs exist in California, some utilizing Tuff Sheds, Salvation Village, like the Aurora sites, was constructed with units from Pallet Shelter, an Everett, Washington-based housing solutions company that constructed its 100th village in 2022.
"Our mission is to end unsheltered homelessness, and so we're doing that through the production of our shelters and building these villages," said Pallet Communications Manager Lisa Edge. "It's a serious problem, and we want to offer another solution to something that's innovative."
Initially the idea for a pallet home was inspired by the number of people housed in New Orleans' Superdome following Hurricane Katrina, according to the Pallet website. Pallet's co-founders thought people who were displaced needed better options.
Edge said the design for pallet homes was informed by its employees, more than half of whom have lived experience with homelessness, substance use or incarceration—sometimes all three. The result? A range of offerings, including an individual shelter unit that can last 10 years and can be constructed rapidly—in an hour.
That speed, and relatively low price point (before infrastructure elements like electricity, each 64 square foot unit runs $7,500, according to Business Insider) is, in part, why the tiny home has become an attractive solution in addressing homelessness. Each Pallet community has 24/7 case management from a service provider, like The Salvation Army, in addition to access to a bathroom and showers, laundry and meals.
In Longview, Washington, the 50-unit HOPE Village pallet home community now inhabits land where an encampment of some 150 people stood for three years in the Highlands, a lower-income neighborhood.
Longview Temple Corps Officer Major Phil Smith said amid outcry from residents and business owners, who voiced concerns at city council meetings, The Salvation Army was approached by the city about operating the tiny home village. He recalled officials saying they believed The Salvation Army was "deep and wide enough to take this on."
It wasn't all downhill from there, Smith said—as plans came together for the project, residents hadn't changed their tune. "They were objecting to the cost. They were objecting to the Army. They were objecting to the project period," he said. "But more than anything, they were just objecting to the fact that the homeless were still there at all."
With a timeline of under three months from receiving the city's letter of intent to the village's opening, Smith said The Salvation Army first pulled together a Mission Impact Team that worked closely with the city. The group, including Site Manager Sandra Schmaltz, flew to LA to visit the Salvation Village, and Schmaltz, who was hired about three weeks before opening day, said they adopted a large amount of policies and procedures from the site.
"Because we had very, very minimal time to get up and running…that visit to LA definitely made the job possible for me," said Schmaltz, whose previous work was in housing case management—bringing experience in housing navigation, subsidies, the local housing climate and building relationships with landlords.
The $1.4 million village, opened Dec. 19, 2022, seeks to address chronic homelessness—which the National Alliance to End Homelessness defines as when people have experienced homelessness for at least a year along with having a condition like mental illness, substance abuse disorder or physical disability.
"Tiny Homes provide an option for shelter for individuals who, for whatever reason, cannot or do not fit into a traditional shelter environment," said Schmaltz.
Smith and Schmaltz said it can take time for someone who's experienced chronic homelessness to acclimate to having a tiny home and the case management that comes with it. The target length of stay at HOPE Village? 90 days.
Residents of the tiny homes work with case managers to achieve permanent housing, often beginning with sourcing vital documents that sometimes go missing during times of homelessness, like IDs, social security cards and birth certificates.
"To find somebody housing, especially somebody who's coming to us that's maybe never had housing, or has been homeless for 10 or more years…within 90 days is nearly impossible," Schmaltz said, noting these individuals often don't have vital documents like an ID or a source of income or housing subsidy, which take time to procure.
"As long as they are here abiding by the rules that we've set forth, and they are participating in their case management activities…then they can be here as long as they need to be… Of course, we want that to be as short as possible, because we want to help as many people as possible."
Despite the challenges, in the first three months of the village, Schmaltz said five people achieved housing, with others moving out of their units after reconnecting with family or friends they could live with. Smith noted The Salvation Army still has a presence at civic and homeowner meetings, aiming to be accessible to those with questions and concerns—but the same population who was opposed to the village has stopped coming to meetings, something he believes is indicative of a lack of need for them to.
Now, the HOPE Village has received inquiries about best practices and policies from others who are in the process of creating tiny home communities, Smith said. In February, Washington Governor Jay Inslee toured the site ahead of proposing $62 million for 500 additional tiny home units to be created statewide as part of an $800 million spending package toward housing and behavioral health efforts.
"We need all of these things, but this tiny home approach is extremely effective, because it's fast, it's private and it's secure. And those things allow people to get back on their feet," Inslee told Big Country News Connection. "The advantage of a tiny house is you don't have to wait five or six years. We want housing in months. And that's what these do."
---
Do Good: