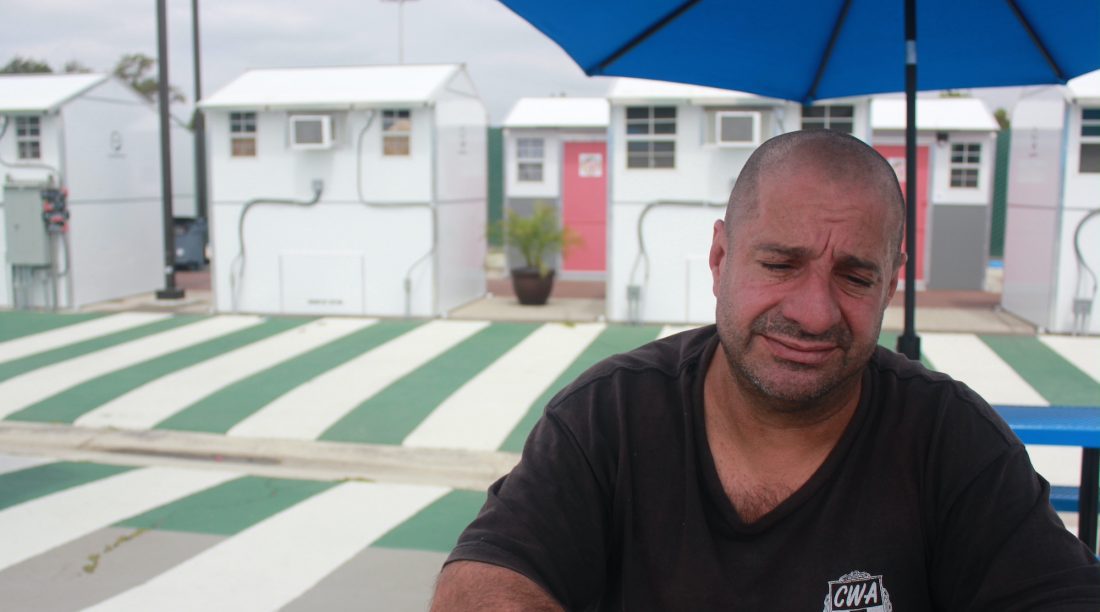 Salvation Village participant sees 'no reason to give up,' as God's brought him 'too far'
At 58-years-old, Marcello Moscato is pursuing his GED certificate with hopes of attending Harbor College's culinary arts program after 20-years of cooking experience.
"I'm here for a reason, even if I don't know what it is," Salvation Village participant Marcello Moscato said. "Not everybody here that's homeless is a loser and on drugs, OK?"
In July 2021, Moscato entered The Salvation Army-run interim housing program and moved into one of the 75 housing units on site, provided through a partnership with Pallet Shelter. Moscato said he had been without permanent housing since returning to California in 2018.
From 1995 to 2018, Moscato said he lived in Arkansas and worked as a cook in a variety of restaurants there. However, he said he was born in Santa Monica and lived in San Pedro most of his life, labeling himself as "a local California boy."
By living in a place he can call his own at Salvation Village, Moscato said he's "doing a little better" and can begin to focus on his plans for the future rather than everyday survival.
Through a partnership with Los Angeles Harbor College, located directly across the street, Salvation Village participants are given the opportunity to further their education. Moscato resides in one of the 10 housing units reserved for students and those interested in pursuing higher education.
With over 20-years of cooking experience, Moscato said he decided to pursue a professional culinary arts education at the college.
"Cooking is pretty much one of my most favorite and my most passionate loves that I have," Moscato said."I've got cooking experience in Greek food, Italian food, Mexican food."
However, due to the instability of his housing circumstances over the last few years, Moscato said he's been unable to cook. "I started watching cooking shows and started building up my own little imaginations for certain types of foods," Moscato said, mentioning his favorite dish to cook: chili con carne.
"I'm a strict guy, just like Mr. Ramsay on 'Hell's Kitchen.' I'm kind of that strict because you don't serve customers food that looks like garbage."
Moscato takes pride in what he creates for others and cites his biggest culinary influences as Bobby Flay and Emeril Lagasse.
As Moscato discussed the process of enrolling into the culinary arts program with his case manager, one issue presented itself: To enroll in the culinary arts program, a high school diploma or equivalency must be achieved first.
"I didn't think I was going to really need a piece of paper," Moscato said, reflecting on his decision to drop out of high school during his last year before graduation. "It's kind of just a little frustrating for me, you know, because the older you get, the harder it is for you."
However, at 58, Moscato said he's not discouraged. Harbor College provides free GED exam prep courses for adults in the community and Moscato said he's determined to pass and move onto his culinary education.
In the future, Moscato said he sees himself as a professional chef working at either a four-star hotel or on a cruise ship where, "you get to see the world."
"I've got no reason to give up. He's brought me too far," Moscato said, "I'm on shaky ground, but I know God's got me."
Since moving back to California, Moscato said he's grown in his spiritual life through attending services and Bible studies at a church nearby. "I see how God constantly turns the bad into good. He's done this for me plenty of times, and I appreciate that. And I give him thanks and glory."
In addition to his educational and spiritual life, Moscato said he wants to "​get back into the water and surf."
"There's no adrenalin that I know of that's more soothing and relaxing than being in a tube of light with water over you," Moscato said. "It makes you feel like you've conquered something. When you're in a wave that God created… the ocean, it's so much more miraculous."
"I think he's grown a lot," Moscato's case manager on-site, Abrahan Vizcaino said.
Moscato is one of the 23 participants Vizcaino manages at Salvation Village. Unlike larger shelter facilities, case managers on-site are capped with 25 cases, which allows for more meaningful connections with participants.
Through working one-on-one with his clients, Vizcaino said with time it becomes "more intimate on a personal level," as they allow themselves to "open up a little more."
"Each person is different so I try to identify their barriers," Vizcaino said. "We'll be writing down exactly what to do to get to the next step."
Through understanding participants' struggles, Vizcaino said it's easier to move forward in addressing their needs.
"It's a humbling experience and at the end of the day when I go home, I feel like I've actually accomplished something," Vizcaino said.
Vizcaino said he began working in the field of case management nearly two years ago, around the same time he decided to get sober. "Nothing was helping so I decided to try something new," he said.
After battling with addiction for over 15-years, Vizcaino said he was finally able to get treatment and be successful in his recovery.
"I have a little more empathy than most," Vizcaino said, " I can understand their struggles because I've been through them."
Vizcaino said it's the "little success stories," like helping Moscato work toward his GED diploma, that give him purpose. "I feel it's very satisfying for me because it brings them to success."
---
Do Good:
Get inside the

Caring

Magazine Scripture Study Collection

and find a suite of free, downloadable Bible studies to guide you through topics from New Beginnings Through Forgiveness, to Understanding our Imago Dei or Life Hacks From David.

Being a nice human

always

has a place in your day. But how to go about it?

Join 23k+ people who care

and find weekly inspiration from the Do Good Digest right inside your inbox.