But being a nice human always has a place in your day.
Do you ever wish more people realized when we
look out for others, we all thrive together?
You're in the right spot, friend! That's where we come in.
Caring is a magazine from The Salvation Army
for people who care about making an impact for good.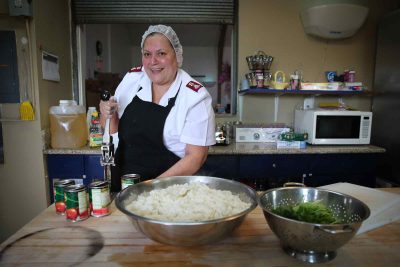 We give you tools for building well-being in the life and soul of your neighbors and family while featuring real-life change happening in communities across the U.S. through The Salvation Army. With red kettles, thrift shops and a physical presence in every zip code, The Salvation Army assists 31 million Americans a year, meeting needs from hunger to homelessness to filling a specific gap. We meet human needs in His name without discrimination differently in each community, exactly as that community needs—and have been doing so since 1865. Get the full Salvation Army 101.
Here's what our readers have to say about us:
"It tells the story of how to live life more Christ-like and the impact of what The Salvation Army does."
"Caring Magazine is like a journal of stories, testimonies, challenges, news and praises that altogether convince me that I am not walking alone in this journey."
"It's great to receive the [email] Digest and pause, metaphorically 'step outside' and take a moment to refocus."
"It's a constant reminder that we all matter and make a difference in others' lives."
Can we pray for you? Let us know.
So, what cause best fits
your personality?
Take our quiz and discover where you can
make the biggest impact today in the Fight for Good.
Listen in to the latest episodes of The Do Gooders Podcast