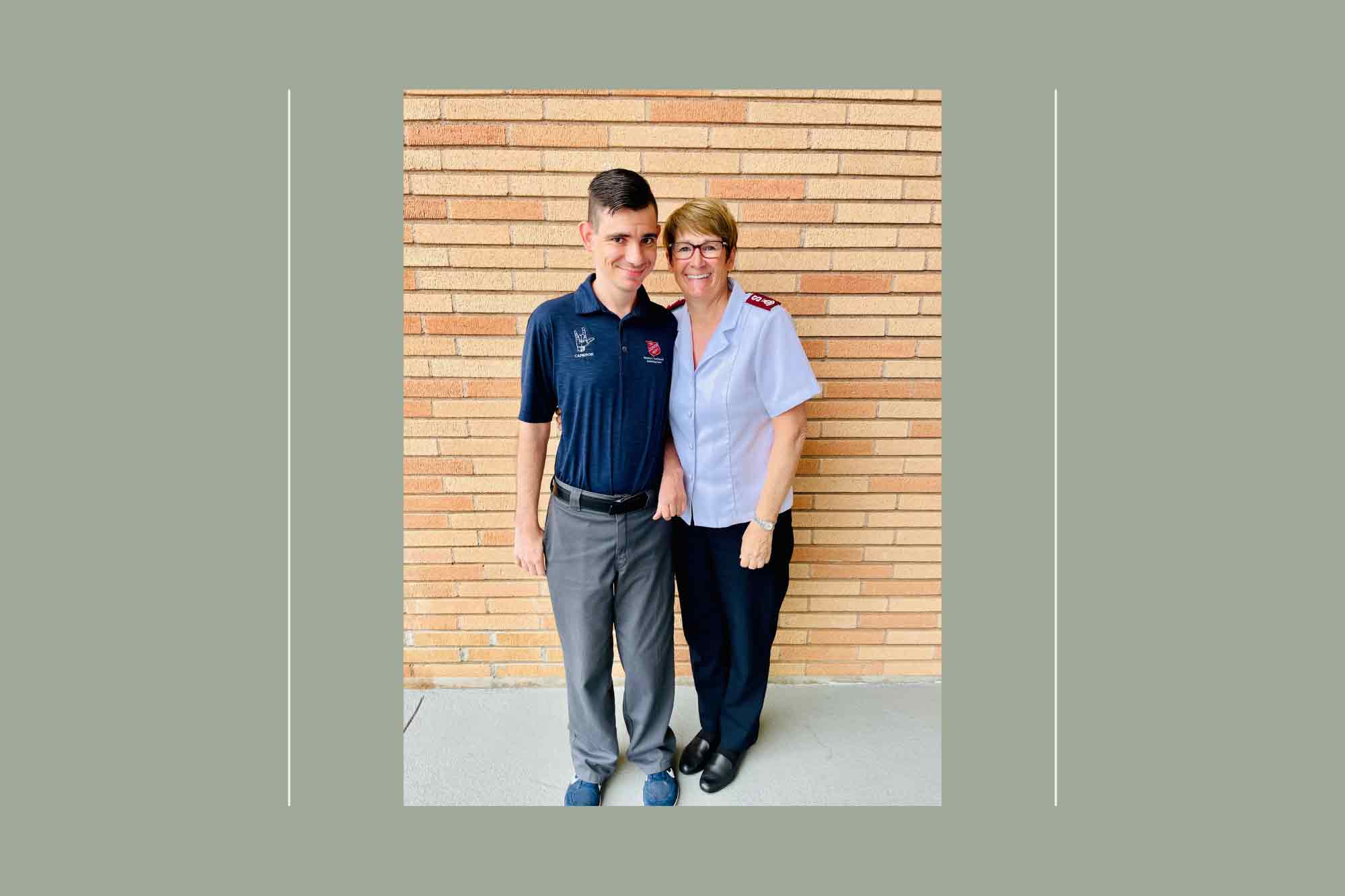 Salvation Army to host adaptive camp this summer in Colorado
Cameron Helms, 29, has grown up in The Salvation Army but never attended summer camp—until now.
Helms—who is deaf, has cognitive delays and cerebral palsy on one side of his body—will be one of the campers this summer at High Peak Camp's adaptive camp for young adults in Estes Park, Colorado.
The pilot camp will welcome some 10 to 20 young adults with disabilities, adding to the roughly 1,000 children expected across 10 weeks of summer camp there, The Salvation Army's only camp surrounded by the Rocky Mountains.
"It's been a journey of many disabilities and many learning opportunities and a way to see the world and even the Church in ways I probably never would've if it weren't for Cameron," said Major Nancy Helms, Cameron's mother and a Salvation Army officer who was appointed this year as the Disabilities Ministries Director in the USA Western Territory.
In her new role, Helms aims to provide training on disabilities ministry and opportunities for individuals with disabilities.
"There's a lot of fear behind disabilities and misunderstanding of the unknown, and we want to bring along resources and elements of training that will help people feel comfortable being a part of the disability community," Helms said. "We want to figure out ways of providing opportunities for individuals with disabilities to be a part of every facet of The Salvation Army ministry—everything we do."
One of those facets is camp.
"Cameron has never been invited to anything, and by comparison, Nick has been affirmed over and over and over again his whole life," Helms said of two of her four children, including Lt. Nick Helms, Divisional Youth Secretary in the Intermountain Division, who is helping to organize the pilot camp. "So this is really exciting. I think Cameron's going to have the time of his life."
Held alongside this summer's teen camp, young adults with disabilities will be welcomed as campers and integrated into the programming, giving both groups the chance to interact.
"We're taking this mentality for that week of 'why say no?' Somebody shows up and they're not the same as us, and why do we say no?" said Mitchell McWilliams, Assistant Camp Director of High Peak Camp. "We need to be able to find spaces and ways to say, 'Yes, we can make this happen.'"
With that in mind, the trails around High Peak Camp are being made ADA compliant and staff secured additional gear, such as adaptable harnesses for use on the challenge course.
"What I've learned over the years is we may have this fantastic program plan, but maybe they just want to go to arts and crafts for three or four hours, or maybe they just want to sit on the porch and rock and that's it," said James Johnson, High Peak Camp Director, of adaptive campers. Johnson came to The Salvation Army in late 2021 with experience running many such adaptive camps. "And we just have to welcome that and know that it's going to be a little different, but it's going to be an amazing camp for all involved."
It's that adapted mindset Helms says is key.
"That's probably the hugest thing. We can spend millions of dollars adapting our facilities and making them ADA accessible, but until we remove the barriers in our minds that disable people even more, we're never going to get around making people feel like they belong," Helms said. "So I think it's understanding disability theology—that everybody deserves a place to sit at the table."
Helms pointed to Luke 14:12-14 with Jesus speaking at a Pharisee's house:
"When you give a luncheon or dinner, do not invite your friends, your brothers or sisters, your relatives, or your rich neighbors; if you do, they may invite you back and so you will be repaid. But when you give a banquet, invite the poor, the crippled, the lame, the blind, and you will be blessed."
"Jesus taught the Church, the Acts 2 Church, is a place where you come, you sit at the table together, you fellowship. You have everything in common, disabilities, non-disabilities, and you share that together," she said. "And it's key for The Salvation Army to understand this. It's in alignment with our mission statement, 'to meet human needs in his name without discrimination.'"
"We have so many different services we offer—everybody would have a chance to be included if we were willing to adapt and put our minds, and not just our minds, our hearts—it's a change of heart too—to why we do what we do," she said. "The most practical way is through friendship. I think that's what Church is. It's relationships with one another."
Helms noted Cameron has a couple of friends who will take him out to ice cream or coffee or play basketball with him.
"We don't think of that as Church, but for Cameron that's Church—the people of God coming alongside him and sharing life with him in community," she said. "And it's not hard. There's no rocket science to it. There's no curriculum for it. It's just being with people and loving people. And I think that goes beyond disabilities. That's for all of us. It's being in community and relationship."
That's why she's hoping to pull up a seat—at the campfire, for relationship building; in the workforce, for job training and meaningful work; in the band, for a powerful outlet and growth opportunity; at the gym, for challenger leagues and physical activity; at the banquet table, for worship through participation and acceptance; and at "still waters," for respite and care for parents and caretakers of individuals with disabilities.
"By adapting our methods and our attitudes, we become a more inclusive sanctuary of belonging," Helms said.
Her practical advice? Focus on a person's abilities, what they can do. Use affirming language and watch out for offensive words, like "lame." Ask questions and learn about disabilities and the needs surrounding them. Remember not all disabilities look the same—many you can't even see. And most importantly, start with friendship.
"I think we will realize that what we have to gain will be far greater than what we have to give," Helms said. "I've learned a lot. I've learned how to be a better parent. I've learned the true definition of unconditional love. Cameron loves without bias and he just lives life without bias. And I learn a lot by watching him do that. He has no pretenses, which I do have, so I can look at him and think I can be better. I can be more like Cameron and be a better person.
"And it's led me to try and figure out how to navigate beyond those biases and bring equality to this population."
---
Do Good:
Listen to this episode of the Do Gooders Podcast as Mechale Mency sharse what she remembers of her time at camp some 40 years ago and how the experience she had made her want to be an experience for others today as a school principal. She's out to make sure kids feel seen and valued, and learn to value others—just as she did at camp.
Did you know The Salvation Army served 31 million Americans last year fighting hunger, homelessness, substance abuse and more—all in a Fight for Good? Where can you help? Take our quiz to find your cause and learn how you can join in today.
Get support from moms who are right there with you. Join the Caring Moms Collective and find a place of low-pressure, high-encouragement love anytime you need it, whether you know it or not. Get in the group today.