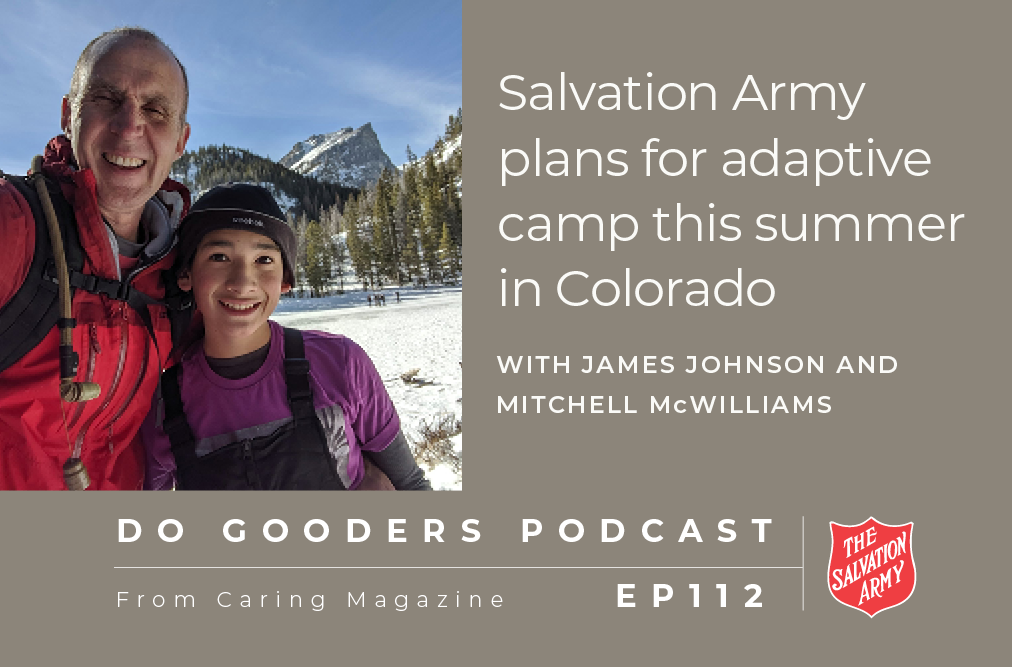 112: Salvation Army plans for adaptive camp this summer in Colorado with James Johnson and Mitchell McWilliams
All across the country, The Salvation Army is gearing up to open the gates to that well-loved place where kids can be kids—summer camp.
Every year, thousands of kids of all ages get a fresh perspective on life as they meet new friends, discover new activities, and get a taste of nature at one of The Salvation Army's 43 camps. As campers learn to swim, play sports, create music, make art, and more, their trained counselors help them navigate the complicated emotions and struggles sometimes associated with their lives back home.
For many, it's their first time truly experiencing the great outdoors. It's also often where they meet and come to know the love of Jesus.
And at High Peak Camp in Estes Park, Colorado, they do so surrounded by the Rocky Mountains.
Led by Camp Director James Johnson and Assistant Camp Director Mitchell McWilliams, High Peak is preparing to welcome some 100 kids a week this summer—and for the first time, is offering an adaptive camp for young adults with disabilities.
The mentality, they said, is why say no? Camp is a safe space for all people.
And so, James and Mitchell are joining me today to share more about their summer plans for High Peak Camp.
Show highlights include:
Highlights of James and Mitchell's stories.
What each loves about summer camp.
What they love about The Salvation Army High Peak summer camp experience.
Why camp is an important part of The Salvation Army's ministry.
How they took camp to communities during the pandemic.
What they are planning for this year.
More about an adaptive camp planned for this summer.
An experience that stands out to each from their camp experience.
Their favorite camp song.
How to get involved and support the camp effort this summer.
Listen and subscribe to the Do Gooders Podcast now. Below is a transcript of the episode, edited for readability. For more information on the people and ideas in the episode, see the links at the bottom of this post.
* * *
Christin Thieme: James and Mitchell, welcome to the Do Gooders Podcast. Thank you both for joining me today.
Mitchell McWilliams: Yeah, we're excited to be here.
James Johnson: Thank you for having us.
Christin Thieme: Absolutely. It's always fun to talk about camp, so I'm excited to do that today. As we get started here, can you tell us, maybe James, you can start and then we will jump to Mitch a little bit about your story, the highlights of what brought you to who you are today?
James Johnson: Oh, wow. Okay. I'll try to sum that up in about 30 seconds.
Christin Thieme: There you go.
James Johnson: So I've been in full-time camp and retreat ministry since 1997. Served with United Methodist Camp in North Carolina for 23 years as the director, and then moved to Colorado to serve as the director here at High Peak Camp in the fall of 2019. So I worked in camp-type programs throughout college, and even before college, and really just fell in love with camp and retreat ministry. And even through divinity school, a lot of my paperwork reflects just the ministry that takes place in the camp setting. And so shortly after finishing divinity school, I went into the local church and served as a youth minister for about three years and then got the calling to go serve at the Methodist Camp. And so I've been doing camp and retreat ministry ever since. And it's just been a total blast.
Christin Thieme: I love it. Dedicated to the camp ministry. How about you Mitchell? What's your story?
Mitchell McWilliams: Yeah, I started working for The Salvation Army in 2005. I believe it was 2006 as a wilderness counselor at Camp Arnold over in the Northwest and just kind of fell in love with who The Salvation Army serves. Before that, I didn't know anything about The Salvation Army at all. So I started working there and I continued working at that camp. I was an intern. I was a youth program specialist. I was in a variety of different roles and between doing things at that camp, I went and worked for a company that built challenge courses. And so I spent a long time working in zipline tours and aerial adventure parks and team building programs. And that just drew me back into what we can do at our camps. So I started working at a Salvation Army camp again and in 2019, I ended up coming out here to Colorado to work at High Peak Camp and really focused on wilderness and outdoor ministry through the camp program.
Looking at our adventure programs, how can we do more and do better with our adventure and really just working with the kids that we have because a lot of the kids that we serve in The Salvation Army don't get that chance to get into creation. They don't get the chance to get out into the backcountry, do backpacking trips or really experience some of those things. And so that's the side of the camp ministry that really excites me is getting in, just into the outdoors, working with some of those older kids as well.
Christin Thieme: I love it. So you both are deeply entrenched with the camp experience. What do you love in particular about the summer camp experience and all that it is?
James Johnson: I think the highlight for me is the first day of camp when kids are arriving. And a lot of times it is kind of hard to read the kids because sometimes they're a deer in headlights and they have no idea what they're getting themselves into. Some of them do because they've been to camp before others have never had this experience. And so when the kids get off the bus and they're quite shy and not very talkative the first night in the dining hall, everyone's quiet, it's hard to get the kids to sing camp songs. And then you take that and add a few days to it, so closing campfire on Friday night, and then it's just no holds barred—kids are laughing and screaming at the top of their lungs and smiling. And then on Saturday, when they have to check out and they are crying and giving hugs to the staff members that have worked with them all week and even the administrative staff—that you've made a difference and they've certainly made a difference in our lives tenfold.
It's kind of all-encompassing, but just that first day, and then seeing them on the last day of camp, what a change has taken place and all that they've learned and all the experiences they get to take home with them to share with their family and friends.
Christin Thieme: Love it.
Mitchell McWilliams: Yeah. And I mean, for me, it's this temporary community that we create at camps. Kids show up and they get to experience something completely outside the normal of their everyday life. And they get to challenge themselves and to see them step outside of their comfort zones, to a place of growth and learning is an amazing opportunity just to sit back and be an observer of that. One of the things I absolutely love about our camp programs is not just what we do for campers, because there's a huge amount there, but the way that the staff's lives are changed as well. Because camp can impact us all. Every summer there's something that I come away with that I've learned in some way that I've changed, but to see the lives of these young adults change and grow to see the way that God's moving in their life through camp, as they get to step out of that normal life and take on the role of a leader, is just an amazing opportunity. I think that we have this great calling to be able to lean into that process.
Christin Thieme: Yeah, absolutely. And The Salvation Army does that all across the U.S. But there at the High Peak Camp, can you paint a little picture for us about what camp there is specifically like and what makes it unique to the other summer camps out there?
James Johnson: Well, Mitch can certainly jump in as well. First of all, we sit at an elevation a little over 9,000 feet. And so when our staff arrives there can be snow on the ground. And so that brings its own challenges. And even during the summertime, even with the high peaks that are around us, there's still snow on the mountain tops even into July. I think that's one thing that's unique, just our overall setting and the amount of wildlife that's abundant here with elk and some of the other types of wildlife that are around. We have moose that will come through our property. So it's just incredible to be able to see that type of wildlife. And when we say elk, I mean, there'll be herds of 100 or more that are coming through our property. It's just an amazing site to see and to give the kids a chance to come up here.
And we do have to take it slow the first couple of days, even with staff training when staff are coming from all over the world. And that's the only time I can beat a lot of the young folks in basketball, in the first couple of days, because they're getting used to the elevation. But after that, it kind of evens out a little bit. Then I end up losing, but the kids are the same way. So we have to make sure that they stay hydrated and take a lot of breaks, especially at this elevation. And certainly, we get cool in the evenings, but again, just we have several bodies, small bodies of water. Obviously, we don't swim here during the summer. We don't have a swim program because it's just ice-cold even in July. Now occasionally some folks will jump in, but they don't stay in very long.
And so just the beauty of God's creation here with the Rocky Mountains surrounding this camp and again, all the wildlife and just the folks who serve here, not only our year-round staff, but the summer staff that we hire. That's what makes us unique and beautiful.
Mitchell McWilliams: Yeah. Like James said, this is literally a mountaintop experience. And High Peak Camp is butted up against the Rocky Mountain National Park. And so we have trail access straight into the park from where we are. We can take our campers up onto mountains that are 11- 12,000 feet high, right from our back door. And for me, that's one of the huge, unique pieces of our property compared to some of the other ones is that we have so much wilderness around us and so much opportunity to get out there and to really enjoy that and to be away from the city and literally every direction you look is another mountain and we're right in the middle of it all.
James Johnson: Yeah. We're very blessed to have the support of all the head officers at DHQ (divisional headquarters) in Denver and all of our donors, you just walk around our property and all the donor plaques, we have an 18-hole put golf course. We have a turf field. We have a mill house that has its own coffee shop. Just things like that all around our property. We have this huge fort where kids can go and play at camp and be safe. And so it's just wonderful to know that we have donors that support this ministry and believe in what takes place here during the summertime and sharing God's love with all of these campers.
Mitchell McWilliams: Yeah. And they just continue to pour that support. We're building a massive adventure park here, a big challenge course activity. And we're redoing all of our trails around the camp that are both for our campers, but they're going to be leveled and graded and be ADA compliant. So they're more accessible in this area. So to be able to get up into the mountains and to enjoy that, but also to be able to do it accessibly is a huge thing for us.
Christin Thieme: Absolutely. Obviously camp is fun. Sounds from everything that you guys are describing, it is the place to be and really gives you a chance to experience nature and just do something different. But why would you say camp is an important part of The Salvation Army's ministry?
Mitchell McWilliams: Yeah. It's an incredibly important part in both connecting young people back to other programs that The Salvation Army does. This is a connecting point. A lot of the campers that we get are coming from families that have been connected to The Salvation Army in some way, but maybe in a temporary fashion. And so this can drive a passion for what The Salvation Army does and help to get them more familiar with the other programs that are out there, get them into our churches, to our corps. Get them connected to other young adult leaders in their local communities. And that's one thing that we have going for us is that The Salvation Army is bringing those people from those campers, from local communities and then sending them back where we already have a presence and we can continue to lean into them. It's also important for what The Salvation Army does in the greater aspect because all these kids that we serve or at least the majority of them are from these areas where they don't really have free space outside to play.
And so we provide a safe atmosphere, safe space away from their home life where they don't have to be in the city. They can be outdoors. They can take a moment to just be a kid. And that be-a-kid side of it—also a lot of the campers that we get, they might be homeless, they might be transitioning from a home to another home, they might be from families that are seeking The Salvation Army for some sort of assistance. And maybe for one week in the summer, we have the chance to provide them a space where they don't have to worry about all these other things. The biggest ministry we can do is three square meals a day. And all the other camp stuff is awesome, but they got to eat and they got to have a bed, and they got a roof over their heads and a warm shower. And for some of these kids, that's a huge, huge blessing. And that's a way that as The Salvation Army, we can continue to give back to these communities by just providing that space.
Christin Thieme: Yeah. Something you don't even think about, we take for granted those three meals a day, but those can be really important for some of the kids coming in.
James Johnson: Yeah. And just to kind of hop on what Mitch was sharing, it is a true partnership. And we got to experience that firsthand last summer. Before the summer started, we knew that we weren't going to be able to have a full camp just because of the COVID restrictions and staffing. And so we approached the officers at DHQ about taking camp on the road. And so we loaded up our camp bus along with a truck and we took camp on the road and went all the way to Billings, Montana, which is about 10 hour drive from us. It took us more than that due to complications, but we made it. And so we started at Billings, Montana, and worked our way down. And so we would go to the corps and actually stay at the corps. So sometimes we were just sleeping on mattresses in the dining hall or just whatever room they had for us.
And then we set up a camp day for the community. And so families and kids came in and we had inflatables. We had cotton candy, we had archery, we had arts and crafts. And then we finished with a little mini campfire worship service in the afternoon. And we did several of those throughout Montana, Wyoming, and then Southern Colorado, and it was just incredible to be there and to be able to see and experience what the corps do on a daily basis. It was an eye-opener for the staff. It was an eye-opener for me because I'd never experienced that before. And to see those kids and for them to ask questions about camp and look forward to being here, hopefully, this summer, that was just a truly incredible experience. And that just goes to show you the wonderful partnership that we have throughout Colorado and the surrounding states with all of our corps.
Christin Thieme: I love it. And what a way to make the best of a situation—to take camp on the road when all the kids couldn't come to you. I love it. On that note, what are you planning for this year? What's camp going to look like this summer?
James Johnson: So camp this summer, we hope to welcome at least 100 campers per week. That's the number that we've set. We are still in the recruiting process, just like so many camps, Salvation Army camps and other camps across the nation. I think with the shutdown over the last two years and the challenges that we've had there, camps across the nation are just having a really challenging time finding the staff. They need to run all of their programs throughout the summer. And so we're still in the process of hiring and we'll probably be doing so right up the staff training. But right now we're planning, we're actually running more weeks. I'll let Mitch talk on that a little bit.
Mitchell McWilliams: Yeah. So this year we're going to start—For the last two years, we've been doing an outdoor adventure camp where we travel or I travel to a local community and we do some whitewater rafting or some camping at a national park. And so we're going to start our first week of camp with that sort of program, a traveling outdoor adventure camp. And then we'll run seven other weeks of camp programming here at High Peak that will be mostly normal for The Salvation Army camps except for our last week, which is our teen camp program and our adaptable camp. I think we'll talk about that a little bit. And then after those seven weeks, once we hit the last two, we're going to go back out on the road and we're going to do that traveling camp again. And so all told we have, I think 10 weeks—I don't think, I know we have 10 weeks of camp programming that's going on here and all around the surrounding area.
Christin Thieme: So lots of fun to come. You guys are gearing up. You touched on this but that last camp that you're planning, the adaptable camp with teens. Can you share more about what that means, what you guys are doing this year?
James Johnson: Yeah, so the adaptive camp is primarily for young adults 18 and over. It's going to be held right along with our teen camp for that same week. So we're looking forward to really offering this up for the very first time here at High Peak Camp. I think what's happened in the last couple of years with camp being shut down for a summer, and then really being partially shut down last summer, it's caused us to just take a step back and re-evaluate and we have new DYS [Divisional Youth Secretaries] on with us here in Denver that have been incredible as far as helping us move forward with programming, and along with Mitch. So we're all kind of new, relatively speaking—when you look, Mitch has only been here since spring of 2018, 2019, and I came in the fall.
We're relatively new to High Peak Camp, especially when you consider everything's been shut down for such a long time. I think they've just given us the free range to be creative and think out of the box in many different ways. And so the adaptive camp is something that I experienced at my former camp. We had several programs, not only for adults but for kids as well. And so it just came through a discussion and prayer that maybe this is something we could do at High Peak Camp for the very first time. And so the officers were all on board for that, and so we're just going to make a go of it. And we look forward to welcoming those campers here.
Mitchell McWilliams: Yeah. As a first-round, we're exploring the water right now. It'll be a small amount of people that'll be here during that team camp that are kind of non-normative. Maybe they have some sort of cognitive or physical ailment, something that they deal with every day that's just not what me and you have to deal with. But the issue is that a lot of the kids that we have, they don't always get to interact with people that are vastly different with them than they are. And so this camp is going to give an opportunity to provide a space, a safe space for all people, but also help these campers that are here for teen camp, get a chance to interact with people that aren't specifically like them. And not just on maybe an ethnic level, they're racially different, but they're very different in the way that they're able to think and process or even speak or not speak. We're opening spaces so that we can have other campers here.
And the great thing is we're thinking this through and how do you get someone that maybe struggles to follow instructions because of the way that they think isn't the way I think and give them instruction on how to get up on the challenge course? Or if maybe they don't have the same sort of mobility that I do, how can we get them up? And if this wasn't just a podcast, I could show you some of the gear we have some adaptable harnesses that can get people up that high, but we're kind of taking this mentality for that week of: Why say no? Somebody shows up and they're not the same as us. And why do we say no? We need to be able to find spaces and ways to say, yes, we can make this happen. We need to change the programming just a little bit. So for this, it won't be a fully inclusive camp at this point.
The campers that are part of the adaptive camp will have time away from the rest of the campers during the day, they'll have a different cabin that they're sleeping in, but they'll most of the time throughout programming will be integrated in. And so we're going to find ways to make that happen. And we're really excited about the opportunity. We're really excited that The Salvation Army is excited about it and has just lavished us with support for this.
James Johnson: Yeah. Each one of the adaptive campers will have a volunteer or two that will be with them basically 24 hours a day. And sometimes, what I've learned over the years and what I've shared with the officers and everyone involved, is we may have this fantastic program plan, but maybe they just want to go to arts and crafts for three or four hours, or maybe they just want to sit on the porch and rock and that's it. And we just have to welcome that and know that it's going to be a little different, but it's going to be an amazing camp for all involved.
Christin Thieme: I love it. I love that 'why say no?' mentality. It sounds like it'll be a great camp and I can't wait to hear how it goes and what the plans are for the future as it grows. What would you say, each of you in all of your camp experience, what's one story that stands out to you. Maybe one that just stays with you of like, this is why you do what you do?
James Johnson: You know, one of the things I love the most after the campers are here—because I just go around, I'll sit with the campers at a mealtime and just hang out at their table. Or if they're playing a game on the fleet field or playing whatever they're doing, I'll just go and join their group and just hang out. And a lot of times, even though we've introduced ourselves, they just think I'm this old guy that's hanging out. They're not like, oh, that's Mr. Director. No, they don't know me as the director. They just know me as Mr. James. And that's perfectly fine.
And so a lot of times you can just, you hear amazing stories from the campers. And I go back to my former camp because I was out in front of the dining hall one afternoon, just sitting with a group of middle schoolers. And I was just asking the question, what do you like about camp? Is it the lake? Is it the zip lines? Is it the arts and crafts? The games? And this one little girl just looked up me, she said, no, no, no. She said, "All those things are fun, but what I like the most about this camp is that you talk about Jesus here." And the same applies for High Peak Camp.
First and foremost, we are a Christian camp. We are part of the ministry of The Salvation Army. And when kids come here, we are sharing the light of Christ with each and every one of the kids that arrives here. And that's the amazing thing. And I know the kids experience the same thing here.
Christin Thieme: Love it.
Mitchell McWilliams: There's one story that always stands out to me when I'm asked this. And back when I was in the Northwest and again, my passion and my love for camp is a lot of the outdoor backpacking, wilderness activities. So I was hiking along the Pacific Crest Trail. I've got a group of campers with me and they weren't really prepared to be in the wilderness. They hadn't been frontloaded that this is what they were coming to camp for. They just showed up. I'm like, surprise! We're going backpacking. And I had this one camper and he was incredibly overweight. He was a very obese individual.
He's got his backpack on he's hiking and at some point, it's the Pacific Northwest, it's pouring down rain on us. I take his backpack and I strap it to my backpack. I take all his gear and I'm hiking and he's still super slow. I left a couple counselors with him and I took the rest of the kids forward to keep going because we had to get to camp. We had to set it up and get it ready so we could get dinner going.
And as I'm hiking, my campers, the eight of them that are with me can see that I am struggling with all this extra weight as we're coming up, this steep incline on the trail. And I'm at the back of the group. And without me prompting them without anything from an adult, these young people came around me, they stopped me and they said, you can't keep doing this by yourself. You need our help. They took the gear off my back. I sat down; I'm worn out. They divided up amongst their own packs, emptied the backpack and strapped the empty backpack to a different kid. And then unprompted decided that they needed to pray for the other camper who was going so slow, that he would be able to still see God in this moment and take time to pray over me.
And then together we made it to camp and set it up. And it was just this humbling moment as the guy that's supposed to be the one with the experience and the leadership to see these campers in an adverse situation, step up to the plate. And I feel like camp allows that space where we provide opportunities for kids to be leaders to step up. And so that is one of the most memorable moments of camp. And I'll never forget it when it wasn't me that was doing the leading. It was my campers that taught me.
Christin Thieme: Yeah. I love that. What a story. And did everyone make it to camp?
Mitchell McWilliams: They did. Our back group, the two other staff and that camper were a few hours behind us still, but we made it to camp. Got it set up, got dinner going. It was hot and ready once they showed up. And at the end of the week, I expected this camper just to have had a horrible time. To be ostracized from the group to just never, ever want to be in the back country again. But he was so excited. It was the best week of his life and he just kept telling me at the end, he didn't want to go home. It was great for everybody.
Christin Thieme: That's amazing. So I have to ask you a personal question now that we're this far into the interview…What exactly is your favorite camp song?
Mitchell McWilliams: I avoid the camp songs.
Christin Thieme: That's possible? All right. Okay.
Mitchell McWilliams: It's a problem. I try. I make a joyful noise, alright. Salvation Army is great for music programs. I probably should be going to music camp as a camper more often, but if I am in front and I have to sing a song, the one that I always go to is called Silly Willy. Okay, that's my song.
Christin Thieme: Alright. Excellent. James, how about you?
James Johnson: I'm the same way. I always joke with our musicians. I'm like, I am perfectly fine singing camp songs when all the campers are singing because you can't hear me sing. And that way I could just really get into it and nobody cares, but I think my favorite camp song is probably Pharoah Pharoah. There's just so many hand motions and body movements in that song and it gets kids riled up and excited just to be at camp. So I would say Pharoah Pharoah.
Christin Thieme: Love it. Well, we're going to have to look up both of those songs now so we can sing them in the background here. Lastly, can you share—how can someone who's listening today and wants to get involved or wants to support camp, what's the best way to go about that?
Mitchell McWilliams: I can say well, I think the first way is if you are a person that is of camp staff age, jump online and apply. Give your summer to working at a camp. It's a job, but it's one of the most fulfilling jobs you'll ever do. And I can tell you that every camp across our territory in The Salvation Army is hunting for staff members. That'd be the big one. And if you're not of that age or you don't the ability to work, then find people for us—be an advocate that we need leaders. We need people to be here to serve.
And then beyond that, just donations. All of our camper programs are supported by donors. Campers, they don't really pay to come to our programs. So we need more donors. We need people that are willing to step up to the plate, take on that financial burden and get a kid to camp. I think those are two huge ways to support and get involved.
Christin Thieme: Awesome. Yes. And we'll include links to do both of those things and more in the show notes for this episode, if you're looking for a direct link to do so. Well, James and Mitchell, thank you so very much for sharing today more about camp and why you love it and why everybody should go to camp this summer.
Mitchell McWilliams: Yeah.
James Johnson: Well, thank you for giving us this opportunity. If you're ever out this way, please come visit us.
Christin Thieme: Yeah. I've got to visit this new challenge course you have.
Mitchell McWilliams: Oh, it's amazing, this thing that we're building,
Christin Thieme: I love it.
Additional resources:
Connect with The Salvation Army High Peak Camp.
Listen to the Do Gooders Podcast Episode 85 I felt seen, valued and safe at camp with Mechale Mency. A former camper who's now an elementary school principal, said she's out to make sure kids feel seen and valued, and learn to value others—just as she did at camp.
How do we treat everyone with love and kindness, as if they were our neighbor? Get the Do Good Family Roadmap and take a 4-week journey for families in how to be a good neighbor. Follow the guide to see what the Bible says about the art of neighboring and take tangible steps together on your printable roadmap to be a caring, helpful, welcoming and supportive neighbor right where you are.
Listen and subscribe to the Do Gooders Podcast now.