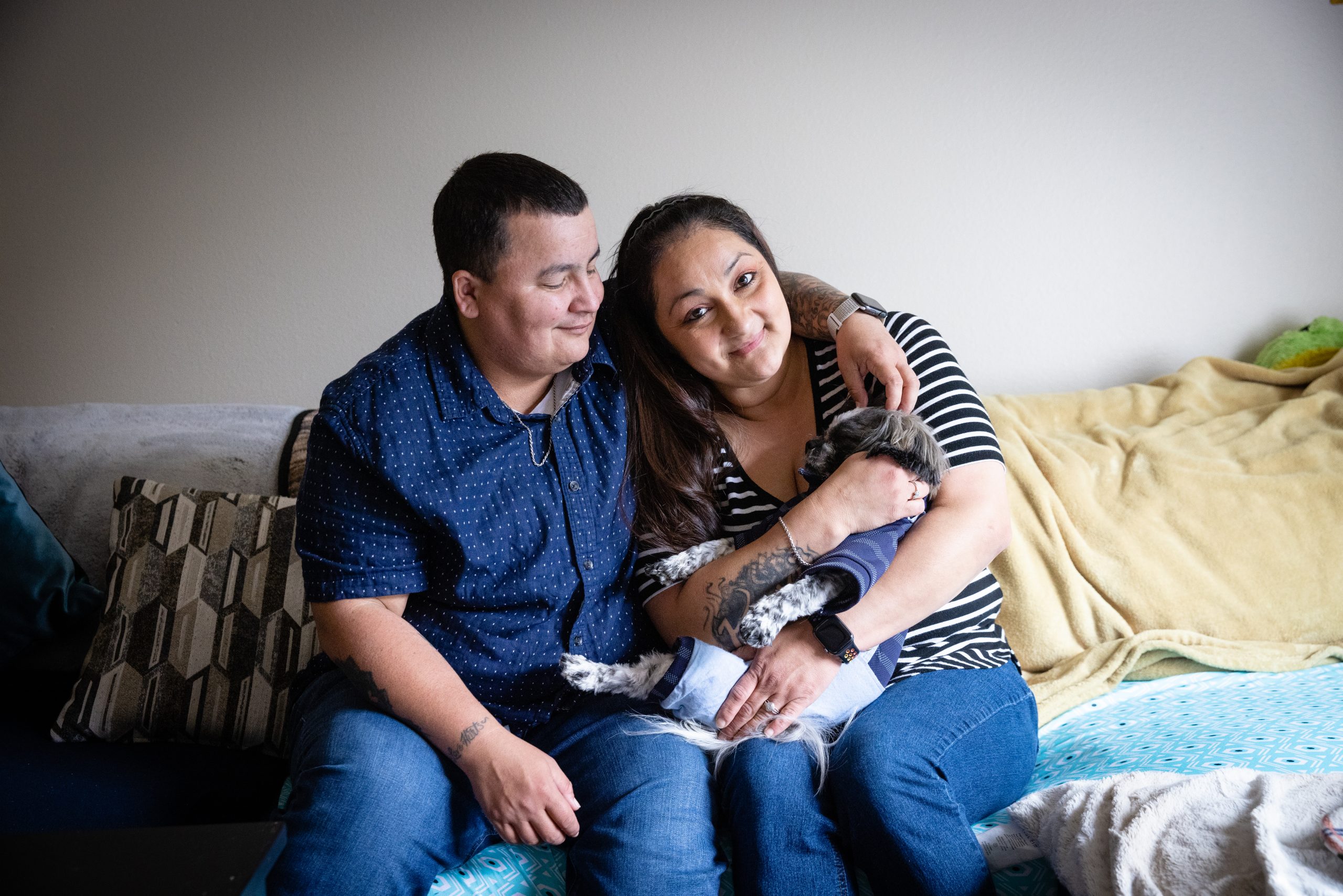 In Seattle, a family finds home twice with the help of The Salvation Army
Dina and Kori Flores live in an apartment on a quiet street in north-central Seattle's Greenwood neighborhood along with their dog, Odie. It's all a stone's throw away from restaurants, cafes and shops—qualities many would consider when choosing a location. But the biggest reason why it feels like home?
"Everybody is so nice around here," Dina Flores said. "Everybody has a dog."
And Odie is the first to greet guests at the door. Inside, the apartment oozes a warmth fit to counter the gloomy days often associated with the Pacific Northwest. Inspirational words and affirmations of love cover the walls. A letterboard says: "Smile more, worry less and remember how blessed you are."
In many ways, the home feels like the ending—after living in a car, the Floreses found an apartment with the help of The Salvation Army's Street Level program. When the first place didn't work out, they knew who to call. Now in another apartment found with the help of the program, they have a safe place to call home that has allowed them to experience new beginnings.
The Floreses met in San Antonio, Texas, at Haven for Hope, which serves those experiencing homelessness. Prior to his transition, Kori Flores was experiencing homelessness and staying in the women's shelter, and Dina Flores was in the rehab portion of the facility, working on recovering from addiction. They met, and connected. After a series of relapses, Dina believes Kori saved her.
"She couldn't stay sober," Kori Flores said of Dina. "So I was like, 'Hey, come on, let's go.' She came [to Seattle], and since she came here, she was sober."
Now, with three years of sobriety that she maintains through counseling and therapy, Dina Flores said she feels like she is making progress.
"I found somebody who loved me," Dina Flores said, noting the years she spent in what she described as a toxic relationship with her then-husband. "I was very not who I am today, so I thank Kori for that…he really helped me see the beauty in life."
The pair lived in Seattle prior to the coronavirus pandemic in 2019, but then moved back to Texas once the pandemic hit. After living paycheck-to-paycheck in Texas, the pair said they decided to move back to Seattle.
They were getting on their feet and living in their car, sleeping in a church parking lot in Kent, Washington. They first learned about the Street Level program in a Buy Nothing group on Facebook. A team member from The Salvation Army who was in the group told them Street Level could help them get into an apartment—especially since they had jobs.
They got the team member's number, met up with her, completed the paperwork and found an apartment in two weeks, Dina Flores said.
"They were very, very proactive," said Street Level Program Manager Tina Lewis. "These two—they were on it as much as I was on it."
Since the Street Level program began its operations in 2019, the team has helped more than 400 people gain permanent housing—and 97 percent remain housed, according to Lewis.
Now, as the effects from the pandemic continue, and U.S. inflation rates hit the highest they've been since 1981, Lewis is beginning to see some familiar faces.
"The pandemic really took a toll on things," she said. "It's really hard now because of the rental increases and a lot of people that we housed years ago are now coming back…because their rent has been raised up anywhere from $300 to $500. And now they can't handle it, so we're seeing some repeaters."
But the second time is a different kind of search, Lewis said—this time, they have a security deposit.
"Then we try and find something that's more in our price range, so the search is a little bit harder now," Lewis said.
In Seattle, the average rent for a one-bedroom apartment in June 2022 was $1,667, according to Apartment List—up more than 11 percent from the year prior.
In spite of the hardships, the Street Level team has worked to house 100 people in the first six months of 2022, Lewis said. During this time, the team has expanded its personnel, and it has acquired a new building for case management set to open in August 2022.
For the Flores family, rent wasn't the reason they came back. After moving into their apartment in October 2021—a third-floor unit in Seattle's Queen Anne neighborhood—they began to experience habitability issues. In April, following flooding in their unit, Kori Flores said they discovered mold. After going through hassles with rental insurance and their landlord, it was time to move.
"This time around, we're discussing, we're like… 'We're going to have to start looking for another apartment, we've got to pay the first month's rent, the deposit, the security deposit, cleaning fee—all that all over again,'" Dina Flores said. "So we're thinking about that, and he was like, 'Babe, why don't you call Tina?'"
And she did. When Lewis answered, Dina Flores wasn't sure if she would remember her, but she did, and Lewis said she was actually about to reach out to her, too. She said she had the Floreses' file on her desk. Dina Flores explained their situation to Lewis, and they once again worked together to find a new apartment.
"It was just so funny how it came together again," Dina Flores said.
But this time it's different. In addition to the friendly neighborhood, there are many things the couple loves about their home—the balcony, the washer and dryer, the dishwasher and the fireplace are all top contenders when it comes to favorite features.
Now, the pair have their sights set on the future. Dina Flores plans to begin school in the fall to become a chemical dependency counselor, and Kori Flores has begun studies to become a social worker.
"And now we just live everyday, like regular old people—drink our coffee, go to work or do schoolwork or whatever," Dina Flores said. "We make dinner and then we go to bed at 8:30-9 o'clock."
---
Do Good: