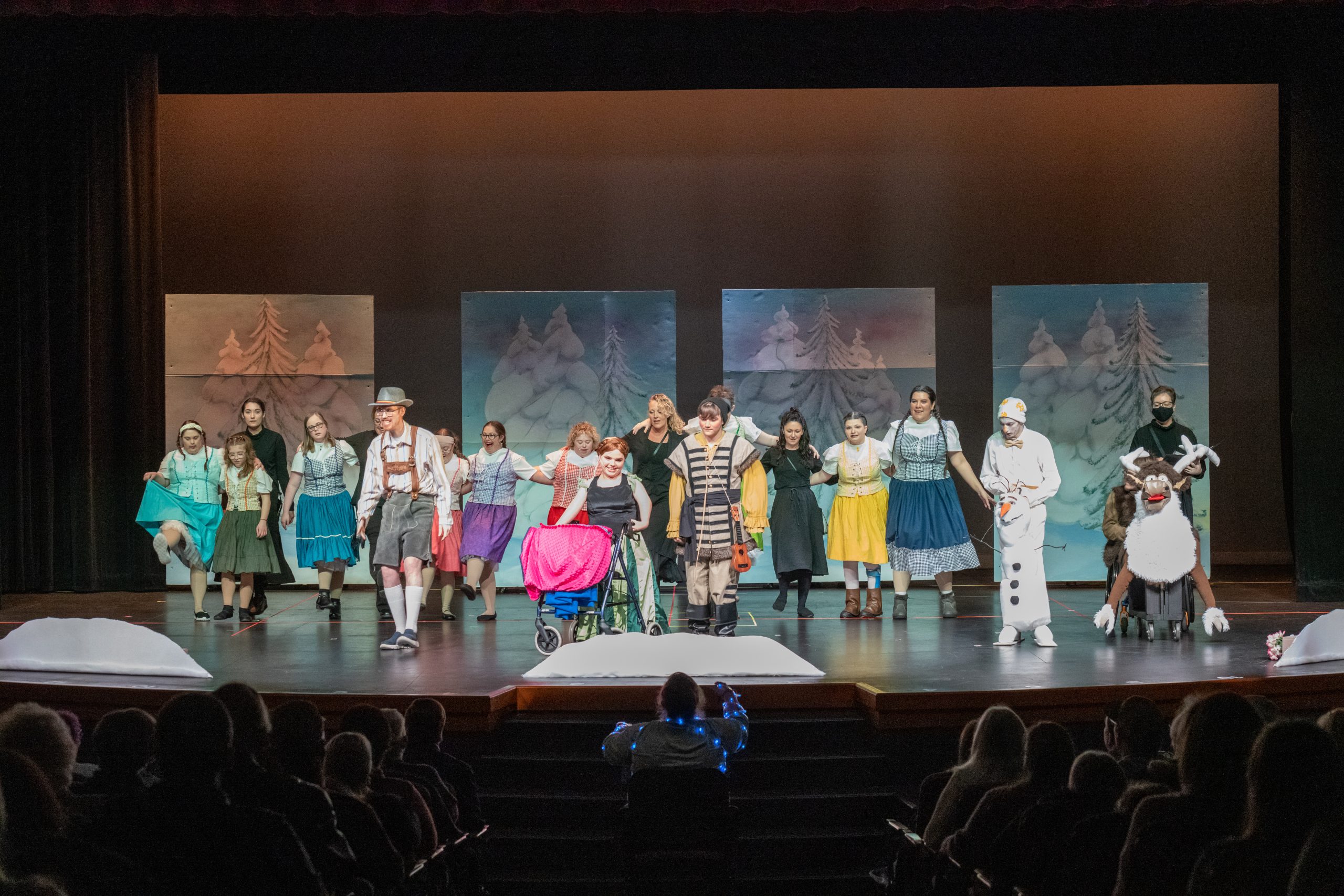 How one Salvation Army Kroc Center is celebrating people with disabilities through theater
Kroc partnership provides opportunities to get involved and grow in the arts.
The Salvation Army Ray and Joan Kroc Center in Coeur d'Alene, Idaho, aims to be "a safe place to belong and grow" for its 15,000 members and the 3,000 people who enter the facility daily.
Kroc Center Corps Officer Major Don Gilger said the Kroc Center is a place where everyone, including those with mental or physical disabilities, can feel accepted and encouraged no matter what they want to pursue.
Recently, the Kroc Center partnered with a local nonprofit Celebrating Different Abilities through Art and Community Theater (CDA ACT) to run a production of "Frozen Jr.," with its final show appearing on Nov. 5.
All actors involved in CDA ACT's productions have the opportunity to experience theater, regardless of age, ability or physical or verbal skills.
"We want to spotlight their abilities and allow them to be seen first," said Gilger.
Outside of the theater programming, Gilger added, there are opportunities for people of all abilities at the Kroc, including adaptive rock climbing wall and pool equipment. Partnering with CDA ACT is "another way of adapting so everyone can participate," he said.
While many performance spaces are Americans with Disabilities Act (ADA) compliant for audience members, CDA ACT Board President and "Frozen Jr." Director Jamie Sciarrio said the Kroc Center Theater stands out as it's also ADA compliant for performers on stage.
"Theater should be a safe space for everybody, no matter what your abilities are," said Sciarrio. "All of our shows have been at the Kroc Center," she added, mentioning how "Frozen Jr." is the latest collaboration between CDA ACT and the Kroc Center, but not the first.
"We are such a unique theater company and because our board is so small, it acts as the producer of the show," she said. As CDA ACT's Board President, she's also responsible for organizing marketing, fundraising and recruitment efforts. "There's this huge list of things that need to get done, so we divvy it up and work together to make sure it happens."
In addition to directing the show, Sciarrio said she also executed the set design and choreography. "It's great for our actors to see us as their production team, stretching and learning new things because it encourages them to do it too," she said.
This year's "Frozen Jr." production highlighted the talent of 35 actors and 19 shadows, Sciarrio said.
For the actors, shadows serve as "personal coaches" helping with anything from cueing lines to providing mobility support.
"Every actor needs different support," Sciarrio said, mentioning how individual needs are determined during rehearsals leading up to live performances. Shadows also help the actors "learn how to advocate for their own needs [and] how to speak up for themselves," she said.
"I know I have a shadow there right behind me if I need help," said actor Madison Brinson, who played a townsperson in the "Frozen Jr." production. "If you need help with the lines or anything else on stage, they'll help you and guide you to where you need to be in a scene," she added.
Prior to getting involved with productions at the Kroc Center, Brinson said she always felt "too shy" to participate. Now, after her fourth production, she said she's already looking forward to next year's show.
"My favorite part is having a play-family and getting along with everybody," she said. "It's amazing how great the work turns out."
Volunteer Mary Basta said she first experienced working with CDA ACT during a production of "Fiddler on the Roof," where she served as a shadow for a man with a hearing disability.
"I thought I'd check it out and see if it would be a good fit for my son," Basta said. "I knew then that this program was perfect for my family and for anyone that needs a little bit of help to achieve a goal of being onstage."
This year, Basta said she helped with costuming while her son, Logan, starred as Olaf, his fourth performance with CDA ACT at the Kroc Center.
"Logan loves to act and grows more each year," she added. "My son's life is fuller by participating in this program."
"It's amazing to watch the actors take such care and preparation to carry out their part," said Gilger. "It's heartwarming and it's a cool thing to be a part of."
This year, while attending the Kroc's Flannel Fest Red Kettle Gala, Midge and Pepper Smock generously donated $100,000 to support the Kroc Center theater, according to Gilger. "That's what the $100,000 was for…to support our theater and make sure that certain performances like CDA ACT can continue," he said.
---
Do Good: