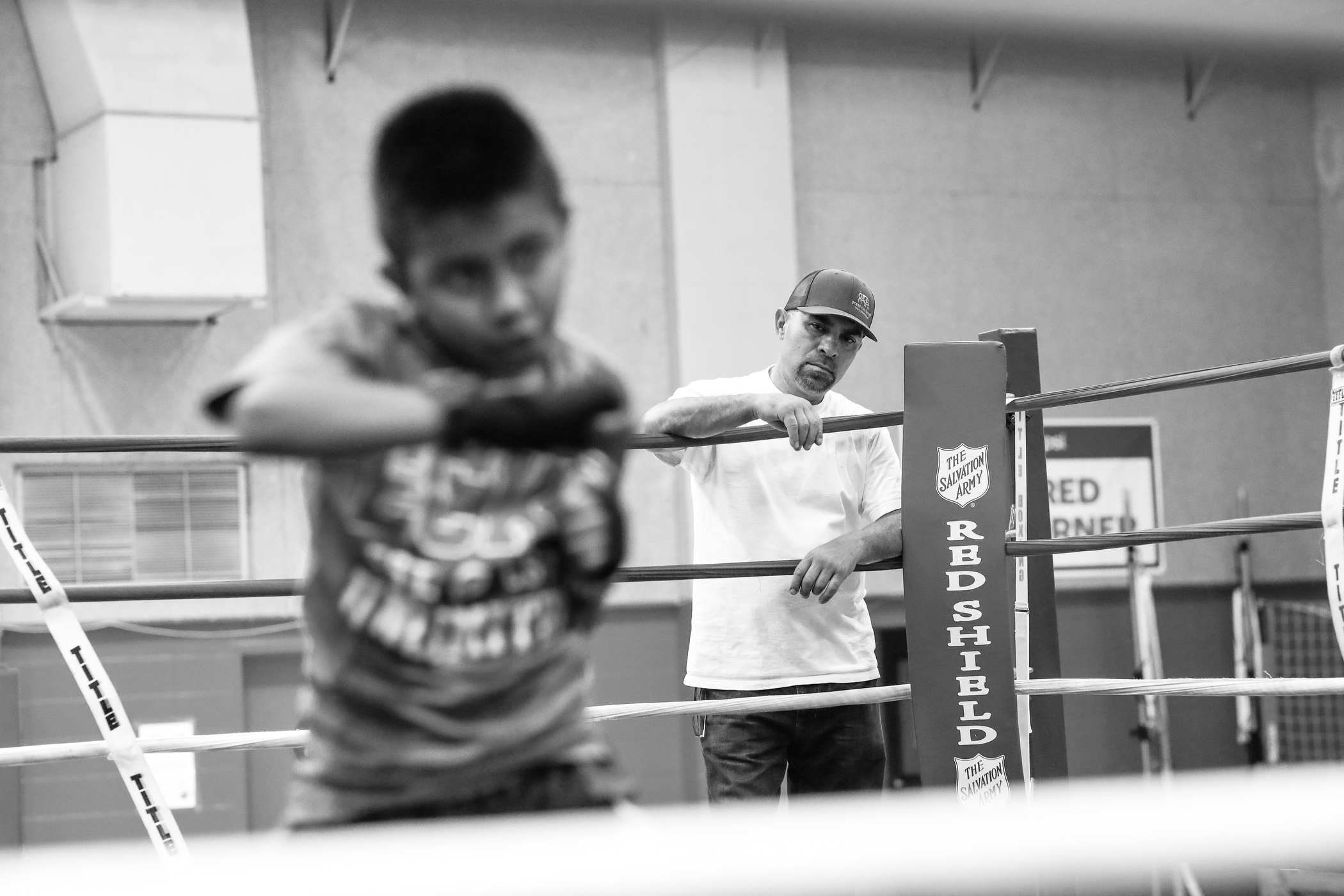 How Coach Juan Barrera builds a better community one boxer at a time
Modesto Red Shield boxing director helps The Salvation Army provide a safe haven for kids.
Juan Barrera's commitment to the youth he coaches at The Salvation Army Modesto (California) Red Shield Center runs deep. As director of the center's boxing program, he instructs boys and girls, and adults, too, in the basics: the boxer's stance, and the jab, cross, hook and uppercut punches. Additionally, he listens to the kids and mentors them.
He can relate. During his youth, Barrera would hang out at the Red Shield Center, which opened in 1970.
"I grew up right here, down the street from the Red Shield, about two minutes from here," he said. "I've been coming here since I was about 4 years old—about 45 or 46 years. It's really been a safe haven for me."
At age 4, he said he began learning how to box from his father.
"My dad always told me if you're going to box, you need to box and be focused, but I ran around in the neighborhood," he said. "It was kind of rough in the late '80s—a lot of gangs, a lot of drugs, a lot of everything around here."
In his mid-teens, he said he would occasionally come to the Red Shield Center, where he participated in baseball and played games. The center didn't have a boxing program then. Barrera said he did some boxing locally; he had his last fight when he was 20.
"I was still hanging around the streets—that was my thing," he said. "I didn't do drugs in my teens, but I got into a little bit of trouble. I'm blessed not to have gone to prison or gotten hurt or killed. I had good, really good parents. And I always had God on my side."
By age 25, Barrera was married and working at Sav Mor Foods as a meat cutter, and within two years he was promoted to assistant meat manager. At this point, he said his life took a turn.
"Somehow I got involved with drugs. I went through an addiction for about three years," he said. "I got demoted at my job. I lost my home. Lost my family. I lost everything…But I remembered my main tool in life was God. That's what kept me sane. That's what kept me around, not dead, not institutionalized."
Barrera started going to church and to recovery meetings. "I knew with God anything was going to be possible," he said.
And life started getting better. Although he had lost custody of his 8-year-old daughter, he was able to see her once a week. One day, he said he brought her to the Red Shield Center.
"That's where I grew up," he told her. "Let's check it out." She started to play and make friends. One thing led to another. Soon, Barrera was volunteering at the center and within a couple of months he had a part-time job there. Around 2008, when he asked if the center could purchase two pairs of boxing gloves and two punching bags, he got the OK.
"We hung [the bags] up in a small room here," he said. That first day of boxing, we had about six kids show up."
From there, things took off. The corps officer, who hoped to fund a kitchen renovation, asked Barrera to give his testimony at an advisory board meeting. Barrera agreed.
During his testimony, one of the members asked, "How much would a new boxing ring cost?" Barrera said he wasn't sure, but it would be a lot, maybe $10,000.
"Check on that," the man said. "Let's get the boxing ring before we do the kitchen."
Within two months, the center received the boxing ring.
"The kids see the ring and they want to get in there," Barrera said. "Not all the kids have to compete. I think our role here as staff members is to build champions, but not champions just in the ring. Champions in life…Life is much more than just fighting. It's much more than just boxing."
Over the years, the program has produced boxing champions. In 2017, 9-year-old Andre Flores became the first member of the boxing club to claim a national title. Andre and his younger brother, Damon, would go on to achieve more at the national level. And once pro boxer Rodney Hernandez came to the Red Shield Center, he found success—after two years of no wins.
These days, Barrera continues to attend church, but he doesn't go to meetings anymore. "This—the center—is kind of my meeting now," he said. "Sometimes I get to work here and I'm tired. But then I see the kids working out. And I've just got to be here. This is part of my day…it helps me out. It's the gratitude from the kids."
Glafira Rodriguez, Modesto Red Shield Program Director, said Barrera is a positive role model. "Every day he's not only teaching them boxing; he's teaching them about life," she said. "He shows them he cares about them regardless of whether they're competitive boxers or not. He treats them all with love and kindness. He's a good-hearted person."
Barrera is still at Sav Mor, as the meat manager. And he met his current wife at the Red Shield Center; she's the Zumba instructor.
During the COVID shutdowns, Barrera said many of the kids called him frequently, asking if the center had reopened. For those kids, he installed a punching bag in his garage, and told them they could come and practice if accompanied by a parent. Once the Red Shield reopened, the kids came right back, and the center had its first boxing event about three months later.
A Scripture verse is inscribed on the wall of the boxing gym at the Modesto Red Shield: So I run with purpose in every step. I am not just shadowboxing (1 Cor. 9:26 NLT).
"For me, that means every move we make in life is for a purpose," Barrera said. "And I think this is my purpose right now, where I'm at. I'm here."
Modesto Corps Officer Captain Raymundo Jimenez credits Barrera with the success of the center's boxing program. "He's an inspiration to us, both in his work teaching the kids but also in providing a safe place for them to come," he said. "The Red Shield was a safe haven for him and now he shares that with the kids. He's a blessing to this area for sure. Without Juan, the success of the program wouldn't be what it is today."
Jimenez said almost 600 people attended the center's boxing event in October, thanks to Barrera and the connections he's made in the area and beyond. "He's impacting kids beyond California, including Texas and Nevada," Jimenez said.
Barrera gives God the credit for what's happening at the center.
"What motivates me is when I see the kids grow and progress in their lives, when I see them smile, when I see their personalities change. I see their confidence build and I see them transform not just on the outside, but on the inside," Barrera said. "That's the biggest blessing—to change kids' lives, and it's not me that changes their lives; it's God. God uses whatever I have—it might not be my boxing ability, it might be my words of motivation. It might be my character; it might be what I've been through around this neighborhood.
"I'm so blessed. I could be somewhere else. I could be dead. I could be in jail, on drugs, homeless," he said. "Some days I drive to work and just put my hand out the window. And I'm like, 'Thank you, Jesus. Thank you that I get to go to work today and I get to go to the youth center afterward. It's great. God is great."
---
Do Good:
Did you know The Salvation Army served 31 million Americans last year fighting hunger, homelessness, substance abuse and more—all in a Fight for Good? Where can you help? Take our quiz to find your cause and learn how you can join in today.
Being a nice human always has a place in your day. But how to go about it? Join 23k+ people who care and find weekly inspiration from the Do Good Digest right inside your inbox.
Find out how The Salvation Army in Modesto, California, helped veterans during the pandemic.