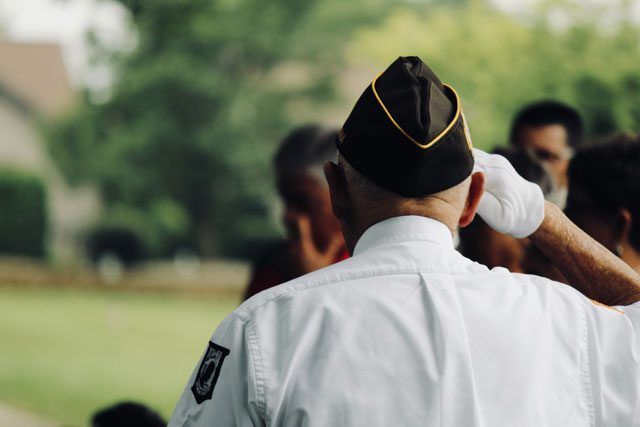 Salvation Army helps veterans amid COVID-19
Veterans face unique hardships during COVID-19
By Caitlin Johnston–
Bonnie Romero has worked with veterans in Modesto, California, for nearly eight years, but she doesn't remember ever being this exhausted.
The coronavirus pandemic has interrupted lives, businesses, and communities nationwide. But the veterans staying at The Salvation Army's Modesto Corps homeless shelter and working with Romero, a Veterans Affairs case manager, are feeling the impacts acutely.
Previously, Romero could help a homeless veteran find secure housing within two months. But when COVID-19 hit California in the spring, everything came to a halt.
"I haven't been able to place anybody since March," Romero said. "It's that bad….Everything is on hold."
Romero typically works with 16 veterans at a time. They usually cycle through within two months as Romero finds them housing through programs such as HUD-VASH: a partnership between the Department of Veterans Affairs and the Department of Housing and Urban Development to provide vouchers for rental assistance.
But with everything on hold, Romero has worked with mostly the same veterans for the past five months. She can't place anyone in new housing, which means she has no new spots opening to provide other veterans who need short-term shelter. 
Things got even more stressful after COVID-19 hit the shelter recently, with several residents testing positive for the novel coronavirus. With the help of the VA, Romero moved the veterans she works with to a motel in hopes of slowing the spread. 
"Everything has changed," Romero said.  "I'm coming in an hour-and-a-half early to make sure they have breakfast and to check on them. It's taxing. I can tell you that."
The Modesto Corps isn't alone in facing these challenges. Brice Shelton, business manager for the Veterans and Family Center in Beaverton, Oregon, said the veterans he works with are seeing long delays in scheduling appointments with VA staff and partaking in employment and housing programs.
"The VA was on a real strong shutdown for a long time," Shelton said. "A lot of these programs that the VA provides were all put on temporary hold. Only within the last month, actually, our liaison has returned to us."
In order to meet with a representative from the VA, veterans and their family members have to wear masks and practice social distancing. Shelton said staff has also cut more than half of the tables in the dining room to make sure everyone could space out appropriately. This is an improvement, he said, over the first part of the shutdown when people had to eat their meals in their rooms.
The Veterans and Family Center has capacity for 90 people and is currently serving 86. Of those, 60 are veterans ranging from their early 30s through their 60s, Shelton said.
Some residents have struggled with the guidelines and delays, which becomes particularly hard if that individual is dealing with alcoholism, post traumatic stress disorder or mental health issues, Shelton said.
"There are occasional issues where we have to have a lot more grace because there's a lot of times people are getting frustrated with the delays and we can't do anything about it," Shelton said.
Depending on the program, a veterans' stay lasts anywhere from 30 days to nine months, he said. But like the Modesto Corps, Shelton said they've had to extend some stays because they don't yet have access to many of the resources they need to help provide housing. 
There have also been instances where the center normally would have exited people for noncompliance with rules regarding drugs and alcohol, but Shelton said because of the pandemic, staff is extending grace and helping people deal with a stressful situation.
"We're trying to prevent triggers and things like that, which can be difficult in a time like this," Shelton said. "The case managers have to get deeply more involved in having a real contingency plan saying, 'While you're here, this is what we need you to do.'"
There have been benefits and silver linings to the situation, Shelton said. Several of the veterans have volunteered to help around the corps, whether that's cooking, landscaping, painting or helping with other needs.
"They're really happy to be able to do something rather than sitting around getting frustrated because they're sitting around," Shelton said. "That's one of the positives that has really come out of this."
He's also noticed more of the veterans and family members socializing in the lobby than ever before. Because of COVID-19, visitors are not allowed, which Shelton said has led many people to look for human connections with others at the center.
"The lack of interaction with people due to the shutdown has had a psychological and a traumatic effect on people," Shelton said. "They're flocking to the lobby for that chance to interact. Even if the conversation doesn't apply to them, they're going to participate."
The Las Vegas Veterans Services are seeing some delays, but overall reported more success in finding stable housing for homeless veterans during the pandemic. 
Las Vegas Veterans Coordinator Nick Lenderman said slight delays are caused by new practices in outside organizations, like the housing authority taking longer to do inspections than they did before the pandemic. But while it might take a little extra time to get veterans into permanent housing, they're still able to do it.
Lenderman said The Salvation Army is keeping veterans and families in its programs for longer during the pandemic, even if they're stable in their own homes, because of all the uncertainty COVID-19 is causing. 
"The situation is so fluid, we don't want to leave our veterans without support," he said. "We do not discharge them from the program, so they can maintain contact with their case manager if they do need services."
Lenderman said that while things have gone fairly well in Las Vegas over the last few months, he is concerned about the potential influx in homeless veterans the area will see once a moratorium on evictions ends.
"Some people, they will not be able to retain their housing and they will be evicted," he said. "Of course, we're standing by for that group of people to enroll them in rapid rehousing services."
Because fewer people are moving about during the pandemic, Lenderman said Las Vegas, which is typically a very transient city, is seeing less people coming in from other communities. That, too, will change at some point.
"It's sort of a consensus that this is a quiet before the storm," Lenderman said. "Once all these temporary restrictions go away, we're going to be overwhelmed. We're trying to gear up for that."
Those preparations could include hiring more staff, developing new partnerships within the community, and meeting with other care providers to see what work can be done together.
Even though The Salvation Army and others are trying to plan ahead for some situations they can foresee, Lenderman said there will still be surprises.
"But we're The Salvation Army, we have God on our side," he said. "So I'm confident that our veterans will be provided with the VA services they're accustomed to when they come to The Salvation Army."
HOW TO HELP:
If you'd like to make a monetary donation, please

click here to make a gift.

Text 'GIVE' to 52000 to make a $10 donation to The Salvation Army. This will automatically add a one-time donation to your next mobile phone bill.

For information about volunteering, please visit

volunteer.usawest.org

.

To learn more about how to support The Salvation Army's relief efforts,

please click here

.