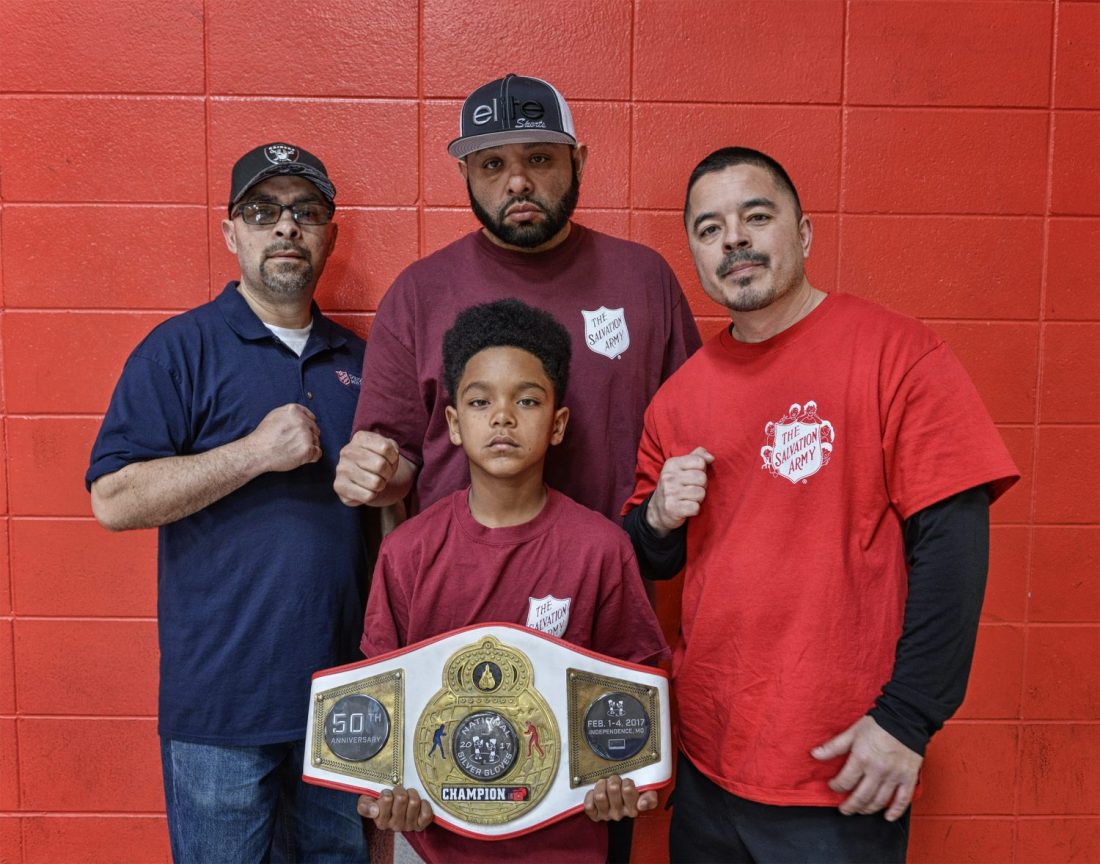 Young boxer counters odds to claim title
Andre Flores became the first member of The Modesto (California) Red Shield Corps Community Center's boxing club to win a major tournament.

Andre Flores had done it. Just 9 years old, the Modesto, California, area youth had his hand raised at the
2017 National Silver Gloves Association Boxing Tournament
in Independence, Missouri, earlier this year. But it shouldn't come as a surprise to those who know him. After all, Flores entered the world a fighter—literally.
Flores was born premature at 28 weeks, weighing just 3 lbs., 6 oz. Placed in an incubator with tubes and wires affixed to him, he needed a machine just to help him breathe.
"He was very small and fragile," said his father Damian. "The first couple days were the most crucial."
Flores' parents kept hearing he'd need to stay in the neonatal intensive care unit (NICU) for at least two months, but Flores battled for his life, and after just one month, his parents were able to take him home.
By his first birthday, Flores had gained enough weight—thanks to a high-calorie diet—and made a full recovery.
Now a fourth-grader and honor roll student at La Rosa Elementary in Ceres, Flores has been attending the Modesto (California) Red Shield Corps Community Center's boxing club since he was just 4. He started boxing with his dad at age 3 and started competing at age 8. Flores has been training 10 hours per week for about two years now.
"He puts in 100 percent when he comes to the gym. He doesn't come to goof around," said Juan Barrera, Boxing Program Coordinator and Head Coach. "He's a quick-learner and very focused. His mentality changes when he is ready to box."
In December 2016, Flores won both state tournament matches in El Monte, California. In January, he won both matches at the 2017 Silver Gloves Western Regional-8 Championships—the second of which pitted him against a previously undefeated boxer from Hawaii who was the 2016 Junior Olympics champion.
"I felt confident when I got in the ring," Flores said. "I just felt like I was going to win. I threw and landed more punches. For some reason, I can't hear anyone else but my coaches and see anyone else but my opponent when I'm in the ring."
Damian Flores admits he often gets nervous before a match. "[Andre] doesn't, "he said. "He's very calm, he is self-motivated and driven, his work ethic is off the charts."
"Andre has always been a fighter before he even knew it. It's in our DNA," he said. His great-grandfather (Louis Jordan) is in the Bay Area Hall of Fame and his cousin (Leonard Davis IV) is a professional fighter.
"We are ecstatic over Flores' success through the Silver Gloves Tournament," said Corps Officer Lt. Quinton Markham, who credits Barrera and trainers Andy and Anthony Mariscal for their expertise and guidance. "He's very friendly and a polite young man. He's a great example to the other kids here of what can be accomplished with a good attitude and some hard work."
The boxing program at the Modesto Red Shield began in 2009 when Barrera and the Mariscals identified a need for at-risk youth. "The idea was to show fundamentals of boxing with gloves and punching bags," said Barrera, who begins each session in prayer.
Currently, 30 individuals ages 5–26 participate in the club, which runs weekdays from 4–6:30 p.m. In addition to the support of the
Ceres Rotary Club
—which donated the boxing ring and other equipment—several corporations sponsor boxing events.
"There are not many opportunities for children, teens and young adults in South Modesto," Markham said. "Participation [in the boxing club] is relatively inexpensive."
To help fund the program, the Modesto Red Shield hosts sanctioned boxing tournaments every May and October with a $10 entrance fee plus concessions. Boxers from all over the region compete in matches—up to 30 a day—with other participants based on age, weight class and experience.  
"Being around these kids is like being around your own kids, they become family," Barrera said. "I want the best for them and for them to have a great life. I plan to help them through mentoring."
Flores will compete this summer in the 2017 National TITLE Boxing Tournament, the Junior Olympic Youth Open & Prep National Championships, and the 17th Annual Ringside World Championship.