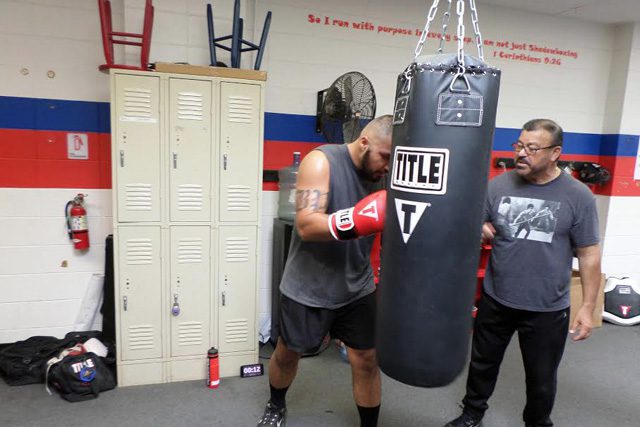 Boxer's big win adds to legacy of Modesto Red Shield
The center's boxing program has a history of success with amateur and pro boxers.
By Vivian Lopez –
Pro boxer Rodney Hernandez came to The Salvation Army Modesto (California) Red Shield Center in November 2017 and told the center's head boxing coach Juan Barrera, "I'm looking for a coach who believes in me."
He not only found a coach, but a whole support system to guide him to success—in and out of the ring.
After not having won a fight in two years, Hernandez took home the Northern American Boxing Federation junior heavyweight title in July, breaking his opponent LaRon Mitchell's career-long winning streak in the championship fight in Sacramento.
"It felt great," Hernandez said. "I had a hard [opponent]. Mentally, I was there. Physically, I was there, too, but it was [about] learning and trusting my team. You need trust while you're in that ring. My trust grew with them and I won the title. Everything paid off."
Before Hernandez sought a coach, Modesto Red Shield boxing coach Andres Mariscal expressed interest in coaching him. The pair were a good match.
"For one thing, Rodney is a very nice man. He's a very humble man," Mariscal said. "He listens very well and he's willing to learn. He never argues. He just does everything I tell him. He's getting better and better."
Hernandez said training with Mariscal, Barrera and the other coaches at the Red Shield was just a good fit. They taught him boxing basics he was unfamiliar with, and life skills.
"It's very serious while you train. It's very positive in there. Everybody motivates each other. I love that environment," Hernandez said. "They [also taught] me how to be polite, and overall how to be a better person."
Barrera sees this growth in Hernandez.
"I do see a lot of change in Rodney Hernandez, not just as a boxer, but as a person," Barrera said. "He has learned to appreciate things and has changed his life. He's become very humble, and very civil and respectful to others."
Hernandez is a role model for the younger children in the Red Shield's boxing program.
"These kids here look up to him," Barrera said. "They see the way he carries himself. He's showing the kids if he can accomplish something in life, so can they."
With his win, Hernandez hopes to continue inspiring the kids.
"I was very excited for the other kids to see I was a champion, so if they want to become champions they know they can do it, too," Hernandez said. "There's hope for anybody."
Hernandez has big dreams for his future as a boxer.
"I want to conquer the boxing, leave my print and walk away and let someone else do it, too," Hernandez said. "I want to be up there, motivate people and tell them 'You can do it too.' Maybe I can change some lives, and if not, just make people smile."
By winning the NABF junior heavyweight title, Hernandez adds to the Red Shield boxing program's rich history of success. According to Barrera, Hernandez is one of the program's nine boxers who have won championships and one of three professional boxers currently training there.
Modesto Red Shield Corps Officer. Lt. Quinton Markham, credited the coaching staff as the reason the program has helped youth and professionals alike reach their potential.
"It's due to the hard work and commitment of themselves and the coaches to get them to that level where they can compete as professionals and actually succeed," Markham said. "I attribute this to the knowledge and skill of our coaching staff, in particular Juan Barrera. He just knows what he's doing. He has a knack for teaching. For Juan and the other coaches, this isn't just a job…it really is a ministry."