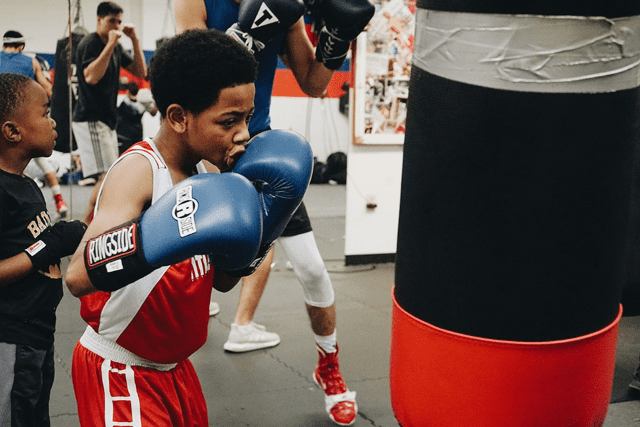 Brothers win national boxing titles together
Modesto Red Shield young boxers win National Silver Gloves championships.
Brothers Damon, 8, and Andre, 11, Flores recently hit milestones in their boxing journeys—together. Both brought home national boxing titles in their respective categories after winning crowns at the 2019 National Silver Gloves championships in February in Independence, Missouri.
The young boxers train alongside one another at The Salvation Army Modesto Red Shield Boxing Program in Modesto, California, encouraging one another in the sport they both love.
Andre won in the 75-pound 11-year-old category and Damon triumphed in the 65-pound 8–9-year-old category. The boys said their victory was especially exciting because they both won.
"It felt good," Damon said.
"It makes [this win] a lot more special because I'm knowing that I'm influencing my little brother to become a great, too," Andre added.
Their father, Damian Flores, Sr.,who is also one of their coaches at the Red Shield, expressed how proud he was of his sons.
"It's double the pride, double the joy, and I feel ecstatic," he said. "It's a blessing. It was all God's plan."
Damon and Andre enjoy their boxing training with one another and their older brother, Damian Flores Jr., 12, at the Red Shield—where they practice daily by exercising, hitting the bag, practicing advanced techniques and sparring.
Andre said Damon keeps him competitive in a fun way.
"I like training with him because it keeps me going," Andre said. "He wants to be better than me, and it keeps my head down to keep working on what I'm doing."
Modesto Red Shield Boxing Program coordinator and coach Juan Barrera said he has enjoyed watching Andre and Damon bond through boxing.
"They both have a natural ability. I see the older one, Andre, always talking to his little brother and encouraging him and telling him what to do and what to look out for," Barrera said. "They have good time. They laugh together. They're little characters and jokesters, too. They have fun here."
He said their national title achievements are no easy feat.
"There's a lot of competition at the [Silver Gloves] tournament. It's not an easy tournament to win," Barrera said. "I'm very proud of the kids because they are very humble. They're very good kids. They come back and they're role models to the other kids and even the adults here."
Damian Flores Sr. attributes Andre and Damon's success to their strong work ethic.
"They are self-motivated and self-driven. They know what to do," he said. "They're motivating factors for each other."
Damon and Andre said they have grown significantly by boxing at the Red Shield—where they are coached by their father, as well as Barrera, Andy Mariscal and Anthony Mariscal.
"I've learned a lot…about working out and just being myself," Damon said. "I like the coaches a lot. I like the way that they train me and treat me."
Andre said he has learned many skills, and that boxing is a way he expresses himself now.
"I've learned a lot of discipline. I've learned that I'm brave and strong to get in [the ring] because a lot of people wouldn't like to get in there and get hit in the face and all of the physical stuff," Andre said. "Me personally, I like it because you get to take whatever is bothering you and you can just take your anger out in the ring. It makes me feel a lot better."
The brothers have big plans for their future in boxing.
"Our goal is to get to the Olympics and hopefully win gold," Andre said.
And their dreams stem from important roots in their family. Andre said boxing is in their blood because their grandfather was a Bay Area Boxing Hall of Famer and cousin just became a professional boxer. So completing his boxing journey with his younger brother is important to him.
"It's great. When I'm winning, my little brother's winning," Andre said. "When I win and he doesn't win, that lets me know that I can help him out. And when he wins, that makes me feel like I'm winning, too."