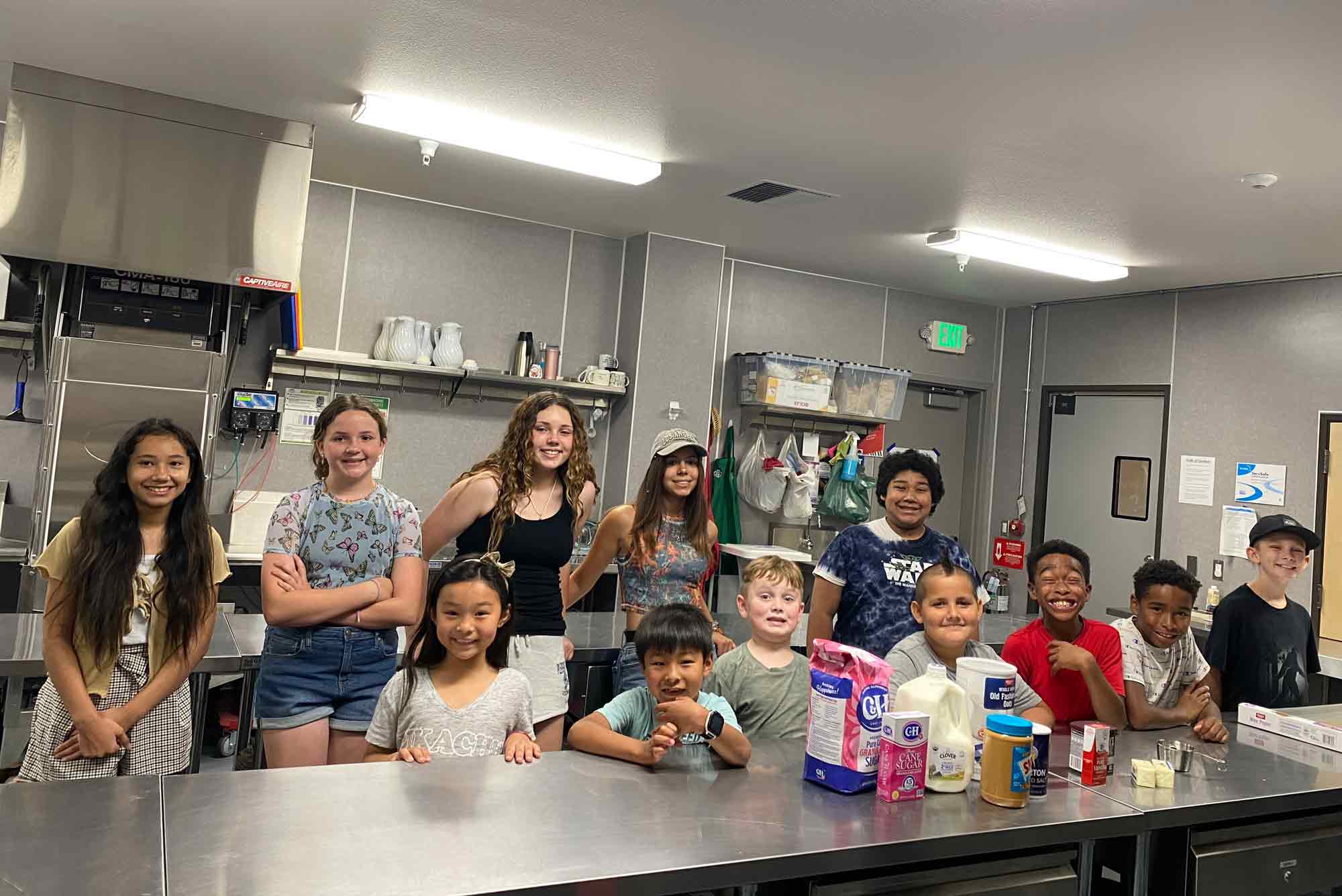 Salvation Army teaches kids how to make meals instead of turning to snacks
As the summer began, Salvation Army Chico (California) Corps Officers Lieutenants Jeffrey and Kristin Boyd realized many local youth would be home alone while their parents were at work. And this meant that when they got hungry, the kids would likely turn to snacks instead of healthy meals.
To combat this, the corps began to host a cooking class for youth ages 7-15 to teach them how to make simple, delicious meals at home for their families during the months school was out.
"We found that a lot of the kids…when we provide meals to them, they tend to eat a lot and they're hungry. We want them to learn how they could look within their own pantry, create a meal and not just have to rely on snacks," Jeffrey Boyd said. "The goal was that they could safely make a healthy meal for themselves or their siblings at home."
The class was part of a corps initiative to offer more life skills classes to the community as the Boyds wanted to connect more with those receiving assistance from the Army's food distribution program. Other classes included music, hula, and arts and crafts.
The corps also began to provide the kids with weekly transportation to and from the class beginning in June 2022. In addition to learning to cook different recipes, the class curriculum included kitchen hygiene, etiquette and safety. The children also learned how to measure ingredients, read nutritional information and expiration dates, and follow recipes and modify them to feed more people or substitute ingredients for what they had at their house.
The Boyds said they went in-depth with teaching kitchen safety as far as knives, stoves and ovens go in order to prevent injuries. They also focused on recipes that could be meal-prepped for parents to easily cook when they got home along with those that didn't require an oven or stove. Recipes that were selected were also based on what the kids would likely already have at home, like scrambled eggs.
"That was one that was fun for the kids, and easy, because it got them to use the stove," Jeffrey Boyd said.
But the no-bake cookies were the kids' favorite to make.
"They had the most fun with the no-bake cookies because that was the most hands-on…[with] a ton of measuring and mixing," Kristin Boyd said. "Everybody got to do all of that."
The kids also loved making the create-your-own pizza with different bases and sauces, so they could use whatever ingredients they had at home.
"We showed them how they could pivot and use all sorts of different ingredients," Jeffrey Boyd said. "If they didn't have traditional pizza bread, we showed them all the different types of bases they could use—like bagels, tortillas, regular sandwich bread, English muffins—and…that it didn't have to be traditional pizza sauce, it could be a marinara [or] barbecue sauce."
The youth enjoyed the class so much that they started inviting their friends. Kristin Boyd said they started with six kids and grew to 25 by the end.
"They loved it. They had so much fun. They loved to sample things along the way and smell the ingredients and try to figure out creative ways to do things differently," Kristin Boyd said. "They were enthusiastic through the whole thing. They looked forward to it every week. They're sad it's over, but hopefully, we'll continue it so we can keep going."
Parents requested that the program be done again in the fall, and the Boyds are currently brainstorming how to make that happen. If it does, they hope to have the kids be more involved in choosing the recipes, and take on more challenging dishes.
"We would hope that we can incorporate more culinary skills for the kids so they can just take this to the next level," Kristin Boyd said.
Until then, the Boyds hope to have left a lasting impact on the kids and their culinary abilities.
"We hope that they felt empowered to be creative and not be afraid of the kitchen," Jeffrey Boyd said. "We know that cooking can seem kind of like a big task, so we wanted them to have the confidence and feel empowered to go into the kitchen and safely be able to produce something that was healthy, beyond just grabbing a pre-packaged snack."
---
Do Good:
See how The Salvation Army fights hunger.
How do we treat everyone with love and kindness, as if they were our neighbor? Get the Do Good Family Roadmap and take a 4-week journey for families in how to be a good neighbor. Follow the guide to see what the Bible says about the art of neighboring and take tangible steps together on your printable roadmap to be a caring, helpful, welcoming and supportive neighbor right where you are.