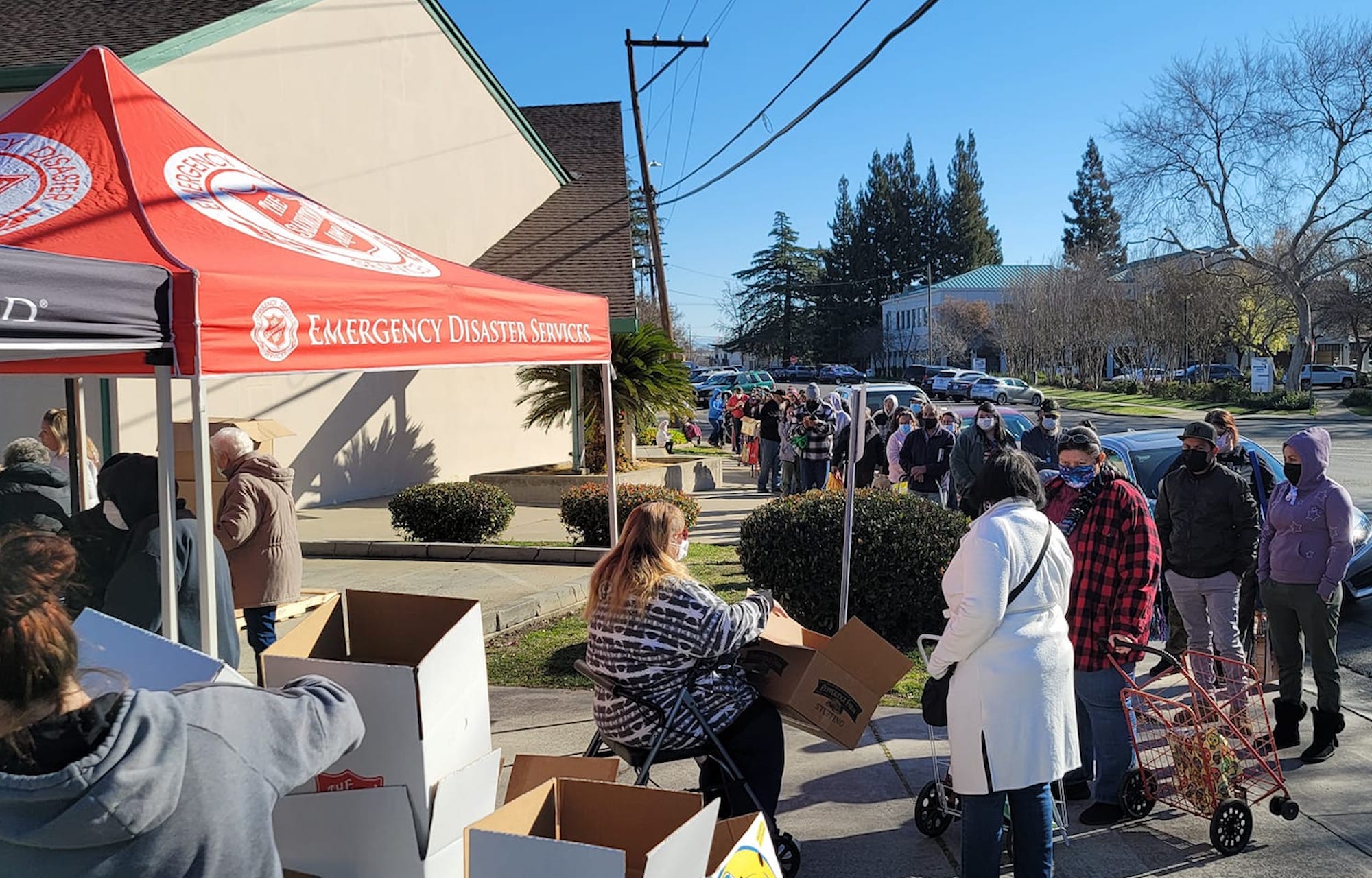 Food is fresh and hope is real at California's Yuba-Sutter Corps
Yuba Sutter's Fresh Fridays is a free, outdoor client choice food market.
"When I do Fresh Fridays, I get excited," Yuba Sutter (California) Corps Officer Major Julius Murphy said. That's when he said he witnesses the difference The Salvation Army is making in people's lives.
"Fresh Fridays," a free outdoor food market for local families experiencing food insecurity, takes place weekly from 9 a.m. to noon at the corps. Each week, staff and volunteers prepare enough food for 100 families. Partnerships and grants sustain the program, which is funded through May 27, although Murphy said he's working to secure more grant money to continue it indefinitely.
"At our Fresh Fridays, you don't just get food, you choose what you want," said Jovena Hatch, Housing and Food Program Specialist for the Yuba Sutter Corps. "Being able to provide our community with food is a big help. Just to make it by one more week for some families is a blessing. The pricing for food and gas have increased so much that anything helps."
The corps serves both Yuba and Sutter counties in Northern California's Central Valley, within the greater Sacramento area. According to KRON 4 News, Yuba County ranks 22nd in food insecurity and Sutter County ranks 16th out of California's 58 counties.
"About 21–25 percent of the population we serve are food insecure," Murphy said. "In our local area, food insecurity is not a priority only because homelessness gets the priority. But food insecurity is more behind closed doors where homelessness is in your face."
While The Salvation Army in Yuba Sutter has programs to help the unhoused, it also aims to meet the need for food.
The Fresh Fridays program grew out of the pandemic. Murphy said during the height of the pandemic, the corps did curbside distributions.
"We saw that it had great success," he said. "So, we thought, "Hey, we need to go back to our client choice model. But how can we do it in a COVID-friendly manner?'"
Corps staff noticed people weren't comfortable coming indoors to the food pantry, so they decided to test an outdoor program. They launched Fresh Fridays Sept. 3, 2021, and it was an immediate success. From its launch through April 15, Fresh Fridays has supplied food to 1,977 unduplicated individuals, or 883 families, Murphy said.
During this time, the program paused from November 2021 until this February, giving the corps time to focus on Christmas outreach and to consider the future of the program.
"Looking at the data, we noticed that many of the families were new each week; it wasn't just the same families," Murphy said.
The corps partners with the Yuba Sutter Food Bank and the local FoodMaxx for the Fresh Fridays program. They receive a variety of food items: breads and pastries, produce, meats and dairy items. Murphy said some weeks the corps receives more vegetables, and other weeks, more fruit.
"The keyword is fresh, right? Because we're also providing fresh dairy and so we make sure there's always milk…always butter, eggs—staples," Murphy said, noting that they also have fresh meat and some canned goods available. "For Fresh Fridays, I like to go more with the fresh items. Because, once again, those can sometimes be harder to find or more difficult for people who are on a limited income to get."
Murphy said they don't ask too many questions of those who come for food. However, since the corps receives grant funding for the program, recipients are required to show proof of low-income status.
"You say you need food, and we provide it for you," Murphy said. "We just really want to get the food out and meet the need."
Since the recipients are not the same every week, Murphy believes people are coming when they really need food.
"They aren't taking more than they need," he said. "I honestly think people are self-monitoring."
Murphy said they've noticed many senior citizens coming through the line.
"When we first started, there was an elderly woman, [who] came back and gave me a hug and she just simply said 'thank you.'"
The Fresh Fridays program extends beyond those who come through the line. Each week, staff from nearby Thomas E. Mathews Community School come to the corps and pick up six food boxes, which they deliver to the homes of six of their students.
During the set-up for Fresh Fridays, Salvation Army staff set a positive mood for the program. Murphy said they pray over the entire population and play Christian music.
"We also use Fresh Fridays as an opportunity to share about our other services," he said. "If you need anything, stop by and ask; we're here to help. And if we can't help you, we're going to find someone who can. We want the people coming to Fresh Fridays to know they can come to The Salvation Army with their needs, and we'll do our best to meet them. We do rental and mortgage assistance, utilities assistance—we do a lot."
And they plan to do more. Recently, the corps launched Hope Express, using its Emergency/Disaster Services (EDS) mobile kitchen Monday through Friday to provide meals to the community's unhoused individuals. In its first three weeks, the Hope Express street outreach has served more than 3,000 meals.
The corps is building a team of volunteers for these endeavors, who can serve on a rotating basis. It's also looking to secure additional funding so these programs can continue.
"Our least-funded program is our food program," Murphy said. "So, it's my mission to find resources to not only sustain our food program, but also to grow it, to enhance it…I'm looking forward to our fresh choice food program being enhanced where we can provide groceries that are tailored to an individual's dietary needs, basically to where a hospital or physician can send a referral to our food pantry…That's the route that we're headed."
According to Murphy, the Yuba Sutter Salvation Army is looking to partner with Blue Zones, which encourages healthy longevity and is hosting a food policy summit to consider food insecurity in the area.
"I'm interested to see how The Salvation Army's going to play a key role in that," he said. "We've added services here—I like the sound of chatter. It tells me that we are doing our job and we're meeting the needs of people. When I hear people coming in and out—yeah, I love it."
On Fridays, Hatch arrives for the food giveaway at 7:30 a.m., and people are already in line. She said she always looks forward to Friday and seeing the joy on community members' faces. She talks with them before setting up—some are regulars and she knows their names.
"I always try to remember their names so that they know we care and are here for them," she said.
"I always say 'We Do, We Care, We're There, Doing the Most Good,'" Hatch said. "When I pass out food, I feel like it's from my family to your family here at the Yuba Sutter Salvation Army."
---
Do Good: