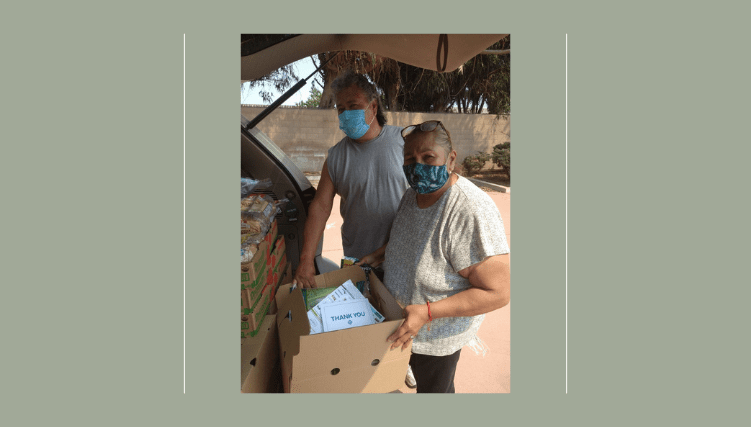 Salvation Army Mobile Ministries expands in California's farming region
For years, Captain Maria Romero has led Mobile Ministries in the California Coastal Valley, servicing the farming region—encompassing Chualar, Gonzalez, Greenfield, King City, Jolon and San Ardo—with food and meal distribution, rental and utility assistance, and more.
After receiving an appointment to The Salvation Army's Hollister (California) Corps, Romero's work included Hollister and other areas in San Benito County. But most recently, the Mobile Ministries program expanded along the Coastal Valley to include Soledad, California.
After a previous Salvation Army facility closed in February, Romero was tasked with including the Soledad area in Mobile Ministries outreach efforts. It didn't take long for her to receive community support—from the city, the Soledad Police Department and local volunteers.
She began conducting outreach at Soledad City Hall. There she met Jose Cisneros, Volunteers in Policing Coordinator for the Soledad Police Department, who asked if she needed help with her Mobile Ministries work in Soledad.
"He showed up with a group [of police officers] the following week," Romero said. "He enjoyed it, actually. to help in the community because he can get one on one [with] the community."
From there, the partnership grew. Soledad police officers assisted with the food distribution side of Mobile Ministries in Soledad. This allowed Romero to focus on providing spiritual support and social services resources.
"Maria is like an angel to the folks in Soledad. She's always out there helping them out in all kinds of different ways," Cisneros said. "She's so nice about everything. She's always willing to go above and beyond to help us out. We're blessed to be working with her."
There are also times when the police request her assistance in certain areas of the city, as well as at community events, like National Night Out. So she goes out with the canteen to help.
"So far, we've been having a great impact with the police department," Romero said.
"I see us changing a lot of lives and helping a lot of people," Cisneros added.
Romero is present at the Soledad community center on Wednesday evenings, too. She offers food, utility, and rental assistance to farmworkers in the area after they are off from work.
In addition to the police department partnership, she is receiving help from volunteers in the city—including Philly Madrigal and her family.
"It's very important to keep doing the work that we're trying to do to help out people that need the help that are not able to go out and get the resources and purchase whatever they need to provide for their families," Madrigal said.
"They have such gratitude for the little bit that we help them with."
Mujeres Campesinas, a local organization, also sends two workers regularly to assist Romero with the Mobile Ministries program efforts in Soledad. And Romero is grateful for all the help she receives from community members.
"For me, it's a blessing…because you don't have an idea how our canteen [is] full of food. It's hard for me to unload sometimes around 4,000 pounds inside of the canteen, and…after I get there, I usually start passing [out food]," Romero said. "[Now,] they take over. They pass the food. It's a blessing for me to see I do my part, they do their part — and we [work] all together for the community."
Romero hopes to continue making a lasting impact with Mobile Ministries in the region. And along the way, she is happy to be a helping hand for the field workers, seniors, and other vulnerable groups in the area.
"We try to go beyond with these communities," Romero said. "It's OK if I'm tired. I just want to be there for the people, [so] they can see there is something different for them. It's not about me—it's about how the Lord is touching these lives of people for something better."
---
Do Good: