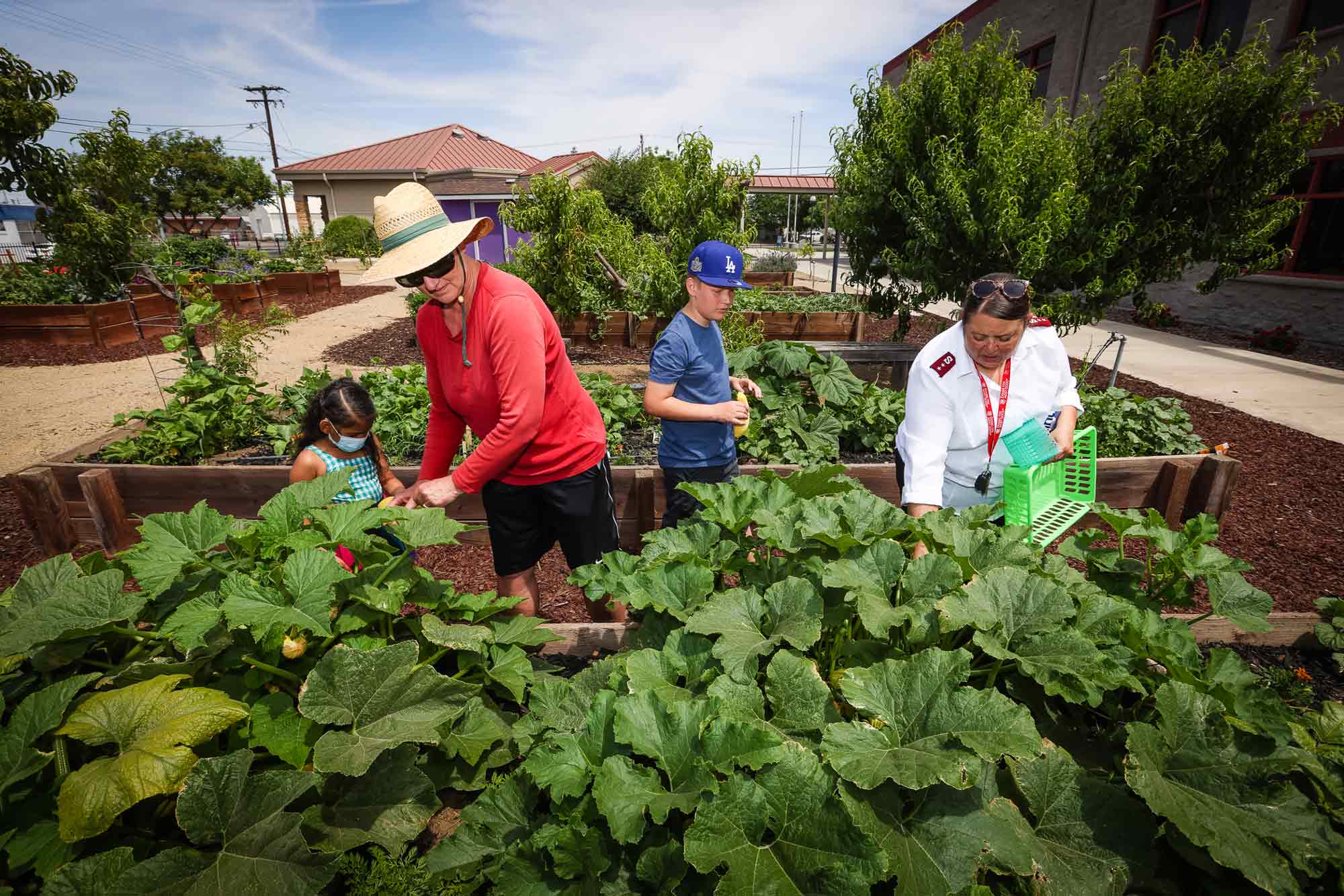 How The Salvation Army Turlock Corps brought its garden back to life
Turlock Corps officers, after-school kids and volunteers recreate a flourishing corps garden.
Lately, anyone looking for Captain Katie Breazeale at the Turlock (California) Corps is unlikely to find her in the office. Instead, she's probably outside, tending the corps' garden, which has come alive since she and her husband, Captain Jeff Breazeale, came to Turlock to lead the local Salvation Army.
They arrived in July 2020, during the height of the COVID-19 shutdown. Unable to get as involved in their new community as they would like, they looked for what they could do and found a project waiting in the corps' backyard—a dormant garden with potential.
"There were weeds and sunflowers six feet tall just overtaking the entire garden," Breazeale said. "We slowly started getting stuff done and had volunteers who came in and helped clean it up."
Breazeale said while she's unsure about many of the details involved in the origin of the garden, a donation from Raley's supermarket got it started. Recently the corps received seed donations from Master Gardeners of Stanislaus County, along with donations from other interested community members.
"Master Gardeners are a group of people who go out into the community," said Heidi Aufermaur, a Stanislaus County Master Gardener who worked with the corps' after-school club children each week. "We volunteer our time and we share information about gardening."
During the school year, Breazeale enlisted help from the after-school club kids.
"The kids were excited when we started," she said. "When they began to see the fruits of their labor, some of them really liked it." Several claimed their own individual garden plots, identifying them with homemade signs.
Once a week Aufermaur, a retired teacher, came to the corps, teaching the children, aged 5–12, the basics of gardening. They compiled a weed identification booklet so they would know what plants to leave in the garden and what had to go, along with which ones to watch out for when weeding, like stinging nettle.
"Then we found a bunch of bugs," Aufermaur said. "So I brought in my bug collection. We talked about insects and bug parts."
"My favorite things are the bugs," 5-year-old Olivia Breazeale said. Katie Breazeale confirmed that Olivia—her youngest daughter—spends most of her time in the garden looking for new bugs.
The garden contains a variety of vegetables, fruit trees, succulents, herbs and flowers. The fresh food nourishes seniors residing at the adjacent Silvercrest Residence, as well as the after-school kids and their families. Some of it also goes into the corps' food pantry, helping feed the wider community. One of the children takes produce home for her rabbit.
"I'm trying to see what grows the best, so we know to plant it again," Breazeale said. "It's a lot: corn, tomatoes, squash, green beans, carrots, radishes, broccoli, watermelon and all the herbs."
It's no surprise the garden is doing so well. Known as the heart of California's Central Valley, Turlock has a long agricultural history that continues today. Aufermaur noted the area has a Mediterranean climate. She's encouraged Breazeale to plant a winter garden with hardy vegetables like broccoli, cauliflower and carrots.
With the school year ending, Aufermaur was in the garden one last time, at least for this season. Before the kids left the garden, they gathered around their Master Gardener for a special cheer—"one, two, three, garden rock!"
"We're learning—like by planting the flowers and the lavender, the bees will come and pollinate," Breazeale said. "And we have fruit trees, including a peach tree and a plum hybrid, and an avocado tree." The large succulents include aloe, which can soothe minor skin irritations.
Breazeale said the Silvercrest residents love the produce from the garden. Many of the seniors come to the corps Monday through Friday for a lunch provided by United Samaritans. They can come early for a pre-lunch bingo game, when Breazeale shares fresh food from the garden.
"This makes a beautiful salad," Shirley Sarnowsky said, as she took a large head of lettuce. "That's what I'm making tonight."
Meanwhile Ruby Rodriguez popped cherry tomatoes into her mouth as she played bingo. "My daughter wonders why I never come home with a full bag," she said.
Back in the garden, Breazeale headed to the corn. It's growing well, and she's excited about it. She's been giving it special attention.
"I've been hand pollinating," she said, demonstrating by snapping off a few tassels from the stalks and using them like feather dusters over the emerging ears of corn. "It will be amazing. In the next month, you'll see all the corn."
She confessed that in the past she never had any luck with plants. Now she's found a new passion, with potential for future growth.
"The kids want to be more involved," Breazeale said. "We can make things with the food—salsa, spaghetti sauce. We literally have salad stuff…It's all about the kids."
She emphasized the deeper significance of the garden.
"It's not about what we do, but what God does out here with all this," she said. "It's inspired me."
---
Do Good:
Do you enjoy inspiring stories of impact that build well-being for all? Want to know how to get involved in doing good right where you are? Interested in tools for taking your next best step, owning your story and stepping into your calling? Like reminders that God is good, faithful and offers you joy and peace? Get the Do Good Digest and find weekly inspiration right inside your inbox
Want more content from Caring Magazine? Follow us on Instagram! Get caught up with the latest stories, podcasts and more to inspire goodness in your life.
Read about how a community garden in Centralia, Washington, is harvesting hope.