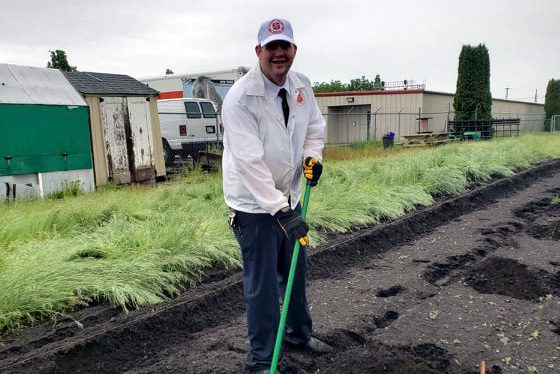 Harvesting produce, spreading hope
The Centralia (Washington) Corps restores and renames its community garden. 
By Caramie Petrowsky – 















After a year and a half hiatus, the garden at The Salvation Army Centralia (Washington) Corps is feeding a hungry community and helping local youth to grow as well. Now called the Harvesting Hope Farm, the one-acre plot of ground is on track to yield 12,000 pounds of produce this season. Lts. Gin and Steven Pack, who took over as Centralia Corps Officers in October 2018, said one of their main priorities for 2019 was getting the community farm up and running again.
"We want to see it succeed because we see the community and we see the need here," Gin Pack said. "It's a big deal to the community. A lot of people had previously invested time and effort, so they were glad to see it reemerge."
The Packs began prepping for the growing season in February. One of the corps' advisory board members connected with Washington State University's Master Gardeners, who helped plan the garden along with a woman who had run the garden years ago when it was overseen by another non-profit.
In the spring, volunteers sowed seeds for a variety of fruit and vegetables, from kohlrabi to tomatoes, cabbage, beans, and cantaloupe. Towering sunflowers serve as a wind guard for other plants and attract bees to pollinate.
Thirteen chickens also live in a coop next to the garden, and while they aren't laying eggs just yet, the Packs hope to also see eggs available at the food bank.
"Our food bank is a you-pick model, meaning folks can pick out fresh vegetables that came straight from the farm," Gin Pack said.
The vegetables are also cooked and served at the corps' community lunch, each Wednesday through Friday.
Eight volunteers from two organizations have been doing the majority of the farm work this season. The farm partnered with Community Jobs, a program for individuals who receive state benefits from TANF, Washington State's welfare-to-work program. Individuals work 20-25 hours a week and are paid through the program. Other interns are part of ResCare, a program for youth at risk of not graduating from high school. The teens volunteer 120 hours during the summer.  
One ResCare intern, Dillon, 17, worked at the garden for 11 weeks this season. He previously struggled with responsibility but recently became the first person in three generations to open a bank account.
"We got to walk beside him and say 'here, we come to work on time,' and give him life skills," Pack said. "He hadn't had a lot of positive reinforcement and has just been following the same cycle. This was his opportunity to do something different."
Dillon finished his term at the beginning of August; his growth was impressive, Pack said.
"We saw him go from being inconsistent and needing to be micromanaged to him having ownership and leading some of the newer interns or single-day volunteers," she said. "Right before he left, he got his driving permit and bought his first car. He's going to be doing an apprenticeship with a plumbing company."
In a small community such as Centralia, jobs are competitive, and people are looking to hire the best applicants.
"The people who aren't operating at a high level, get left behind," Pack said.
Those are the people they want to reach.
"Even if people don't start out stellar, we want to see them become the cream of the crop," she said.
Early in their tenure, the Packs knew they wanted to change the farm's name.
"We wanted it to be a beacon of hope and our corps to be a place of hope," Pack said. "This is a place where people can come and receive services and be treated with integrity, dignity and care," she said. "That sense of hope that things are going to be better is in turn amplified by the care they receive through us."
The goal is that people the corps has helped will be in a place down the road to return and volunteer.
And for people like Dillon, the message is clear: "There is hope—those moments are not defining. We can help change the trajectory," Pack said. "There's hope you can graduate, and we're going to give you skills, support, and tools to do just that and see you thrive."