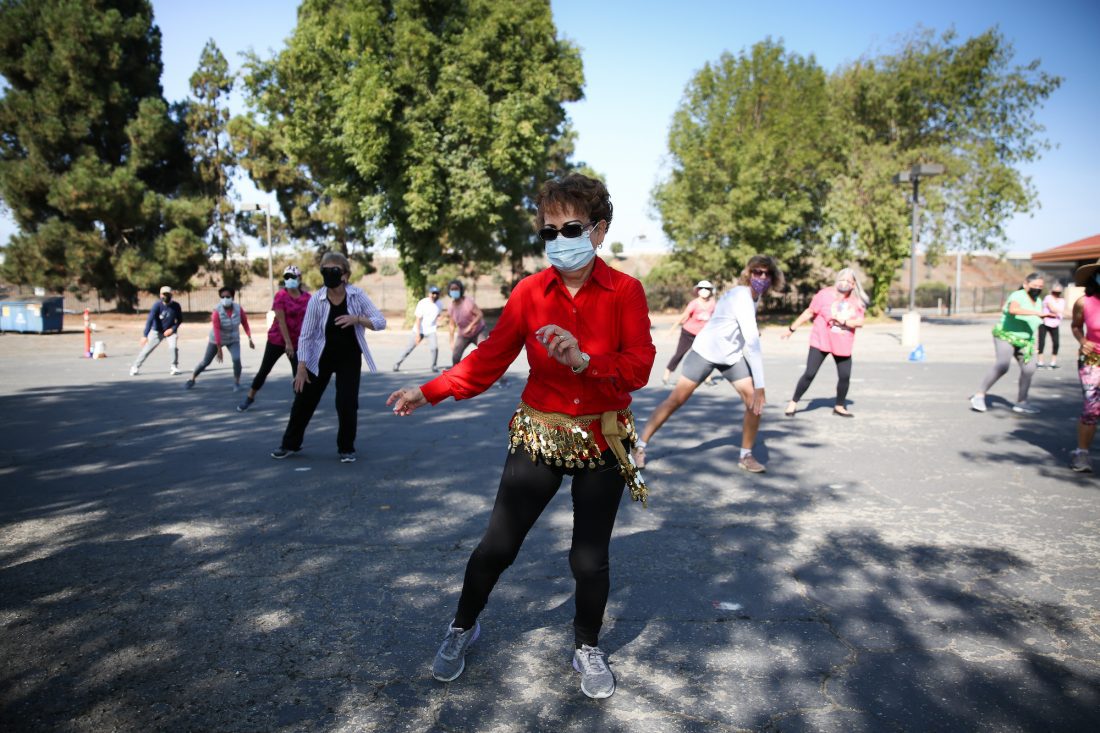 21 good things that happened in 2021
In 2020, the world faced unprecedented challenges, all with the hope that when 2021 finally arrived, it would bring with it a fresh start and a chance to finally find some normalcy and stability. And while the new year did bring a chance to wipe the slate clean and start anew, the hardships and grief from the previous year remained. So, The Salvation Army continued to serve.
In Los Angeles, that meant removing barriers so individuals facing homelessness could receive COVID-19 tests. In Juneau, Alaska, The Salvation Army delivered hundreds of food boxes with dignity. And in Denver, Colorado, a restorative art program helped women recovering from addiction heal.
Even during a time when our world is facing so much uncertainty, good things continue to happen all around us. The Caring team gathered a list of favorite stories from the past year—21 good things that happened in 2021.
1. Chickens brought people together at The Salvation Army in Coos Bay, Oregon.
When the chickens arrived at the Coos Bay Corps, members united to build an enclosure—an enclosed coop comprising two hen houses—and to care for them. The kids attending the corps' after-school program were instantly taken with the chickens.
"The chickens provide a tremendous boost to our organic garden," said Ma'afu Veikune, Coos Bay Corps After-School Program Assistant and creator of the corps' community garden. "They eat the bugs, fertilize the garden, and till the soil in the process."
2. Los Angeles, California officially became a 'no-kill' shelter city—the largest city in the country to do so.
According to Best Friends Animal Society, LA reached a 90.4 percent save rate in 2021, just over the 90 percent rate required to claim no-kill status. The initiative to make LA a no-kill city began in 2012, when only 56 percent of cats and dogs in shelters made it out alive.
3. High school volunteers taught kids how to code in Silicon Valley.
High school volunteers from the Hwarang Youth Foundation taught students at the Sunnyvale (California) Corps how to use Scratch—a coding application—in order to program hamster bots (robots for software education) to take certain actions, like dance or solve mazes.
4. The bee population steadily grew in Dutch cities thanks to the introduction of 'bee hotels'—a pollinator strategy helping urban bee populations thrive.
In an effort to help urban bee populations thrive, many Dutch cities have built bee hotels, bee stops and honey highways in city parks to give solitary bees a place to nest. The technique is credited with keeping the bee population steady after a concerning period of decline.
5. Christian rap artist Cody Treat created an anthem for the recovery program that saved his life.
"It's not just rap music, it's ministry," Salvation Army Adult Rehabilitation Center (ARC) graduate and Christan rap artist Cody Treat said. On September 19, Treat released a hip-hop style music video titled, "Straight Outta Sally." The song's name is a play-on-words of the "Straight Outta Compton" album by Los Angeles' rap-group N.W.A. However, unlike themes common among secular rap-music, Treat's lyrics focus on faith, recovery and fellowship."It's really just putting a sermon over instrumental," Treat said. "It's another technique to deliver Jesus."
6. NASA's Perseverance Mars Rover extracted oxygen from the Red Planet for the first time.
Perseverance, NASA's six-wheeled robot, roamed Martian surfaces and converted carbon dioxide to oxygen for the first time during its mission. This is a crucial first step in one day helping to send humans to Mars.
7. Former residents of a Phoenix, Arizona, shelter now help other families out of homelessness at the same shelter.
When Zaporah Boyd and Tamara McClendon began their journey with The Salvation Army, they were clients at The Salvation Army Phoenix Emergency Family Shelter. Now, they work there, and help other families get back on their feet and out of homelessness.
8. A colony of small-flowered tongue orchid plants thought to be extinct in the UK was found on the roof of a London bank.
Serapias parviflora, a rare species of orchid believed to have been extinct in the United Kingdom, was discovered on the 11th-floor rooftop garden of an office building in London. Usually found in France, Spain and Portugal, the 15-plant colony is believed to be the only one in Britain, marking the second time the species has been found in the UK.
9. A teen's coffee business aimed to bring a better quality of life to her birth country of Ethiopia.
"Buna Tarik Roasters is my way of changing their story," Eden Wild said. "Our motto is 'coffee with a story.'" The company name encompasses its mission: "Buna means coffee and Tarik is my middle name, meaning 'story,' because of my story or my history. Buna Tarik Roasters is a story of changing the stories [of others], inspired by my own adoption story."
10. In Eureka, California, The Salvation Army helped seniors get COVID-19 vaccines at home.
Filling out paperwork might seem like a mundane task, but for seniors at the Eureka, California, Silvercrest Residence, waiting in line to fill out the forms for a COVID-19 vaccination brought palpable hope. So much so, that some busted out their disco moves to "Stayin' Alive" by the BeeGees.
The familiar disco theme's namesake refrain sums up the hopes so many at the Silvercrest had, that with the vaccine, they could see loved ones again without feeling like they are risking their life in doing so. They can stay alive.
11. Cheese-lovers rejoice: A study found that cheese actually isn't bad for you after all.
While moderation is still the recommended practice when it comes to cheese consumption, a number of studies show that cheese has a neutral impact on a person's diet—and is possibly even good for you.
12. The Salvation Army's Adult Rehabilitation Center in Santa Monica, California 'closed the loop' with sustainable practices.
The Santa Monica (California) ARC worked to "close the loop." That is, to refine its practices to use more sustainable options in order to limit waste. These environmental efforts resulted in the ARC achieving a Santa Monica Green Business Certification under the guidelines of the California Green Business Network (CAGBN) and winning two 2020 Sustainable Quality Excellence Awards for Environmental Stewardship and Economic Development.
13. Qatar and Italy shared Olympic gold at the men's high jump event in Tokyo.
After the men's high jump at the Tokyo Olympic Games came to a dramatic and emotional conclusion, Qatar's Mutaz Essa Barshim won gold and persuaded officials to allow him to share it with his friend (and rival), Italy's Gianmarco Tamberi. Rather than compete in a jump-off to decide a winner, Barshim suggested they both receive gold medals instead—and the rest is Olympic history.
14. The Salvation Army rescued a stranded group of students in Hoonah, Alaska.
Soon after a group of students from the University of Southern California arrived in Hoonah, Alaska, they abruptly learned that one of the lodges that was set to accommodate the largest part of the group had a COVID outbreak and was shutting down completely. In the small community of Hoonah, there weren't other options with that little notice. Left stranded, the group had no other public lodging options available to relocate to, and as the weather was already turning cold, camping wasn't an option.
Alerted to what was happening, Hoonah Corps Officer Captain Jeff Josephson contacted city officials and gained permission to host the stranded party at the corps facility. The Josephsons gathered cots and bedding from around town for more than 20 people, and the group slept in the chapel.
15. 100-year-old Maurine 'Mighty Mo' Kornfeld earned six world records in the U.S. Masters of Swimming competition.
Maurine Kornfeld, a retired social worker living in Hollywood, California, got serious about swimming in her 60s, leading to 14 world championship wins, 28 record-setting swims, and an induction into the International Swimming Hall of Fame. In 2021 alone, she earned six world records while competing in the 100-to-104 age bracket and celebrated her 100th birthday with an aquatic-themed party.
16. In San Francisco's Tenderloin, a park provided a safe outdoor place for the community to gather.
What began as regular block activations in San Francisco's Tenderloin neighborhood to keep youth safe on their journeys to and from school, transformed into the creation of Safe Passage Park.
Built on the 200 block of Turk Street earlier this year by Tenderloin Community Benefit District in partnership with community organizations—including The Salvation Army San Francisco Ray and Joan Kroc Corps Community Center—the designated outdoor space offers a safe place for the community to gather.
17. A father-daughter duo delivered RVs to California wildfire survivors who lost their homes.
Following the deadly Camp Fires that devastated California in 2018, Woody Faircloth and his 9-year-old daughter, Luna, created a volunteer network that focuses on finding people who want to donate unwanted RVs to wildfire survivors who have lost their homes.
In the three years since launching, Woody and Luna have connected 100 wildfire survivors with RVs to provide temporary shelter.
18. The Salvation Army in Salinas, California scored a victory with an outdoor senior dance fitness class.
Lately, on Tuesday and Thursday mornings, The Salvation Army Salinas (California) Corps parking lot is full—not so much with cars but with women, mostly seniors, enjoying a Zumba-based dance workout led by volunteer instructor, Naomi Gonzalez.
Gonzalez, herself a grandmother, knows the importance of movement. Teaching the class keeps her in shape both physically and mentally. "I'm a two-time breast cancer survivor," Gonzalez said. "Because of that I need to keep moving, and as a petite person, for my bones to be strong and sturdy. And for my memory—chemo affects your memory, as does age. Memorizing the dance moves helps with that."
19. One man found purpose in his recovery through hiking the Pacific Crest Trail.
A Salvation Army Adult Rehabilitation Program (ARP) graduate completed the 2,650-mile Pacific Crest Trail hike over the course of five months, deepening his relationship with God and prayer along the way.
"I just got that idea of hiking the Pacific Crest Trail, and I couldn't get it out of my head," Salvation Army Adult Rehabilitation Program (ARP) graduate James Ihrig said. "It became my purpose to change my life."
20. In Harbor City, California, The Salvation Village restored hope for people experiencing homelessness.
At the Salvation Village, a community that opened in June 2021 that's composed of 75 innovatively designed singular homes in Harbor City, California, a team helps connect participants to resources on-site to address barriers to finding permanent housing. Participants are given no time limit for their stay. The goal of this is to assist in preparing participants for permanent supportive housing without the pressure of time restraints.
21. Competing runners from Botswana and the U.S. helped each other finish the last 200m of the 800m men's semi final race after both falling. 
American runner Isaiah Jewett was poised to finish in the top two of the men's 800 meters at the Tokyo Olympics, when an accidental trip from Botswana's Nijel Amos sent both runners crashing to the ground. Jewett took the fall in stride, and in a profound show of sportsmanship helped Amos to his feet to finish the race together—Jewett finishing one step ahead of Amos in second-to-last place.
---
Do Good:
You've probably seen the red kettles and thrift stores, and while we're rightfully well known for both…The Salvation Army is so much more than red kettles and thrift stores. So who are we? What do we do? Where? Right this way for Salvation Army 101.
Have you ever found yourself wanting to volunteer but unsure of what to do or how to go about it? Here's the key: You can make an impact in the Fight for Good with whatever time and skills you have. Whatever your interest, there is a you-sized need for goodness in the world. Get the guide on How To Be An Impactful Volunteer with 9 habits to make a difference when giving back.
You may think your day is too filled to the brim for anything more…but it's in his presence that you find rest. Where you are assured God is doing a beautiful work in you. Where you find a way to love—because he first loved you. Get inside the Caring Magazine Scripture Study Collection and find a suite of free, printable Bible studies to guide you through topics from New Beginnings Through Forgiveness, to Understanding our Imago Dei or Life Hacks From David.