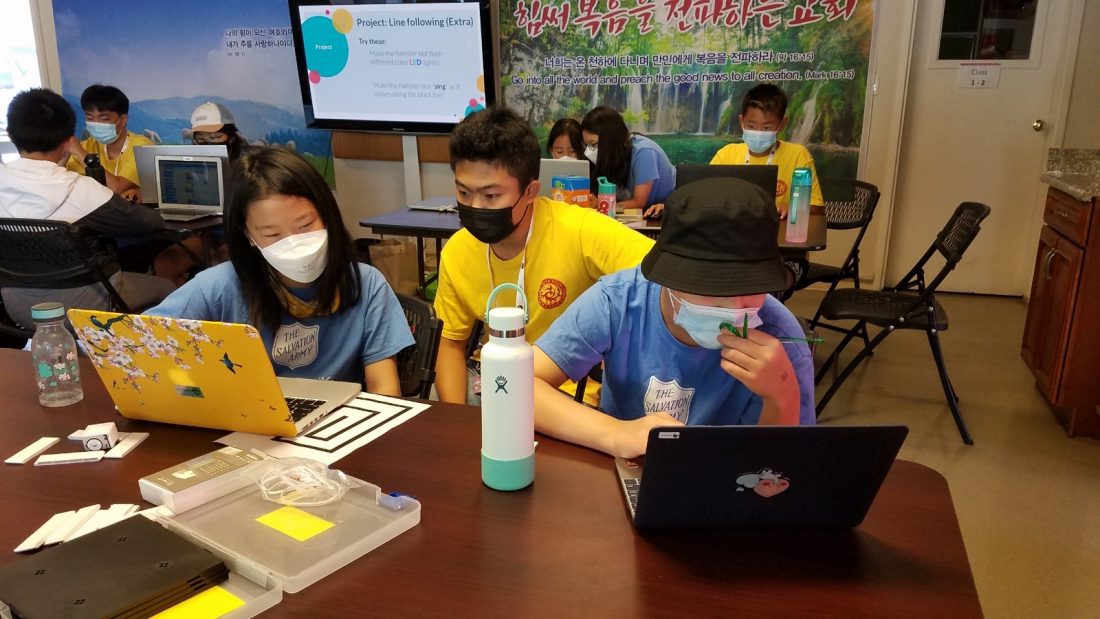 High School volunteers teach youth how to code in Silicon Valley
The Salvation Army recently conducted its four-week Hamster Bot Coding School as part of its annual summer day camp program at the corps in Sunnyvale, California. It was led by local high school volunteers who are part of the Hwarang Youth Foundation—a nonprofit organization dedicated to inspiring youth to become leaders through service to their community. 
First held in 2019, the program is aimed to teach students in third to eighth grade how to code. Due to the COVID-19 pandemic, the class did not take place in 2020. However, the corps brought it back this year. 
"Learning how to code can be very useful, given the fact that Silicon Valley has such high regard for tech-related jobs [and] careers," said Captain Aeran Oh, Salvation Army Sunnyvale/Mountain View Corps Officer. "It can be a great skill to have to prepare them for their future."

The Hwarang Youth volunteers, who are training in advanced coding languages like Java and Python, functioned as tutors for the class. They taught the students how to use Scratch—a coding application—in order to program hamster bots (robots for software education) to take certain actions, like dance or solve mazes.  
"I thought they did a great job in teaching [and] helping the students," Oh said. "I would love [it] if they would be able to help again next summer."  
Kids in the program also learned hamster bot mechanisms and used them in hands-on activities. They also worked alongside Hwarang tutors on final projects that showcased everything they learned, presenting them to their parents at the end of the class. 
Minjae Kang, Jaysung Ser and Eric Yoon were among the 13 Hwarang volunteers who tutored for the program.
Kang took on the role of leader of the coding course, coordinating its curriculum and teaching most of the coding lessons.
"I wanted to introduce elementary students to the world of coding and help them develop critical thinking skills by programming robots," Kang said. "I believed it would be great for students to approach coding at a young age, especially in an area such as Silicon Valley." 
Yoon decided to volunteer for a similar reason. 
"I enjoyed coding and believed that I could have an enjoyable time interacting with the children and teaching others to also learn about the wonders of coding," Yoon said. 
Ser helped out with the program to take on a new challenge. 
"It was an opportunity to go outside, meet new people, and make some friends," Ser said. "I wanted to practice being in an unfamiliar environment in order to prepare for the new school year."

They all found the teaching experience rewarding. 
"I felt most satisfied during the program when I saw students having fun while learning coding. My goal from the beginning was to make a curriculum that students would be able to enjoy during class and help them grow a positive mindset towards coding," Kang said. "I was glad when I saw the elementary students showing interest in the activities that I planned."
Yoon was proud that the class could overcome challenges together. 
"I have learned that through patience and persistence, we can make anything happen," Yoon said. "There were times when things didn't go as planned, but with patience and persistence, we would always find a solution."
Ser was happy with the progress his students made during the program.
"I often expected my students to struggle with some modules. Nevertheless, they demonstrated throughout the four weeks that they were capable of learning more complicated code," Ser said. "Because I didn't have much experience teaching prior to the program, I was worried that I might do a poor job leading my students. However…the program turned out to be a fun experience not just for me, but for the students as well."  
---
Do Good:
You've probably seen the red kettles and thrift stores, and while we're rightfully well known for both…

The Salvation Army is

so much more

than red kettles and thrift stores. So who are we? What do we do? Where?

Right this way

for Salvation Army 101.

Hear this: Your story is uniquely yours. It's the one thing you have that no one else does. And you're the one who can tell it best.

Take our free email course

on how to find your voice, own your story and share it with others. 

Learn more about

how The Salvation Army is bringing internet access to youth and veterans

in Colorado and Utah.