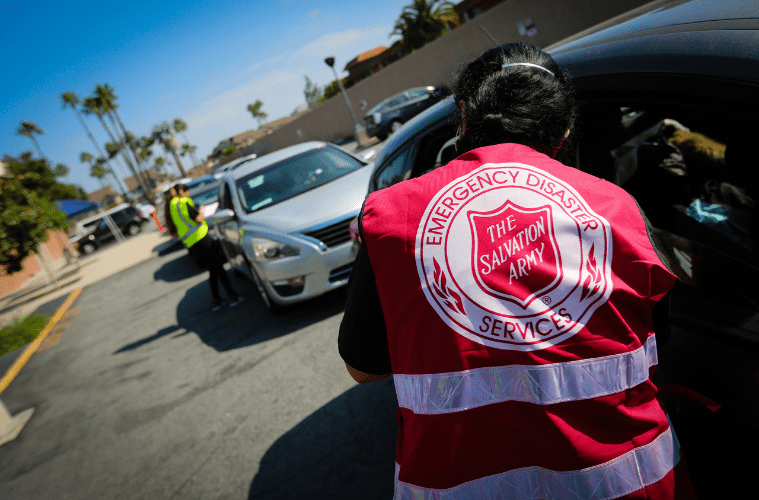 Salvation Army EDS responders reflect on a year of COVID-19 response
The change happened quickly. 
John Berglund remembers sitting in a conference room in early March 2020 surrounded by colleagues who were discussing the novel coronavirus that was just starting to make its way to the United States. The Emergency Disaster/Services Director for the Western Territory said there was no distancing in place at the meeting or other preventions that are now commonplace almost a year into the pandemic.
By the end of the month, everything had changed. Masks were mandated, social distancing was the norm, and new policies were enacted for providing services and coordinating with volunteers.
As The Salvation Army nears the one-year anniversary of its COVID-19 response, Berglund and others reflect on the work that's been done, the changes the Army has seen and how it can craft a new path forward amid vaccine rollouts and new virus strains.
"There was definitely a learning curve to, 'What is this, how is it going to affect us and how long is it going to go on?'" Berglund said. "It changed the whole service model for how we work."
Once mid-March hit, territorial leadership designated all hands on deck. Everyone changed their focus to the COVID-19 response, and all facilities were made available for pandemic relief. This move distinguished the territory from others across the country.
"COVID changed the way we work," Berglund said. "We had to think differently."
That's where the big scale changes came in: The replacement of congregate shelters with hotels and motels. Drive-through food box pick-up instead of families shopping in a food pantry. New registration and training protocols for volunteers.
"All facilities, all staff, all officers were dedicated to emergency services," Berglund said. "We were one Army."
Berglund said it's the only time he's experienced such a unified approach, and he's been working in emergency services for The Salvation Army for two decades.
"It's so incredibly fluid," Berglund said of the response. "There are new challenges, and new opportunities, that roll through every few months."
Coordinators for emergency disaster and social services in the Western Territory have dealt with those challenges and constantly-changing protocols for the last year. Caring Magazine spoke with three of them to learn more about their experiences during the pandemic.
California South Interim Social Services Director Anabel Sanchez negotiated with cities and counties in Southern California to use Salvation Army facilities as homeless shelters during the pandemic. 
In Los Angeles County, the effort was called Project Room Key. The mission was to house the most vulnerable of people experiencing homelessness. If The Salvation Army could get them off the streets, the hope was people would be safer in a shelter and not face the same risk of exposure to the rapidly spreading virus.
The work started with two hotels-turned-shelters that housed 150 people combined. Another one came on board in April 2020 with 50 beds.
But the big effort came in May, when Sanchez was asked if she would be willing to help convert an 11-floor, 460-room downtown hotel to a temporary shelter. The goal was to serve those just blocks away on Skid Row.
"We went from very small efforts to really coming together to open this massive hotel," Sanchez said.
She remembers standing on the sidewalk, looking up at the grand hotel, and questioning whether it could even be done.
"As I look back in time, it was definitely a God thing," Sanchez said. "God really got us through every step of the way."
The biggest challenge, she said, was staffing. But as the hotels were opening, other Salvation Army facilities were closing. That allowed Sanchez and other directors to move resources around.
Now, months later, she's working on spin-off projects, including Project Home Key, where city and county agencies are hoping to operate hotels as long-term shelters before converting them to affordable, permanent housing.
Jeannette Aird, Emergency/Disaster Services Director for the Southwest Division, coordinated partnerships with the Navajo Nation, local shelters and first responders. 
It was The Salvation Army's existing relationships that helped get the division through such a critical time, Aird said. Because even though everyone was focused on pandemic relief, the needs for other services didn't go away. 
"Just because COVID hit, didn't mean there weren't still needs," Aird said. "There was still hunger, especially within the communities our sites are at…everyone was in panic mode."
The division was also faced with a decrease in funding and a rise in homelessness. Shelters went into overflow mode. Warming and cooling stations were ramped up in hopes of keeping people comfortable in the outdoor elements. 
The workload was constant and seemingly never-ending. And it's not something Aird thinks would be possible without the Army's existing partners.
"When COVID first hit, we didn't see donors rushing to provide us funding, because they were scared," Aird said. "Having partners who we could come alongside and say, 'How are we going to meet this need together?', that was critical."
Those relationships also provided a pathway into providing much-needed supplies to the Navajo Nation, a traditionally closed-off community. Aird said the division was able to coordinate with the Veterans Affairs officers to start providing services.
"That's kind of how the door opened," Aird said. "That connection helped us get in and show that we're trustworthy. We proved ourselves, being able to provide those resources… Now we're seeing if we can have support that's ongoing, not just a one-time event."
Nicholas Nguyen, California South Divisional Emergency Disaster Services Director, used his advanced degree in Public Health and experiences across the globe to advise on pandemic policies, including distributing thousands of N-95 masks to health workers and pushing for corps-based vaccination sites.
"He understood the whole thing better than any of us early on," Berglund said of Nguyen, who worked in West Africa during the Ebola outbreak.
Because of his public health experience, Nguyen joined a vaccination work group in Los Angeles County to help put strategies in place. As part of the equity committee, Nguyen is focused on the mass rollout and making sure people from all walks of life have access.
He was also able to introduce the idea of how to keep track of people, give guidance for what has worked in the past, and advocate for mobile vaccination teams.
When the pandemic first hit, Nguyen helped the territorial and divisional leaders understand the differences between types of masks and pushed for distributing coveted N95 masks to healthcare workers on the frontlines who needed them the most.
"I tried my best to advise that N95 masks were more for medical professions…especially when there was such a shortage," Nguyen said.
He spearheaded the distribution of nearly 40,000 masks to medical providers with direct patient interaction in the city and county of Los Angeles.
"We were able to help out a lot of healthcare officials initially when they really needed it," Nguyen said.
He also drew on his previous experience and education to advise on best practices for church gatherings, outdoor events, conferences and social distancing. Now, he's focused on the vision of offering corps sites as locations for vaccine distribution.
"We're still exploring that now, but it's a great thing to offer," Nguyen said. "Our sites are everywhere, right in the communities. To be able to offer that up would be really helpful."
It's been a long year, and the work is far from done. But Berglund, who has worked through major disasters such as September 11 and Hurricane Katrina, said there are always lessons learned from catastrophes. 
"Whenever you hit one of those milestone events, it raises the bar and changes the standards," he said. "As catastrophic as all of those events were, they all had positive results where we took a serious look at how to do our work better and more efficiently."
---
Do Good:
Did you know The Salvation Army served more than 23 million Americans last year fighting hunger, homelessness, substance abuse and more—all in a fight for good? Where can you help?

Take our quiz

to find your cause and learn how you can join in today. 

Discover more of

The Salvation Army's story

in transforming lives since its founding in 1865. 

See how you can get involved in the Fight for Good

with The Salvation Army

.