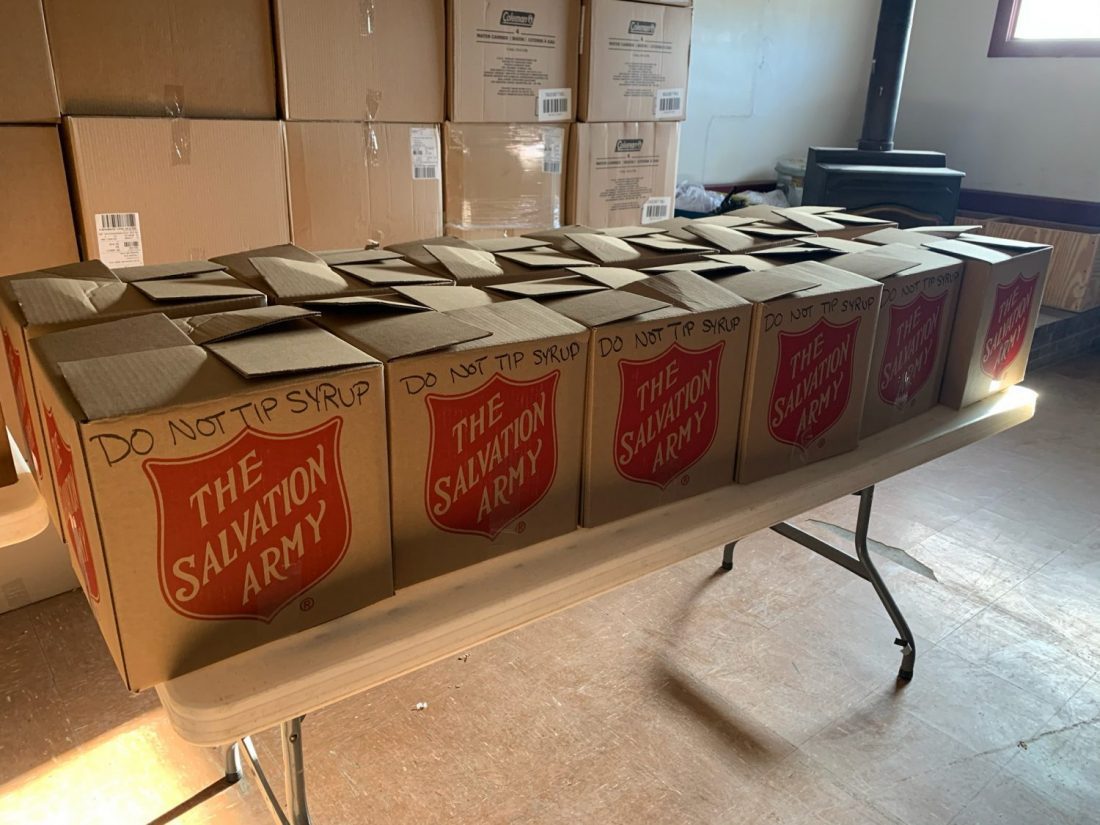 Unexpected food donation feeds hundreds in New Mexico
Food destined for prison feeds local groups, including members of the Navajo Nation
On November 5, Farmington (New Mexico) Corps Officer Major Tammy Ray received a phone call she didn't expect. It was a representative from Aramark, a global food distributor that had been contracted with the San Juan Detention Center for both the adult and juvenile facilities. 
They were no longer working with the detention facilities, and had a surplus of food they needed to donate. Would she be willing to receive it at her location? She and the corps' team happily accepted. 
Ray was appointed to the Farmington Corps in 2020. Right when she and her husband arrived, everything shut down due to COVID-19, making it difficult to conduct a full needs assessment in the community. One thing was for certain—food is always a need. Even though other agencies and churches in the area were also fulfilling those needs, there were so many more people to reach.
A sixth generation Salvationist, Ray has a long family legacy of serving and has been a corps officer for more than 26 years in the Western Territory. Her parents were stationed in Farmington when she was young, so coming back has felt a bit like returning home. 
As the pandemic continued, so did the need for food. For Aramark Food Service Director Matthew Mulkey, donating the food to The Salvation Army was an easy decision. 
"I personally have volunteered at the Salvation Army in Houston, Texas, and witnessed firsthand how The Salvation Army touched the lives of those in the community," said Mulkey. "We are very pleased to give back to the community, especially for the many in need during these difficult times."
Three full truckloads of bulk foods arrived from Aramark in excess of 10,000 pounds, which was about three weeks worth of food for the detention centers. The food included meat, cheese, rice, beans, cake mix, scrambled eggs, pudding, spices, seasonings and paper items. The total value of the food was more than $28,000. 
"We knew the donation was coming that day, but you just can't visualize the depth of it all until it comes," Ray said. "I mean, there were 50 pound bags of pudding and cake mix! We had no storage space, so we had to move it all quickly."
The Farmington Corps was able to share the food with other agencies in the area, like The Path, Frontline Mission, Catholic Charities and the Family Crisis Center. Another group that greatly benefitted was the Gadii'ahi/To'koi Chapter, one of the 110 chapters in the Navajo Nation. 
"Redawn George, emergency chapter coordinator, emailed me the day before the donation arrived to ask if we had any resources to share. It was very providential," said Ray. 
Many of the 1,200 families that live in the Gadii'ahi/To'koi Chapter are in desperate need of food and have been hit hard by COVID-19. This food donation allowed them to stay in their homes and continue to quarantine and slow the spread. 
"We are located 40 miles out of Farmington, so we got a pick up truck and came to pick up the food the same day. It was a lot!" said George. 
"I had an idea of how to partition and make food boxes, so we made 120 food boxes which The Salvation Army also provided," continued George. "We still have some leftover for another distribution. It was quality food. About 200 families received food and they were really surprised. It will last much more than a few weeks. It was a generous amount."
In addition to food, the Gadii'ahi/To'koi chapter's needs included wood, coal, sanitizer, bleach, gloves, masks and spray bottles. The Farmington Corps was also able to get some of these supplies to them through its Emergency/Disaster Services.
There was still more food to distribute quickly as food storage was limited, so the Farmington Corps put a notice on their Facebook page stating free food was available from 3-4 p.m. that day. First come, first served. 
"People came fast" Ray said. "We popped their trunks and divided up the food. Some people went home with things like a gallon of salad dressing and I told them to please split it up with their neighbors. We don't have a clue how many more people benefitted from there. It was wild and it was really fun, too."
Most of the food was successfully distributed to the Farmington community the same day they received it.
"Many, many people will be eating for a while because of this donation," Ray said. "That was a really good day!"
---
Do Good:
Visit

westernusa.salvationarmy.org

to find The Salvation Army nearest you. 

Give to support

the fight for good in your community.

Did you know The Salvation Army served more than 23 million Americans last year fighting hunger, homelessness, substance abuse and more—all in a fight for good? Where can you help? Take our free quiz to find

What's Your Cause

and how you can join in today.