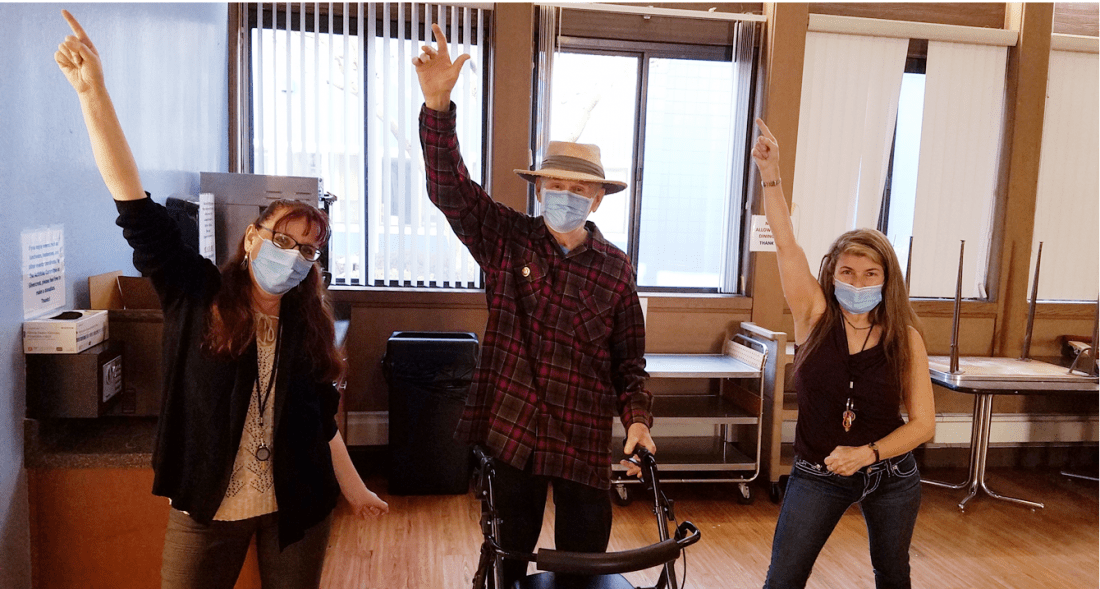 Salvation Army helps seniors get COVID-19 vaccines at home
Effort across the West's Silvercrest aims to bring health, hope
Filling out paperwork might seem like a mundane task, but for seniors at the Eureka, California, Silvercrest Residence, waiting in line to fill out the forms for a COVID-19 vaccination brought palpable hope. So much so, that some busted out their disco moves to "Stayin' Alive" by the BeeGees.
The familiar disco theme's namesake refrain sums up the hopes so many at the Silvercrest have, that with the vaccine, they can eventually see loved ones again without feeling like they are risking their life in doing so. They can stay alive. 
The Eureka Silvercrest is an apartment-style community for low-income seniors, one of 33 similar properties The Salvation Army runs across the Western United States, serving a total of 2,922 residents. It is one of the first in the West to hold a COVID-19 vaccination clinic for residents, but in the coming weeks, all 33 facilities will have held on-campus vaccination clinics. 
"When this whole thing started with COVID, we got all the residents to start isolating, which, for seniors…this was just further isolation on top of isolation, so it's been really hard for them," said Silvercrest Resident Services and Quality Assurance Consultant Jo Stephanie Francisco. "There's been a lot of anxiety about it—a lot of curiosity as well…When we started hearing about this vaccine, of course, there was a lot of concern about it… As we started moving closer to actually being able to get it and put shots in arms, we started looking at: How are we going to do this?"
Francisco has been monitoring the Centers for Disease Control and Prevention's guidelines since the beginning of the pandemic, and saw information about how to get vaccines at senior properties. After inputting the information for all of the West's Silvercrests, the CDC offered to do a multi-property enrollment to have vaccines administered right on the property of every location by working with Walgreens and CVS. 
Silvercrest properties choose whichever pharmacy location is closest to work with, and Francisco said clinics are almost evenly split with about half Walgreens and half CVS. Similar to how the vaccine rollout has unfolded in the U.S., the effort has taken flexibility from Silvercrest staff and residents, too. 
"It's been a little bit chaotic to start out with. There's a lot of forms to fill out. There's a lot of questions. There's a lot of concern, anxiety. There's the spatial separations that we need to keep in place," Francisco said. "You have a lot of people who just want it and want to go on with their day, but you know, everything has to be organized. It has to be separated out. It's a lot of logistics, a lot of manpower and a lot of paperwork, or inputting into the computers. So it just took a lot to get this going." 
Francisco said five Silvercrests had held their first vaccination clinics, with the rest scheduled to take place within the next month. At each facility, three clinics will be held: one for the first dose of vaccinations, another for the second dose of vaccinations and the first dose for a second group of residents, and a third clinic for the second dose for the second group of residents.
In Eureka, getting the first clinic off the ground took teamwork. The Wednesday before, the service coordinators got a call from CVS confirming the Jan. 11 event. Immediately, the team utilized its resident Connect Call that mass calls all residents at once, informing them of the clinic and the necessary documentation, like insurance cards and paperwork. 
"We got a huge response—much more than we were expecting. We had almost 100 people that wanted to get their vaccine on that Monday," said Eureka Silvercrest Residences Service Coordinator Sarah Mixon. "We immediately opened up the doors and had people coming down and getting their insurance cards scanned and trying to get the pre-paperwork done."
The team did not realize there was extra paperwork—consent forms and screening questions—that would be required before residents could get the vaccine. They hadn't received it. Service Coordinators Mixon and Kristen Nelson were on the phone with CVS, who overnighted the forms to them. 
"We were scrambling to get all of the almost 100 people that we had…saying they wanted to sign up. We had to call them all back in and get them to sign consent forms and screening questions," Mixon said. "Kristen and Ellen, our intern, were running to people's doors, knocking on everyone's door to get this signed, because otherwise this clinic was not going to happen." 
Days later, the team had managed to get a little over 50 people completely finished with the necessary paperwork, falling short of the number who wanted to get vaccinated. The morning of the clinic, frantic residents asked staff "why didn't we get a sign up?" Fortunately, when the local CVS arrived the day of the clinic, they were aware of the Silvercrest's challenges and came prepared with extra nursing staff and vaccines. During the clinic, service coordinators and pharmacy staff worked to get people in who hadn't signed the paperwork. 
In order to avoid having a large gathering, the CVS team traveled door to door, inoculating residents in their doorways. After receiving the vaccine, residents stayed in their doorways so they could be monitored for any reactions. Once again, Nelson and Ellen ran between floors, laying eyes on residents to make sure they were OK. 
"Residents were checking on each other. It was really amazing," Nelson said. "Because, evolving from the whole COVID reclusive stage, it's amazing to see community come alive again…They were yelling across the hall at each other: 'Are you OK? How are you doing over there?' And it was beautiful." 
By the end of the day, 81 people were vaccinated, including residents of the Silvercrest, Salvation Army staff, and people from the Eureka Corps. The team feels more prepared for the forthcoming clinics.
"Our primary focus was just to get as many of our residents vaccinated," Nelson said. "There was a lot of confusion in the process that we had to overcome. But that was our primary focus: We have to stay positive and just work as a team to get this done, and we did it."
Now more residents want the vaccine. For the second clinic, about 130 people are signed up to receive either their first or second dose. Nelson says she's seeing a whole new energy in the building right now. Mixon agrees. 
"It's kind of like a light at the end of the tunnel of a really long year," she said. "A lot of people have become discouraged, and this has gone on for so long that we've seen a pretty significant uptick in some depression-like symptoms among many of the residents from the isolation…Now that the vaccines are here, and actually happening, a lot of people feel like there is tangible progress." 
Steve Coach, 65, decided to sit out during the first vaccination clinic, having heard various things about the vaccine in the media. He wanted to see how those in the first wave fared. After watching the residents who were inoculated during the 24 hours following the clinic, and finding out no vaccines were available through his healthcare plan after contacting his doctor, he decided "I'll go ahead and sign up." 
Coach has lived at the Eureka Silvercrest for 12 years—he came in as a disabled person and has a neuro immune disorder, a lot of allergies and, subsequently, a compromised immune system.
"In Silvercrest, there's a lot of people that have health issues, and some of them are similar to mine," Coach said. "So I went ahead and signed up, and I'm kind of looking forward to it." 
---
Do Good: