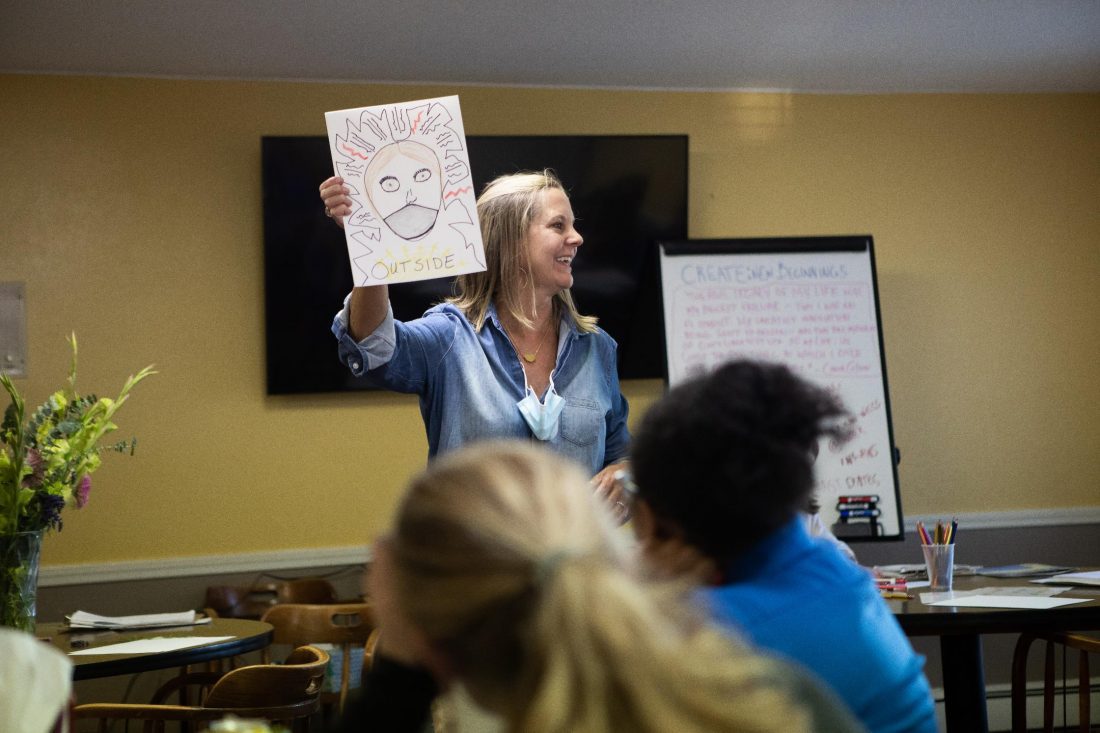 Restorative art brings healing to women recovering from addiction at Salvation Army
Do you find it difficult to forgive others? That's a question women from the Denver Adult Rehabilitation Center (ARC) discussed to begin a recent restorative art session focused on forgiveness through a program called Create: New Beginnings.
Each week, sessions cover topics like reconciliation, empathy, shame, self doubt and courage, using discussion, Scripture, prayer and art to aid in the healing process. The Create: New Beginnings programming is available to the Denver ARC and other ARCs through a partnership with Prison Fellowship. The emotional processing the art provides has led the Denver ARC to use it in place of its usual process groups. 
"It's been really good. I think the ladies have enjoyed it," said Major Rachel Gallop, Denver ARC Administrator for Program. "One lady said that she's always had a hard time expressing her emotions, but she has always liked art, so it's been a very good thing for her…One lady doesn't really talk a lot, but through her facial expressions you can see something happening in her."
After discussing the initial question about how difficult it can be to forgive, women then learned more about forgiveness—how it can protect their hearts and help them to use their thoughts in more productive and healthy ways. They talked about forgiving those who hurt them and seeking forgiveness from those who they may have hurt before writing a letter to someone who they would either like to forgive or receive forgiveness from.

As part of the program, the women ripped up their letters and glued them to a separate sheet of paper before painting over it, using colors that matched their feelings. A color chart aided in this process, explaining that colors like red connote energy, anger or love whereas blue can mean calm, peaceful or sadness. 
"By writing and expressing how I feel at the moment and then painting over it with positive affirmations is definitely a form of positive reinforcement for me to make my future the best it can be," said Janielle, Denver ARC beneficiary. "I look forward to reestablishing and mending most of my broken relationships. I want to gear my future towards helping others that may suffer from the same disease."
Create: New Beginnings was developed by Prison Fellowship's Martha Ackerman and Steph Segel. As artists, they know the power of creative expression and initially saw the program as a way to help women living in prison to unpack their hurts and struggles.
"The topics, such as shame and self doubt,  allow you to explore gently through art," said Ackerman. "The workshops can help you to identify your emotions around a particular personal experience. This can be the first step to healing. If you can discuss these emotions either verbally or an art form, it  can help continue the healing process."
While they've held sessions in prisons across the U.S., the pair noted the flexibility of Create: New Beginnings lends itself to helping women in The Salvation Army's Adult Rehabilitation Centers process their feelings as well. 
"Art can help those who are struggling," said Segel, Create: New Beginnings Manager. "Opportunities to reflect and to create something beautiful allow them to bring those things to light."
The Create: New Beginnings team trains volunteer leaders to run the weekly sessions at the ARC. The programming encourages vulnerability from all parties—leaders included. One of the volunteer leaders at the Denver ARC is going through a divorce, and the lessons on topics like forgiveness have helped her, too. 
Gallop said the leader told the group, "There has to be a way that I can forgive my husband …there's too much hurt between my husband and I right now. There's not going to be reconciliation for us, but there's going to be a way to raise our children without anger and hatred."
"It makes the ladies realize that everyone has problems; they're not special in having problems. Even the leaders have problems," Gallop said.

Another special part of the programming is the weekly flowers that harken back to Victorian times, when flowers carried special meanings. For the forgiveness message, the week's flowers included alstroemeria, representing devotion between family members or friends; purple hyacinth, representing forgiveness and strength; and pink carnations which meant "I will never forget you."
The blooms stay around the ARC following the session to bring beauty and reinforce the week's lesson. 
"This art workshop has without a doubt been impactful in my recovery," said Shavonte, Denver ARC beneficiary. "I never would have foreseen myself enjoying art of my own, let alone actually sharing it with others. I have been able to step out of my comfort zone and utilize art creatively and as a form of therapy."
---
Do Good:
Did you know The Salvation Army served 31 million Americans last year fighting hunger, homelessness, substance abuse and more—all in a Fight for Good? Where can you help?

Take our quiz

to find your cause and learn how you can join in today.