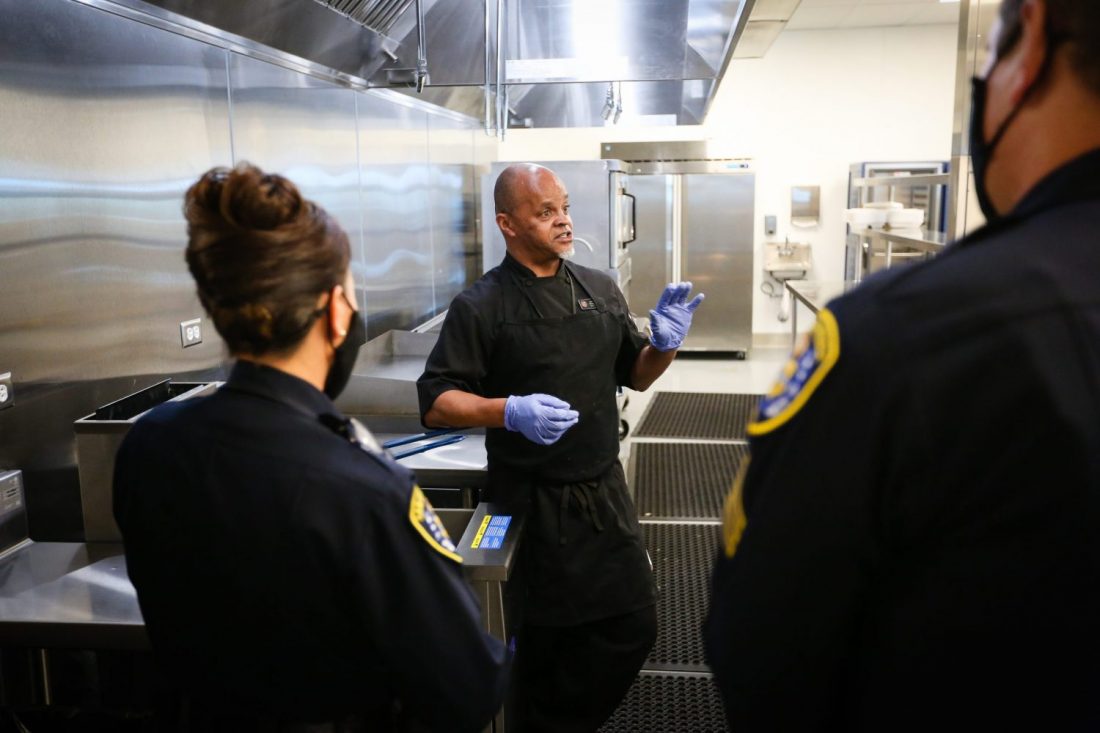 Salvation Army opens new building to expand addiction recovery efforts
The San Diego Adult Rehabilitation Center (ARC) makes the move to Otay Mesa, California.
For more than 40 years, The Salvation Army San Diego Adult Rehabilitation Center (ARC) was located in the heart of the city's downtown. On June 1, a new era began in the life of the ARC when a new, expanded facility was dedicated with a ribbon-cutting ceremony in Otay Mesa, California. 
The new facility, about 20 miles south of San Diego near the Mexican border, expands the possibilities for those experiencing addiction. The space includes an 85,000-square-foot industrial building that houses the warehouse, thrift store and administration office and a 45,000-square-foot ARC building that houses up to 120 beneficiaries receiving no-fee addiction rehabilitation services. 
"There's a beautiful place in South San Diego where people can come with just the clothes on their back, and we'll feed them, we'll clothe them and we'll house them—and we'll help them to have hope again," said Adult Rehabilitation Center Commander Major Henry Graciani. "We'll help them to be fathers again and mothers again, to get back into society and be productive citizens again. That's what this place does. That's what The Salvation Army is all about."
Western Territorial Commander Commissioner Douglas Riley echoed the sentiment when he shared Salvation Army Founder William Booth's poem, "I'll Fight":
"While women weep, as they do now, I'll fight;
while children go hungry, as they do now I'll fight;
while men go to prison, in and out, in and out, as they do now, I'll fight;
while there is a poor lost girl upon the streets,
while there remains one dark soul without the light of God,
I'll fight, I'll fight to the very end!"
Riley spoke of the significance of dedication in the Bible—that it's mentioned 88 times in reference to things like people, buildings, grounds and objects. 
"We want to recognize who we are, who we honor and why we honor them…this place is about the purpose for which it was built. The purpose for which we hope that people will find, at the center of their lives, to be filled with God, so that they can take the first step to be successful," Riley said. "That's our purpose: Not to dedicate this building, but to dedicate its purpose for the lives of those people who come into it."
The new space expands The Salvation Army's impact on those experiencing addiction in San Diego. The previous building held 103 beds. The new ARC features 120 without sacrificing breathing room. Instead of an industrial building, the new space includes natural elements, like a wood-paneled ceiling to add warmth to communal spaces like the dining area and chapel and it also boasts a large outdoor recreation area and industrial kitchen. 
Currently, the San Diego ARC's women are housed at a separate facility in the city. The Salvation Army plans to expand the Otay Mesa space to add an additional 30 rooms to support women on-site.
At the dedication event June 1, key individuals were recognized for their efforts to make the complex a reality throughout the 18-month construction process, including developer R. Michael Murphy of Murphy Development, who presented a $50,000 check to the ARC. Local leaders and dignitaries shared in the excitement of the new space, including Councilmember Vivian Moreno and San Diego Mayor Todd Gloria.
"This is not about the building, as beautiful as it may be," Gloria said. "It's about what goes on inside of those four walls, and one of those family members of ours who have fallen down and hit upon difficult times, whether or not there is going to be a human being inside that building that says 'I'm willing to help you. I'm willing to invest in you, I'm willing to stand with you for as long as it takes until you get back on your feet.'"
Troy Talbert knows the power of the ARC. When he entered the San Diego ARC in 2014, he said he was "broken and lost" due to addiction. After finding Christ during a chapel service, Talbert experienced change. 
"Today…I have a very full and rich life," he said. "All the things that I never thought I would have again have returned and continue to come back. I have a family and friends, a career and a home. I have a sponsor. I have sponsees. And most importantly, I have an intimate relationship with Christ. My life, though not perfect, gets better and better."


















---
Do Good:
What cause best fits your personality?

Take our quiz

and discover where you can make the biggest impact today in the Fight for Good. 

It's because of people like you that The Salvation Army can serve more than 31 million Americans in need each year. (

That's almost one person every second, every day.)

Your gift helps The Salvation Army fight for good all year in your community. It's an effort to build well-being for all of us, so together we rise. And that good starts with you.

Give to spread hope

with a donation of funds, goods or time today.