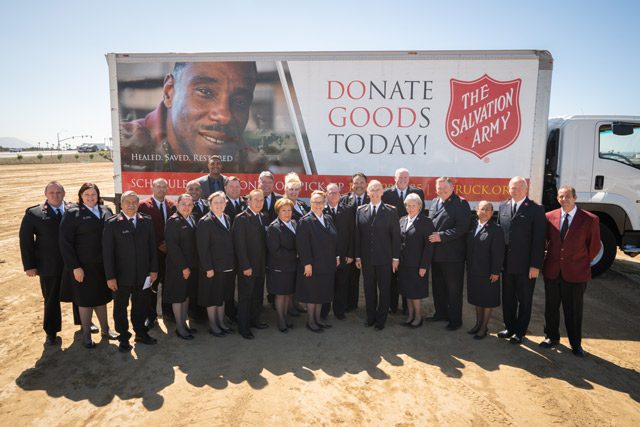 ARC breaks ground on Otay Mesa rehabilitation facility
By Patty Zamora –  



































The Salvation Army Adult Rehabilitation Center (ARC) in San Diego, which has been located downtown for roughly 70 years, broke ground Sept. 30 on a new location in Otay Mesa, about 20 miles south, near the Mexican border. 
In just under two years, the ARC will relocate to the new facility, which will include an 85,000-square-foot industrial building to house the warehouse, thrift store and administration office and a 45,000-square-foot support services building to serve as the new ARC. 
Salvation Army officers and friends came to witness the groundbreaking, including Territorial Commander Commissioner Kenneth G. Hodder, who shared how the new facility will enable the Army to better serve and job train an additional 20 men, bringing the capacity in this location to 120 men.
"There is no question that the ARC Command in the West has taken an enormous step forward in its ministry," Hodder said. "The new center, which is in an ideal location, holds the promise of a 20 percent increase in our capacity to provide rehabilitation services in the San Diego area."
Attendees also heard from Norman (Norm) MacKenzie, an ARC alumnus, who entered the program nine years ago.
"Nine years to this day is when I walked through the doors of The Salvation Army, and I've never looked back," Norm said.
He shared about his addiction to drugs and alcohol, his many run-ins with the law and experiencing homelessness before entering the ARC. Today Norm is the Substance Use Care Coordinator for the Neighborhood House Association, a San Diego County multi-purpose human services agency.  
The women's addiction rehabilitation program is now located in National City, with housing for 26 women.