That's why The Salvation Army has more no-fee residential treatment facilities than any rehab program in America.
For over 100 years, The Salvation Army's Adult Rehabilitation Centers and Harbor Light Programs have offered spiritual, emotional and social assistance to those who have lost the ability to cope with their problems and provide for themselves. Our free programs provide housing, food, counseling, community and employment as we work to treat the symptoms, and ultimately the root causes, of prolonged alcohol and drug dependence.
We give kids their parents back.
As the only provider of social services in every U.S. zip code, The Salvation Army
uniquely understands that the statistics on those experiencing addiction don't provide a
full picture of need. More than 10 million people misused prescription opioids in the past
year, according to the U.S. Department of Health and Human Services, which declared the
opioid epidemic a public health emergency in 2017.
According to White House estimates, 175 people will die of drug overdoses today and every
day until the crisis is curbed. And it's not limited to a certain "type" of person.
Addiction can affect anyone.
That's why The Salvation Army equips more than 150,000 people every single year to combat addiction,
regain health and stability, build work and social skills, and restore families—and we've been at it since
1865. With more than 130 residential treatment facilities in America, The Salvation Army is out to
break the chains of addiction. We are working to help people find not only sobriety, but recovery.
Give the gift of transformation.
This year, the need for transformation is greater than ever—and The Salvation Army is there to serve.
For a father who became addicted to painkillers after surgery.
For a child of addiction who became an addict herself.
For a young fitness manager who became addicted to meth.
Will you join us in the Fight for Good?
Here's how it works:
1
Decide to join The Salvation Army in our fight against addiction.
2
Give to help provide hope and transformation to someone nearby in need.
3
Know you're helping restore a family in your neighborhood.
Yes, you could keep "do good" on your to-do list.
You could set a resolution to help others this year.
Or, you can decide to choose love today.
Act now to get in the Fight for Good.
Give to fight addiction in your community today.
Fight for GOOD with $100 now here
Our Promise
to Donors Like You
The Salvation Army is dedicated to Doing the Most Good, assisting 31 million Americans annually with food, shelter, rehabilitation, disaster relief, child protection and more.
By meeting tangible needs, we give the world a lasting display of the love behind our beliefs. Since 1865, we have been working to provide sustainable solutions for the most vulnerable. We stay not just until the job is done, but long afterwards, to ensure that the healing continues. With 82 cents of every dollar dedicated to directly supporting the needs of the community in which it was received, The Salvation Army is committed to stewarding every donation with integrity.
Click here to see our most recent annual report.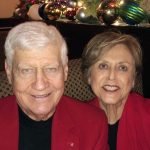 "I've never met a group of such selfless people that
are working to help others. The Army's goal is to take
people in and rehabilitate them so they can have a life
and be able to take care of themselves. And that's
something that's really important to me."
– Diane Mullin, Donor, Pasadena, California
Conquering addiction is a miracle in itself. And I would know. Thirteen years ago, I was a participant at The Salvation Army Adult Rehabilitation Center—where I lived cost-free, engaged in the 12 steps and fought my addictions. Today, I'm an officer (a pastor) in The Salvation Army, currently leading the Adult Rehabilitation Center in Santa Monica, California. I see it every day—people turning to chemicals to find their self worth. Addiction is at an epidemic proportion. We try to give them a new way of looking at life, with skills to live a new life—especially getting connected to a supportive community. Then on graduation day, I always say: You're at a new starting line now."
"I started drinking, playing around with pot and doing meth in high school. It was just a weekend thing. Later on, it became a need. Selling "ice," doing ice was my life. When my children were taken away, it opened my eyes. I did the 911 prayer: Lord, help me out of this and I'll change. And He heard. I became a participant at The Salvation Army Adult Rehabilitation Center—where I lived cost-free, engaged in the 12 steps and fought my addictions. It changed my life. I'm so grateful they gave me one more chance."
About Us
An international movement, The Salvation Army is an evangelical arm of the universal Christian Church. Our message is based on the Bible, and our ministry is motivated by the love of God. We preach the Gospel of Jesus Christ and meet human needs in his name without discrimination.
Looking for more ways to help?
Curious what cause best fits your personality? Take our quiz and discover where you can make the biggest impact today in the fight for good.