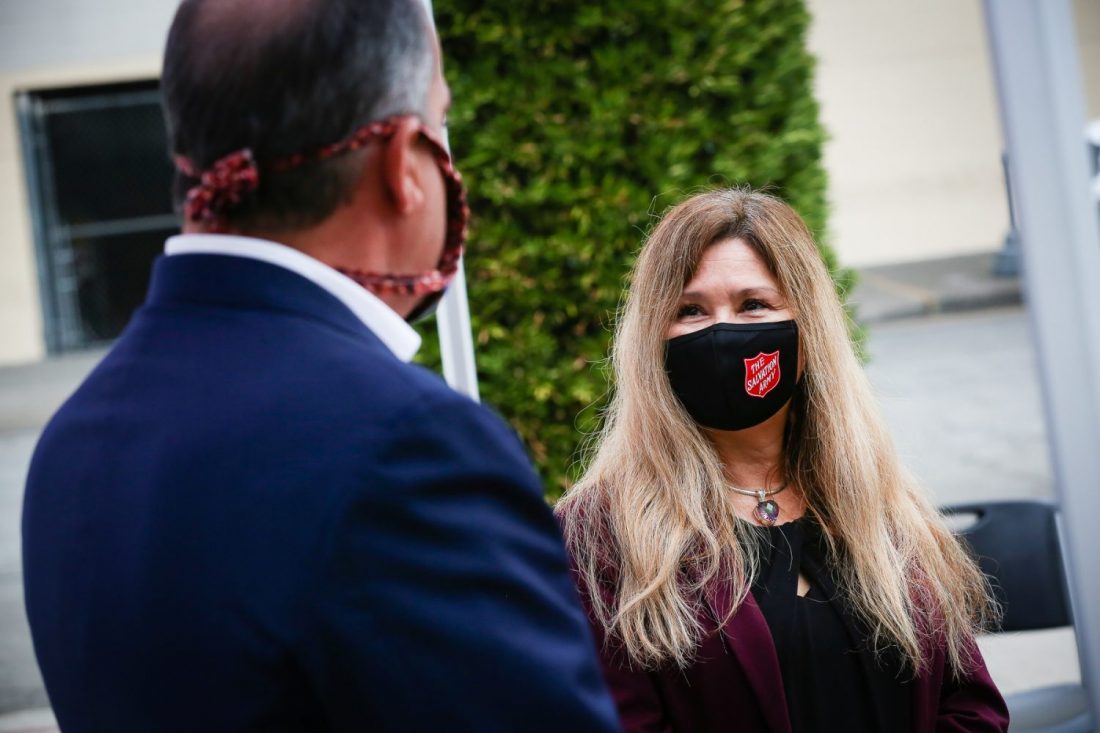 California prisoners released early find The Salvation Army willing to help
New partnership aims to connect incarcerated to addictions recovery program
After California prison officials announced nearly 18,000 incarcerated individuals would be released early due to the coronavirus, it was clear many would not have a safe place to go to re-enter society amid the pandemic—and many wouldn't be ready.
A new partnership between The Salvation Army Western Territory Adult Rehabilitation Centers (ARC) Command and Prison Fellowship, the largest U.S. prison outreach nonprofit, seeks to be part of the solution by giving those who are currently or formerly enrolled in Prison Fellowship in-prison programming the opportunity to apply to the ARC program upon release. 
"Addiction is the first cause of criminal history—the majority of men or women in prison were suffering from addiction when they committed their crime, and so it is imperative if we want to see people return to society, who are healthy and productive citizens, it is imperative that we help them address their addiction," said Prison Fellowship President and CEO James Ackerman. "The governor of California is leading the state in reducing the prison population as a product of COVID-19…primarily through the mechanism of parole, and what that means is not everybody is really ready to step back into society…This partnership is imperative to the success of men and women who are coming out of prison right now."
The idea came after Western Territorial Advisory Board Member Rick Osgood saw the potential for connection and introduced the two organizations. Prison Fellowship serves prisoners, former prisoners and their families, and the partnership with the ARC, which helps men and women overcome addiction, will help to give those currently or formerly enrolled in Prison Fellowship further supportive programming. According to Ackerman, 95 percent of people who go to prison return back to their community, so the partnership aims for them to return as healthy and productive members.
In non-pandemic times, Prison Fellowship is able go into the prisons for its programs, but until that is possible again, its staff identifies participants who will be released in 12 months or less and sends them a letter regarding the partnership, along with an ARC application and instructions on how to contact Salvation Army staff. 
After participants apply to the ARC, The Salvation Army will send a letter with information, including availability and instructions upon release. When a Prison Fellowship participant becomes a beneficiary of the ARC, the communication doesn't stop there—staff from Prison Fellowship will attend the individual's graduation from the ARC residential program, too. 
"Prison Fellowship is a faith-based Christian organization, but they also use evidence-based materials to help the person in incarceration begin to change their value system, begin to change their perspective, their worldview, and therefore they will change behaviors—so they start that process while they're incarcerated," said ARC Secretary for Program Major Shari Fowler. "Our program is the same thing—we are a faith-based social model, cognitive behavioral program designed to help people continue to reformulate their beliefs, their values and therefore impact their behavior in more positive ways, but we do it in a community, relational, residential setting. 
"Our programs, while set in different environments, have the same structure and same goal," Fowler said. "It's a really fantastic fit to help continue the journey that starts while incarcerated—to help them continue that journey and then move forward when they're not incarcerated."
At the ARC, beneficiaries receive spiritual, emotional and social assistance to learn better coping and life skills. The no-fee program provides housing, food, counseling, community and rehabilitation services to combat the root causes of prolonged alcohol and drug dependence. While the ARC has historically helped those coming out of incarceration, the new partnership will cut down on gaps between services, lowering the chance of unfavorable events happening in between. 
In October, 1,100 applications for the ARC program were sent to those in California's 35 prisons, and applications are starting to come in. While the partnership is currently only in California, both nonprofits hope to expand into other states to create a bigger pathway for those returning to society.
"It is amazing to watch the transformation over the days, weeks and months, to see program beneficiaries come in without hope, without direction, and to watch them transform to be the men and women that God created them to be, to be productive citizens again, brothers and fathers again, sons and daughters again," said ARC Commander Major Henry Graciani. "It's a very effective program. We're elated to have this partnership between The Salvation Army and Prison Fellowship and we know that our communities will be better because of this partnership."
---
 Do Good:
Discover more of

The Salvation Army's story

in transforming lives since its founding in 1865. 

See how you can

get involved in the Fight for Good

with The Salvation Army. 

Did you know The Salvation Army served more than 23 million Americans last year fighting hunger, homelessness, substance abuse and more—all in a fight for good? Where can you help?

Take our quiz

to find your cause and learn how you can join in today.