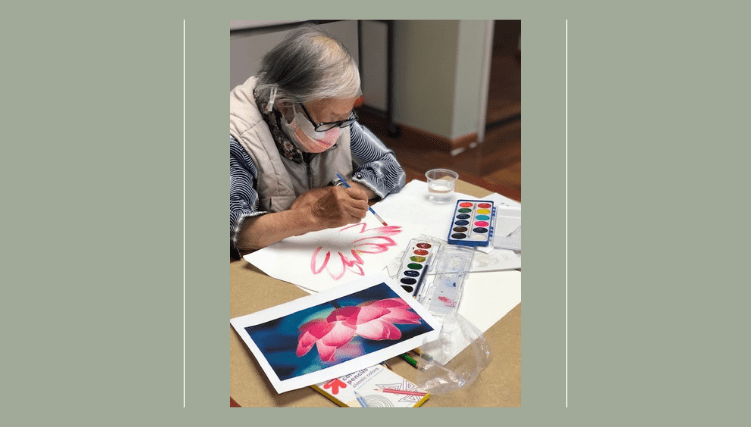 The Salvation Army's art ministries seek to empower individuals and glorify God
When art becomes ministry—how visual art can ignite the soul.
When they first come to church, children often participate in art activities to learn about Jesus and the Bible; this 
might be the first ministry they encounter. In all stages of life, however, visual art has the potential to impact people for God's kingdom. 
Through unlocking creativity—often abandoned while growing up—people can connect with their soul and become closer to God. With this in mind, The Salvation Army incorporates art into many of its programs, reaching people of all ages.
Essential to God's nature (Gen. 1:1) is the capacity to create. Each individual person, created in God's image, also has that capacity. Human beings reflect that part of God's nature in the abundance and diversity of artistic expression, art in all its forms—music, dance, drama, poetry and, of course, visual art. Art has the ability to reach into people's souls, releasing their creativity and sometimes bringing them into a closer relationship with God. 
Christian coach Jim Wall defines creativity as "using the resources God has given you to make something that benefits you and others." Elsewhere, Robert Hampshire provides a definition of ministry: "Ministry is about giving of ourselves and our time, talents and resources to bless and help others." 
Between the two of them, Wall and Hampshire unite creativity and ministry as two sides of the same coin. When the creative capacity is used to glorify God and/or to help others, art becomes ministry.
Art as ministry
After one of her art workshops at the Coeur d'Alene (Idaho) Kroc Center, Corps Officer Major Ronda Gilger wondered: "Is it an art class or is it ministry?"
Earlier this year, Gilger accepted a friend's challenge to participate in a 10-day art challenge on Facebook. She posted photos of her art along with insights about the pieces she shared. Her creations include fiber arts, watercolors, ceramics and tiles, and a painted Salvation Army kettle. She shares her talents in workshops and classes at the Kroc Center.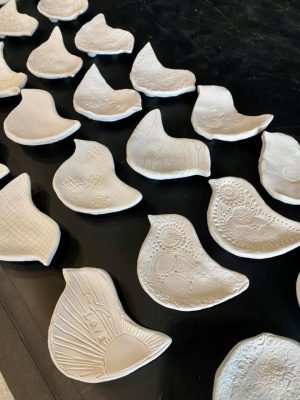 On day four of the challenge, Gilger spoke about the animals she depicted on ceramic tiles, in a work entitled, "Heaven and Nature Sing."
I can't help but feel they are keenly aware of the Creator and there are overtones of the theme of 'peace,' she said."
On the 10th and last day of the challenge, Gilger shared her Artist's Heart project, which is about giving to others—all the proceeds from the sale of her creations go to The Salvation Army in Moldova to help people in need. With this endeavor, art as ministry is impacting others, bringing them closer to God and instilling more peace on earth.
Elsewhere in the Western Territory, The Salvation Army has been ministering with art to empower and help others. 
Reaching seniors during COVID-19
At the Silvercrest senior residence in Escondido, California, the art class was the only ongoing activity during the COVID shutdown, said Service Coordinator Angela Windham, who leads the class. Windham, who transferred from The Salvation Army USA Central Territory to the West in May 2020, looked for a way to keep the class going. Previously in Donor Relations, she knew what to do. She created an Amazon wish list of art supplies and asked people to purchase the items. 
"I figured I would get a bigger response if they were actually purchasing items," Windham said. 
Then, after receiving $700 worth of supplies, she put together art kits so the residents could work on projects in their apartments.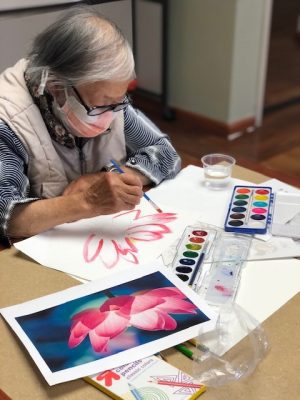 "They were ecstatic," Windham said. "This allowed them to have a tiny bit of normalcy during the pandemic."
They are now meeting again in person, and "Christmas in July" is their next big class project. 
"The situation is fun and relaxing with the music," Xiao-Yu Zhang said. "I enjoy painting and coming here to get out of my apartment. There I just sleep and watch TV." 
It's not just the residents who find joy in the art experience. Initially, Windham said that initially she was unsure about changing roles amid the pandemic.
"Working with the seniors here at Escondido Silvercrest and being able to help them, especially during this time of COVID, has been the most rewarding job I have ever had," Windham said. "Every day I learn something new, and my residents are a continual blessing to me. We've laughed and we've cried together, but we have become a village."
Reaching youth at camp
Art classes often take place during The Salvation Army's summer camp program, which includes not only youth who attend Salvation Army corps, but young people from urban areas who may not have been exposed to nature or encouraged to explore their innate creativity.
"I think art classes at camp are an amazing ministry," said Daniel Tollerud, Spokane (Washington) Youth Center Director and Camp Gifford Director. "Arts and crafts help children to express their own individualism and creativity while providing an atmosphere that allows them to connect with other children with a similar interest, skill, or passion."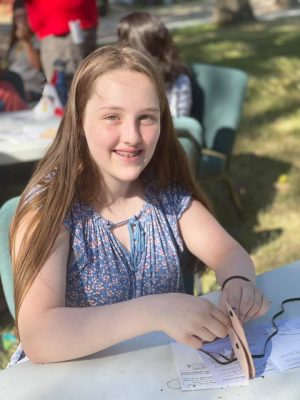 He said this is especially beneficial for those children who have a hard time socializing or who are more introverted.
At Camp Gifford's 2021 SAY Camp in Loon Lake, Washington, Captains Gin and Steven Pack taught campers about 24 influential Indigenous leaders and leather lacing, which was connected to indigenous people's art and language.
"They also learned about the different types of leather and how part of leatherwork is learning the beauty that can be created simply by applying a little pressure, much like how beauty can be created in our own lives when we are under pressure," Tollerud said. 
"The campers created arrowhead necklaces with leather twine, wooden beads and feathers, as well as genuine leather medicine pouches. They were allowed to express their own individualism and creativity in the creation of these crafts, making them truly their own by adding different designs, patterns and decorations."
While art in ministry can take many forms, ultimately all good gifts come from above, and when used to glorify God and help others, the results can be life-changing.
---
Do Good:
More than red kettles and thrift stores—discover how

The Salvation Army

impacts people's lives.

What's your story? How might it impact others?

Here's

where to start your personal journey.

Explore where to find your ministry with guest Aleen Stoddard on

The Commons Podcast.