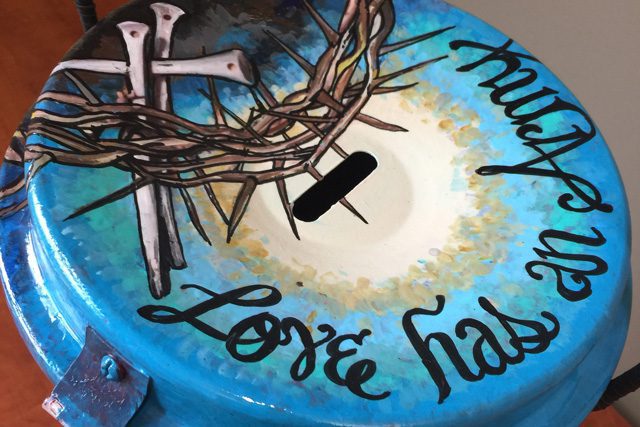 Coeur d'Alene's 'Kettle of Dreams'
Local artists paint red kettles, illustrating the theme "Love has an Army."
It's amazing what a kettle can hold.
Local artists in Coeur d'Alene, Idaho, partnered with The Salvation Army to represent "Love has an Army," the theme of this season's art competition at the Ray and Joan Kroc Corps Community Center. Participating artists painted a limited number of The Salvation Army's iconic red kettles with their interpretation of the theme.
"The wheels of creativity are turning," said Corps Officer—and artist—Major Ronda Gilger, who recently finished her entry for what she calls the Coeur d'Alene "Kettle of Dreams."
The community is involved, too. Four local art galleries will display the kettles, featuring the artists and giving people the opportunity to vote for their favorite with their donation dollars. After the gallery displays, the Kroc Center will exhibit the kettles—and the winning artist will have his or her work on display at the center for one year.
Gilger looked to the origins of The Salvation Army movement for inspiration, and found herself "lost in the process."
First, she visually represented Founder William Booth's famous words, delivered just three months before his death: "While women weep, as they do now, I'll fight; while children go hungry, as they do now I'll fight; while men go to prison, in and out, in and out, as they do now, I'll fight; while there is a poor lost girl upon the streets, while there remains one dark soul without the light of God, I'll fight—I'll fight to the very end!"
For the kettle's cover, Gilger wanted to depict The Salvation Army's underlying motivation: For God so loved the world that He gave his only Son (John 3:16 NIV).
"So we are called to love others," she said.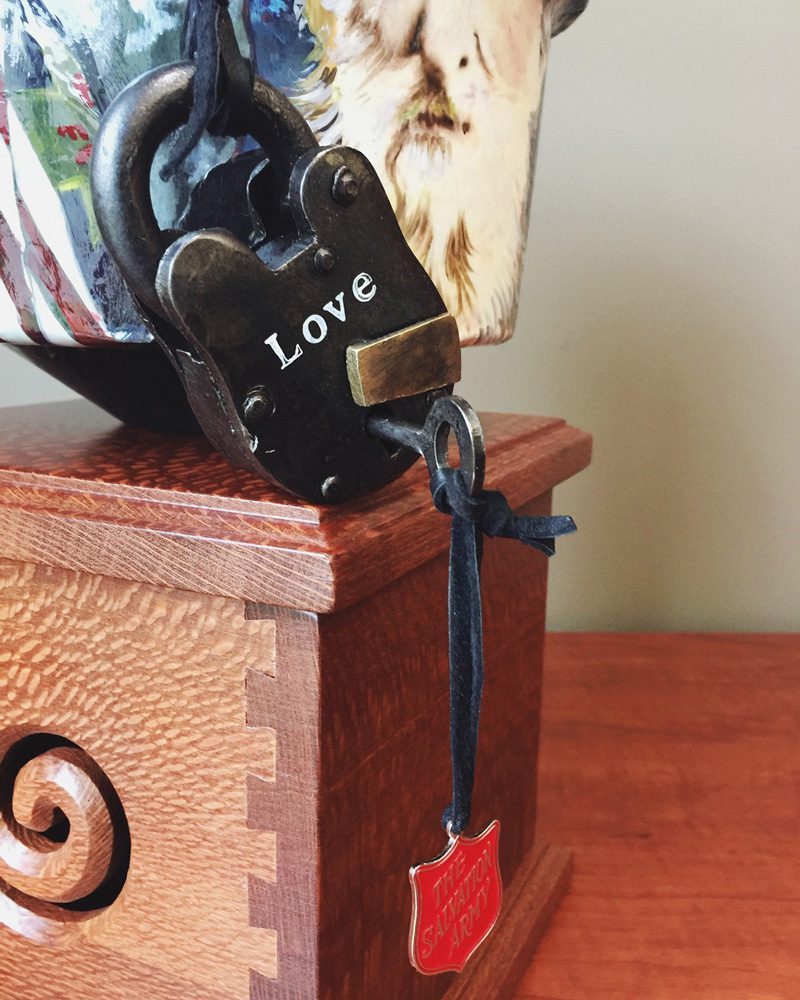 Gilger continued, painting touchstones of Army history: coming to America, serving on the frontlines, protecting the vulnerable and fighting for social justice.
"I thought it was important to portray this 'Army,' where love sees potential and possibility today," she said.
She wanted viewers to see what is too often easy to ignore.
"You can almost feel the emotion in the child's eyes as she seemingly appeals for us to see her—when it might be easier to walk by anonymously," she said.
Gilger hopes that people will be called to action, to make a difference.
"I am inspired that we are invited to participate…turning keys that unlock practical, compassionate acts in our own communities," she said.