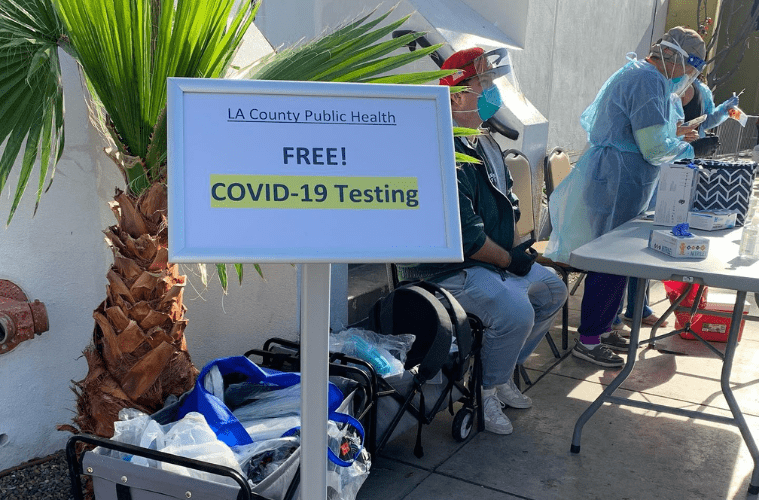 Salvation Army removes barriers so homeless can get COVID-19 tested
When clients experiencing homelessness asked Salvation Army Santa Monica Corps Caseworker Michael Figari about how they could get tested for COVID-19, he didn't have a resource for them. Throughout the pandemic, Los Angeles County has offered more than 200 testing sites for citizens to get free COVID testing, but still, gaps remained for those experiencing homelessness. 
"Most of the resources that are available have barriers that can be problematic for clients who are fighting homelessness," Figari said. "So whether that be that you need to sign up online or the location is too far away…even the things that are sponsored by the government in different ways, those all have barriers that can be hard for them."
That's why, through a partnership with the Los Angeles County Department of Health Services, The Salvation Army Santa Monica (California) Corps is hosting a new walk-up testing site aimed to eliminate many of the barriers those experiencing homelessness face while seeking COVID-19 testing as well as provide wrap around services if the test comes back positive.
"In general, there's been such a great response from the county to provide these vaccination sites that are free to anyone who needs it," said Santa Monica Corps Officer Lt. Erin Wikle. "To make it equitable and accessible for everybody has meant establishing these outreach teams and setting up at social service agencies like ours…It's nice to see that 'the least of these' have not been forgotten." 
The first COVID-19 testing day was held at the corps Feb. 3, and will continue every other Wednesday, from 9 a.m.–noon, until it is no longer needed.  
"During that time we're serving housed and unhoused individuals through our food pantry, so if you're unhoused, you would be coming in for your food food for the day, hygiene supplies, clothing, but also have the added benefit of going and getting tested if you wanted to," Wikle said. 
The idea to offer walk-up COVID-19 testing stemmed from a call The Salvation Army participates in with area non-governmental organizations (NGOs) that's organized by the City of Santa Monica focused on coordinating efforts across the NGOS for COVID relief. Through it, Figari was put in contact with LA County who, as part of the homeless outreach program, aim to assist the homeless community to avoid outbreaks, in places like encampments. The group was able to replicate the free testing it had done with other NGOs for those facing homelessness outside the corps. 
"They had almost a turnkey operation where they just really needed us to…provide them with a population of clients facing homelessness that would need testing," Figari said. "We have that just as a part of what we do here…We both need each other." 
For anyone exhibiting obvious COVID-19 symptoms, a rapid test is performed. For anyone else, the 24 to 48 hour testing is used, which is considered more reliable. The county tries to get as much information as possible from each client—where they stay and whatever contact information they can give. 
If a client does test positive for COVID-19, the county will not only try to contact them by phone, but will also try to find them wherever they're staying. Clients can also call 211 to get their results, or opt for a caseworker to receive the results for them. From there, they can receive different health resources, like a room through Project Room Key to isolate for 14 days and receive healthcare. 
"We're trying to share the whole story," Wikle said. "We're not just going to test you and if you're positive, not provide for you. We have the assurance of the county that they will make a provision to make sure people are well and isolated."
---
 Do Good:
Discover more of

The Salvation Army's story

in transforming lives since its founding in 1865. 

Did you know The Salvation Army served more than 23 million Americans last year fighting hunger, homelessness, substance abuse and more—all in a fight for good? Where can you help?

Take our quiz

to find your cause and learn how you can join in today. 

See how you can get involved in the Fight for Good

with The Salvation Army

.