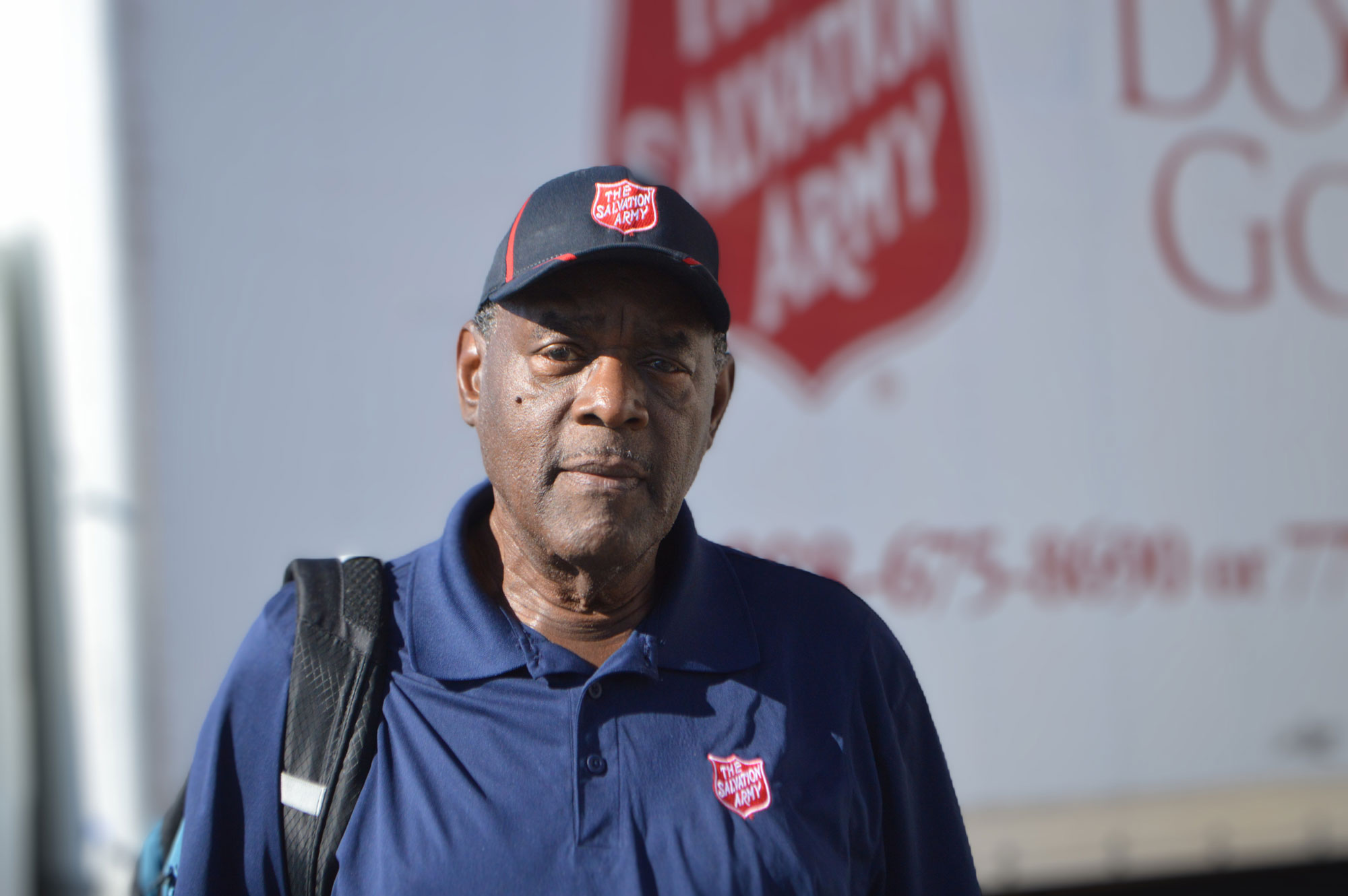 How one man gives and receives as a driver for The Salvation Army
Donnie Smith found more than a driving job at the Reno Salvation Army.
Donnie Smith was looking for something to do when he first walked into The Salvation Army in Reno, Nevada. A job agent had told him The Salvation Army was looking for a driver.
"The Salvation Army has trucks?" he said. "I didn't know that."
Driving, though, was something he knew well, having operated big rigs for decades. Then in his late 60s, he could have retired, but he wasn't quite ready. He just knew he no longer wanted to steer long hauls across the country.
Today, six years later, he still isn't ready to retire. He's found his place.
Like reminders that God is good, faithful and offers you joy and peace? Get the Do Good Digest and find weekly inspiration right inside your inbox.
A United States Army veteran, Smith had worked for decades and his five children were grown and out of the house. He'd earned the opportunity to relax.
But while the idea of retiring may sound great, the reality can be something less than that. The Roots of Loneliness Project found that retirement loneliness can result from anxiety about having too much extra time, losing a part of your identity, and lacking meaningful activity while at home. In short, a retiree may feel at loose ends.
"I felt like I was closed in," Smith said of his once trying retirement. "I wasn't accomplishing anything. I had nothing to do. I'd get up in the morning and take a three-mile walk, then I'd come back to the house. I'd go from the living room to my computer room to the kitchen; that was my route. I'd sit at home all day, just bored doing nothing."
His wife encouraged him to go back to work, and when he heard The Salvation Army would take him back, that's what he did—and he hasn't looked back.
A win-win situation
"On the day I got a two-week notice from one of our drivers, Donnie came back through the door and asked if I had a job for him—so, God was providing for us," said Warehouse Manager Selit Hidalgo Del Rio. "Donnie sets an example for the men in the ARP [Adult Rehabilitation Program] to follow. They like working alongside him because he's so mellow and kind but also hard working."
Now 74, Smith continues to work full time, driving a truck between The Salvation Army warehouse and its thrift store. He also picks up the men from the ARP. He says connecting with them has become his favorite part of the job. At first, it was just another part of his duties, but once he saw what The Salvation Army does for these men, he said it became something more.
"I look at these guys—they're in their 20s to late 40s—like I look at my sons," Smith said. "When they ask me advice, I give them true advice…If you ask me a question, I'm gonna give you the right answer. If you don't like it, I'm sorry. I'm not gonna lie to you. I'm not gonna lie for you. I'll give you what you asked for.
"I can help these guys," he said. "And at the same time these guys can help me. I learn from them as much as they learn from me. So it's a win-win situation."
The men share their previous work experience, and he picks up information about plumbing or roofing, tips that might come in handy. "You're never too old to learn something new," he said.
Smith said the job helps him both mentally and physically—its impact has been huge.
"I found out I have PTSD," he said. "I wouldn't tell anybody that I had it, because I held my temper in all the time." Smith said his trauma resulted from some of his experiences in the military—eight years overall, including the Vietnam War in 1969–70.
His doctor told him to tell people about his PTSD, even if they had no knowledge of the disorder. When he returned to his job at The Salvation Army he told his supervisor.
"It's like, OK—I'm good," he said. "This job has done a lot for me…I love the people that I work with. To me, The Salvation Army is a big family."
On the road, and more
Today he does more than warehouse runs. He helps with The Salvation Army's community outreach—the food bank, back-to-school distribution and Christmas kettles.
"What surprised me about The Salvation Army is what they do," Smith said. He recalled his time in the military when The Salvation Army would be at the USOs [United Service Organizations] offering coffee and cookies.
"To me, that was The Salvation Army," he said. "And then I come here, and it's a 180-degree turn…we save people."
He said it feels good to be a part of it all. He's able to share about The Salvation Army, too, when people see him after work in his Salvation Army shirt. They'll ask about it, and he tells them all the ways The Salvation Army helps people.
"I'm like a walking bulletin board," he said. "Everybody sees The Salvation Army shirt."
And for anyone feeling lonely or at loose ends, Smith suggested a way to make connections.
"Come to church, come to The Salvation Army church," he said. "Get back in touch with God, with other people who have been there and can talk to you and listen to what you need to say. Everybody here has had problems. We can help. Come to church, open your Bible.
"I'm just happy to be here," Smith said. "I'm happy to be with my Salvation Army family."
---
Do Good:
Do you enjoy inspiring stories of impact that build well-being for all? Want to know how to get involved in doing good right where you are? Interested in tools for taking your next best step, owning your story and stepping into your calling? Like reminders that God is good, faithful and offers you joy and peace? Get the Do Good Digest and find weekly inspiration right inside your inbox.
Subscribe to the Do Gooders Podcast and tune in for good ideas. Hear conversations with those doing good and those with good ideas so you can turn inspiration into action and make an impact right where you are.
Find out how The Salvation Army in Modesto, California, made a place for seniors to create community.