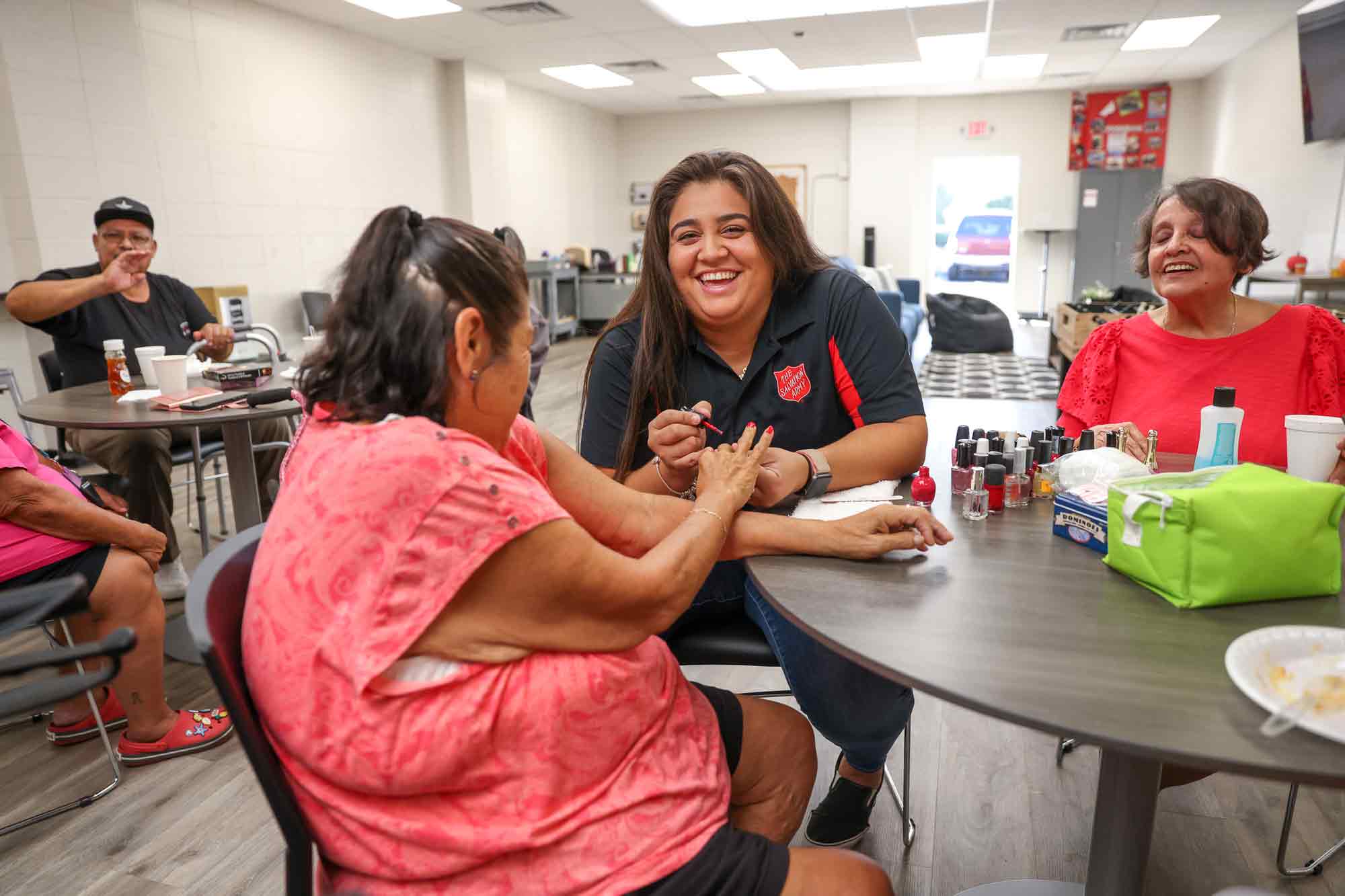 Senior center brings support to older adults in Modesto
The staff at The Salvation Army in Modesto, California, began noticing a gap in older adults' services in the community when they saw seniors walking near the Red Shield Community Center to get a bit of exercise. The seniors would stop to rest in the shade under the overhang of the facility before heading back home.
"We said, 'We see you here a lot resting in the grass, and [are wondering] why?'" said Major Harold Laubach, Jr., Salvation Army Modesto Corps Officer. "And they're like, 'There's no place around here [for us]. We want to get out of the house. We want to exercise.'"
So Salvation Army team members started getting to know the seniors and having conversations with them to better understand what services were needed.
"The area is incredibly low income and…the infrastructure there is very poor," said Joanne Ramos, Donor Relations Director for the Central Valley of The Salvation Army Golden State Division. "The neighborhood is not necessarily safe for the seniors to walk alone."
Meanwhile, Laubach noted that a report had found the average age of the clients nearby at The Salvation Army Haig and Isabel Berberian Shelter and Transitional Living Center was 52—an increase from previous years.
That's where the idea for a senior center at the Red Shield stemmed from.
The Salvation Army Golden State Division already had a long-standing relationship with Sutter Health—with the foundation providing a $300,000 grant in 2019 for the renovation and expansion of the Berberian Shelter.
When the need for the senior center became apparent, Ramos worked with Salvation Army Red Shield Operations Manager Maria Arellano to write a grant request to Sutter Health to fund the program.
"It was just a matter of communicating with them, describing what the need was and how we were going to serve that need, and they agreed to the grant," Ramos said.
Sutter Health awarded The Salvation Army in Modesto with a $353,000 grant to start the senior center at the facility. The funding would cover program supplies, staff and an Americans with Disabilities Act (ADA)-compliant vehicle to transport seniors to and from the Red Shield for the program.
As far as staffing goes, they were able to hire a senior coordinator, a driver for the ADA vehicle and a cook who would prepare breakfast and lunch for the seniors and teach them how to cook healthy meals at home. Modesto Associate Corps Officer Captain Thelma Jimenez said they were mindful of their hiring approach.
"One of our ways of being really intentional with [staffing] was to also be intentional with the type of community that we were going to serve, which was a bilingual community," Jimenez said. "We wanted to make sure we were able to facilitate bilingual ministry into that program, so we did and we were able to hire employees who were bilingual. That was a huge benefit to our program because I would say about 80 percent of those we serve are bilingual."
Once everything was in order, the senior center opened its doors in October 2022. The program runs Monday through Friday from 7:30 a.m. to 12:30 p.m.
On those days, after they arrive, the seniors start the day with breakfast.
Then afterward, they have an activity or exercise class. The seniors work with an exercise coach at the Red Shield—exercising three times a week with the gym equipment at the facility. During the summer, they'll also be able to participate in water aerobics. On activity days, seniors participate in crafts, presentations from guest speakers on relevant topics, games days or field trips to places like the local farm, pumpkin patch and jelly bean factory.
After that, participants have time for fellowship with one another before lunch. And when they're done with lunch, they go home.
"Our goal and dream for this program is that people can continue to have a safe place to go where they can learn of God, eat a really delicious meal, and learn, grow, and be comfortable," Jimenez said.
Response to the program has been positive. In fact, in the weeks since the program's launch, program attendance is already between 20 to 30 participants. Many seniors have started joining the corps' Sunday church services as well.
"We've had nothing but amazing results and testimonials," Laubach said. "It's a big deal to [the seniors]."
"They love it," Jimenez added. "We say here at the Red Shield that the seniors are the party and the joy of our programs because they just have been so open to receiving the care and the love that we want to provide for them—and in return, they bring so much joy to our lives."
The exercise the seniors are getting is already resulting in health improvements.
"Some of the exercise is really helping some of the seniors who really had problems with balance and the ability to walk," Ramos said. "It's truly affecting them—mind, body and soul."
Ramos said that one client was having shoulder problems and has regained mobility in her shoulders since working with the Red Shield's exercise coach.
Jimenez said another senior previously struggled to get in and out of vehicles. After a few weeks of exercise classes, he no longer needs help with the car.
"He's very flexible now and gets very excited because he says, 'Thanks to those exercise classes, I can now get in and out of the car without being in pain or afraid of falling because I feel stronger and better,'" Jimenez said. "Just to be able to be part of those little success stories in their lives brings so much joy to our lives to be able to provide that for them."
"We see just the difference that it's making in their lives and how beautiful it is to see some of them go out of their comfort zones and also even try better for their own health," Jimenez added.
Laubach and Jimenez hope the senior center is a program that continues past its original 15-month funding period. They said they are thankful for the opportunity that Sutter Health granted them to help impact the lives of the seniors in Modesto.
"We're very grateful to Sutter Health for being willing to partner with us and help us serve the senior community and…provide a safe place for them," Jimenez said.
Until then, Jimenez said the senior center at the Modesto Red Shield is intended to be a place where seniors "feel at home, safe, loved and cared for."
"A lot of our seniors that we serve now would not have a space or something in their agendas to do. A lot of them have shared how much we have given them a reason to wake up in the morning and be excited to go to a place where they will do different activities and have fellowship and community," Jimenez said. "We want to provide that for them and [show] that God loves them, that they're not alone, and that there are people who care for them, who are praying for them and want to build intentional relationships with them."
---
Do Good:
You've probably seen the red kettles and thrift stores, and while we're rightfully well known for both…The Salvation Army is so much more than red kettles and thrift stores. So who are we? What do we do? Where? Right this way for Salvation Army 101.
Did you know The Salvation Army served 31 million Americans last year fighting hunger, homelessness, substance abuse and more—all in a Fight for Good? Where can you help? Take our quiz to find your cause and learn how you can join in today.
Learn how some women find their purpose through The Salvation Army Home League.