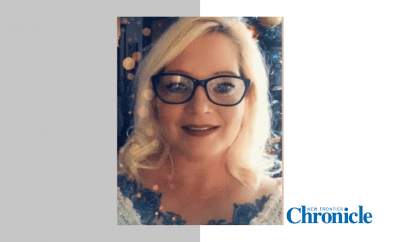 Modesto shelter intake coordinator aims to change lives
By Joaquin Galvan – 
Every day at 4 p.m., approximately 200 guests enter The Salvation Army Berberian Shelter in Modesto, California. The intake crew assists with logging in the guests, reminding them of expectations, securing their items in a pod and bringing them in for another night. At the center of the process is Intake Coordinator Veda Malone. Sitting at the front desk, she greets each person with a smile and a warm welcome.
Malone has been working in mental health for four years. She is in her second year as an intake coordinator at The Salvation Army. This year especially due to the COVID-19 pandemic, Malone has been busy with tasks that include implementing new policies, maintaining daily rosters, processing new intakes and case management.
"Knowing I am helping others is rewarding," said Malone. "Even if it's something as small as referring them to a place that can help with needs they may have, and as big as seeing life changes in guests that have reached a goal, or simply have a place to rest even for a moment."
Malone began her career volunteering for the Empowerment Center, a Turning Point Community Program that serves adults with mental health and addiction support. There she was given the opportunity to express her work ethic, skills and compassion for those experiencing homelessness, addiction and those needing help with mental health-related situations.
"Veda is devoted to those she serves," said Major Harold Laubach, Modesto Corps Officer. "Her devotion to others fits perfectly within the mission of The Salvation Army."
Shelter Monitor Roger Helton-Cantu agrees.
"She is really good at what she does and goes above and beyond," he said.
Malone attributes her success to her faith in Jesus Christ. Her favorite Bible verse is Proverbs 16:9: In their hearts humans plan their course, but the Lord establishes their steps. She said faith has taught her compassion and empathy to serve the community with dignity and respect.
"Faith has been my go-to my whole life," said Malone. "I believe God places us where he needs us to be at the exact moment in our lives."
And right now, that's the Berberian Shelter.
"I may not be able to change the world," Malone said. "But if I have an opportunity to help change just one life, my job is fulfilled completely, heart and soul."
HOW TO HELP:
If you'd like to make a monetary donation, please click here to make a gift.
Text 'GIVE' to 52000 to make a $10 donation to The Salvation Army. This will automatically add a one-time donation to your next mobile phone bill.
For information about volunteering, please visit volunteer.usawest.org.
To learn more about how to support The Salvation Army's relief efforts, please click here.