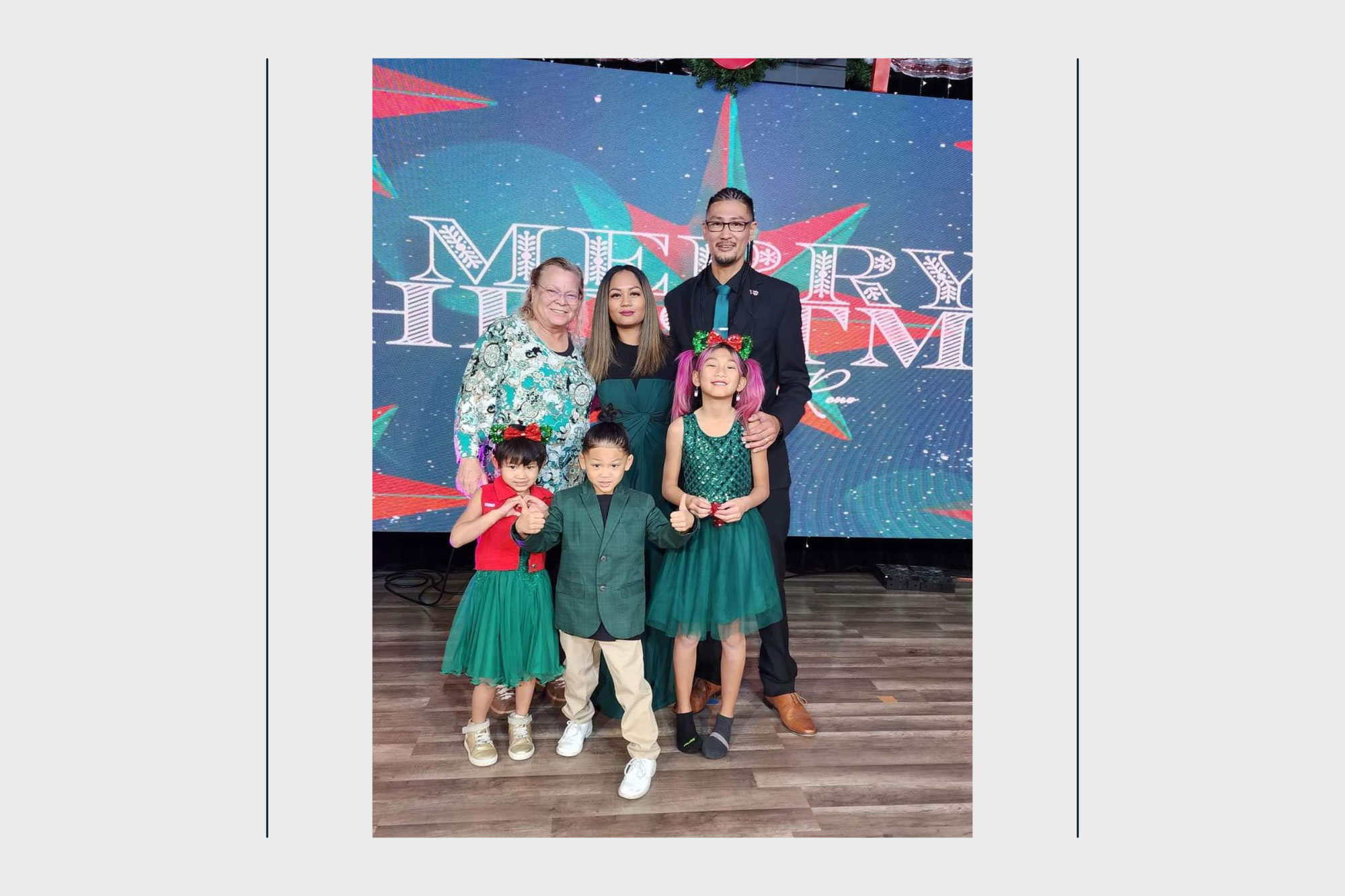 Pathway of Hope initiative gives one Reno family reason to have faith
It all started with a conversation. When Donna Nou first began the Pathway of Hope (POH) initiative at The Salvation Army Reno Corps in 2019, she was facing eviction and the prospect of living in her car with three small children. Her husband was struggling with drug addiction.
Things may have seemed hopeless at the time, but Nou described that first conversation with Robert Scriven, social services director at the Reno Corps, as a "miracle."
"When I first met Robert, we built a relationship," she said. "He helped me make a goal of what I wanted to do with my career. It awakened my passion for service—social work. I love it, and I'm pursuing this career because of what he did for me."
Nearly four years later, Nou said she still feels that bond of Scriven's friendship—and said that his unconditional support and kindness has made that friendship feel like family. "If I have questions or need help, I can still go to him," she said. "I don't have to be scared of him saying no."
The Salvation Army's Pathway of Hope provides individualized services to families with children all over the United States to address their immediate material needs and provide long-term engagement to stop the chronic cycle of poverty. The program seeks to help create a holistic, sustainable plan of action supported by case management and other services both within and outside of the Army.
Case managers like Scriven help clients identify their strengths and aspirations and help develop tools and resources to address the root causes of instability, such as barriers to employment, education and wellbeing. Clients "graduate" when they show improvement on key measures, such as the Herth Hope Index and the Self-Sufficiency Matrix. Thousands of families have been helped through the program since it began roughly 12 years ago.
As one of the first graduates of the POH program in Reno, Nou has much more to be hopeful for today. She's about to graduate from the University of Nevada, Reno with a bachelor's degree in human development and family services. Upon receiving her degree, she plans to become a caseworker at a homeless shelter, or to serve as a caseworker for the elderly or those in need of mental health services. And her recent paid internship at the local PBS television station helped provide invaluable experience working in educational services for the community. Some of her favorite projects included judging a writing contest for local students and helping to create a curriculum for retired teachers to give back.
Most importantly, her family has been able to stick together. Nou said her husband, Jon, overcame his addiction, and her children are thriving, with the help of therapy.
But it wasn't an easy road to get here. What Scriven said he will remember most about Nou's journey is her strength. "The biggest thing was she didn't want to live this way any longer," he said of that first meeting. "She understood you have to keep focused on what God has planned. She listened, she went to the shelter—and she did not curl up and stop even after setbacks."
Her strength was what pulled her husband into doing the right thing, too, Scriven said. Even in moments of doubt, he encouraged her to stick to the program for her and her kids' safety. Jon eventually enrolled in a rehab program through a local church, and in May 2020, Donna and her three children were finally able to move into a new apartment with the help of the local Our Place program, while the Army helped furnish their new home with furniture, kitchen appliances and dishes.
Nou said she was also grateful for the Army's support in purchasing her laptop and books so she could go back to school.
Scriven said Nou's resolve to keep going inspired him; his office serves about 60 people a day. "She kept working and working and going to school," he said. "The program works, but it takes the whole community coming together, it's not just us. We were just the catalyst to get her started."
What is Pathway of Hope?
The Salvation Army's Pathway of Hope provides individualized services to families with children to address their immediate material needs and provide long-term engagement to stop the chronic cycle of poverty. It seeks to:
– Identify client aspirations and strengths to ensure clients' plans are authentic and sustainable.
– Focus on root causes instead of symptoms, especially barriers to education, employment, well-being and stability that emerge at the earliest stages of a child's and family's development.
– Create a holistic plan of action supported by relevant services, both within The Salvation Army and outside it.
That fresh start has had its challenges, but Nou said she and her family are doing their best to weather the storm. When it's been tough to pay bills from time to time, she's found ways to cope with active communication with the landlord and things like flex-pay for utility bills. "The Salvation Army taught me a lot about how to talk to people and be on my own," she said. "I learned how to depend on myself."
Today, she and her husband and children, now ages 5, 6, and 10, are in a new home. Jon has his own window and gutter cleaning business, and the kids have developed interests of their own: trampoline, violin, jujitsu. In addition to her schoolwork and internship, Nou is active in her church.
She said Scriven's support has also led to a new beginning with other family members. For Jon, who was raised in foster care, he has a renewed relationship with his birth mother and his adoptive mother, Charlotte, and hopes to do some missionary work in Asia in the next few years because of what he and Donna learned through The Salvation Army. For Donna, she's also been inspired to reconnect with her father.
But even with all these accomplishments at work, at school, and at home, her biggest goal is to soon be able to give back to The Salvation Army as an intern, and eventually, as a caseworker. As Scriven said, "She'd be a wonderful asset to this place."
---
Do Good: