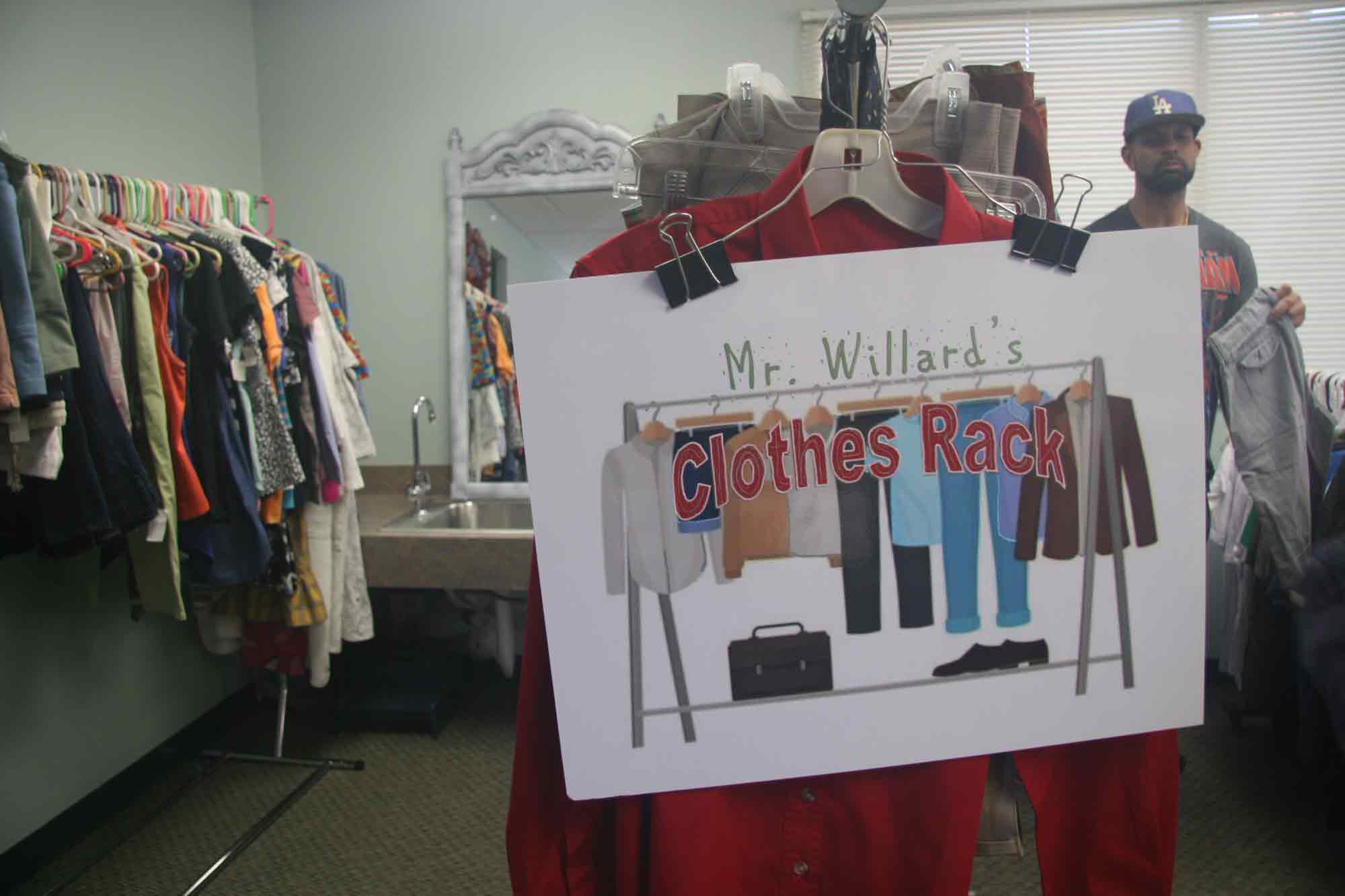 Salvation Army honors veterans and meets their needs at clothing closet
Salvation Army Volunteers and Advisory Board Members create Mr. Willard's Closet, a complimentary veteran-specific closet in Cathedral City.
Nestled within The Salvation Army Cathedral City (California) Corps sits Mr. Willard's Closet, an outreach to serve the veteran community through a free, curated closet offering gently used clothing, household essentials and small kitchen appliances.
"We only have things that honor our vets and make them feel good," said Deanna Young, creator of the closet and Cathedral City Corps Advisory Board Member and volunteer.
Young developed the idea of Mr. Willard's Closet to honor her late friend, Dave Willard, and give back to veterans in need. Willard, once an intake manager at the Coachella Valley Rescue Mission, died in 2021 after a battle with cancer.
As a veteran, Willard faced homelessness and began living in his car for nearly three decades before he found the Coachella Valley Rescue Mission, God and a supportive community within The Salvation Army.
"We loved Dave," said Young. "He was very humble and always giving. Anytime anyone needed anything he would find a way to get it for them."
According to Young, Willard played a pivotal role in the success of The Salvation Army's Veterans Expo, a yearly event at the Cathedral City Corps that brings members of the military community together to socialize and gather information on subjects such as housing, transportation, employment and medical assistance.
Young and her husband, Bill Young, developed the Expo as an extension of the Cathedral City Corps' Veterans Easy Access Program (VEAP), which connects local veterans to relevant services.
"At the Expo, we'd have 60-70 booths with 1,500 people attending," said Deanna Young. "Willard would bring 15 guys every year to help us set up, supervise all of the activities and really help us out. He did that for 12 years."
The Youngs have been volunteers and advisory board members for The Salvation Army since 1990.
"She and her husband really do a lot for The Salvation Army. They're very involved and they have been for years," said April Bradley, a fellow volunteer and advisory board member.
Positioned next door to the Cathedral City Corps is Veterans Village, a 60-unit housing complex for veterans that opened in November 2022. The placement of the village was intentional to guarantee veterans have access to the nearby services.
According to the U.S. Department of Veterans Affairs, continued outreach to veterans at the community level is one of the most effective ways to meet needs and combat homelessness among veterans.
Eager to continue supporting veterans while honoring Willard, Young approached Cathedral City Corps Officers Majors Rubina and Neil Navarro with the idea for the no-cost closet that would operate on the second and fourth Monday of each month.
"She came to us with this great idea and we said 'How can we help?'" said Corps Officer Major Rubina Navarro.
The Navarros assisted Young in revamping an underutilized room at the corps into a visually appealing closet that offers veterans a welcoming place to shop.
Young organized the closet in a way that invites clients to take a peek at everything there is to offer. With shelves of towels, new bedding and blankets on one side and a neatly arranged cubby unit of kitchen essentials on the other, clients rarely leave empty-handed.
"I like the way it's set up here. With the mirrors and the overall style, it looks really great," said veteran and client Brian Thompson.
For his third visit to the closet, Thompson was on the hunt for dress shirts, shorts and shoes. Young and Bradley were able to provide him with a coordinating outfit that fit his style—and half of it was brand new.
"Finding these shirts with tags on them and seeing that they're my size, I feel good, you know?" said Thompson.
If a client doesn't see something of interest, they can write down what they're looking for and much like Willard once did, Young will seek it out so that it is waiting for them upon their next visit.
"I enjoy thrifting and going around to the different stores. It's kind of a passion and a hobby of mine," said Young.
According to Bradley, Young remembers everyone's names, sizes and their stories to show people someone cares and is looking out for them.
"She really amazes me," said Bradley. "She saves any donated money in a special bin, and at the end of the month, she uses that to go out to the local thrift stores and purchase any special requests."
One of the visitors to the clothing closet, Toya, had become homeless after returning from the military and enduring multiple hardships. According to Young, Toya entered the closet wearing clothes that appeared much too small for her six-foot-frame, which also required size 11 shoes.
Making it a goal to find items in Toya's size, Young went to eBay and won a bid for nursing clogs just for Toya so she could seek employment in the nursing field.
"We also found the perfect jean jacket for Toya that fit her beautifully," said Young.
Navarro said Young and Bradley's charm brings people back to the closet—they know the ladies will be more than happy to assist them. For Young, it's all about making a difference in the lives of others.
"Seeing someone grow and change with just a little bit of assistance, it's very motivating," she said.
---
Do Good: