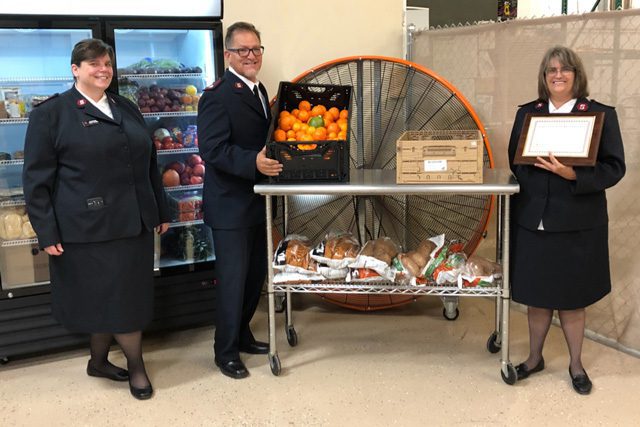 Client choice pantry opens in Hobbs
Facility offers new approach to food distribution in the community.
The Salvation Army Hobbs Corps Community Center introduced a new way for families in need in the community to receive food—a client choice pantry opened after a ribbon-cutting ceremony Aug. 13.
Any resident of Lea County who is low income or who has a verifiable crisis can shop at the pantry, which will offer select canned goods, fresh produce and frozen items.
"The Client Choice Pantry is designed to help people develop healthier food decisions and better resource management skills," said Corps Officer Major Lisa Smith. "The pantry gives the dignity of choosing foods they like to eat, rather than getting a prepackaged food box with items they may not use or know how to prepare."
During the registration process, each client will be issued points based on household size. Items in the store will have point values assigned, with healthier items having a lower point value, in order to encourage healthier food choices.
The pantry is a model becoming more prevalent across the Western Territory. Smith is thankful for the support that made the pantry possible and hopes it will lead to even better things to come.
"Our heartfelt thanks to the J.F. Maddox Foundation and private donors for making the pantry a reality," said Smith. "It is our hope that this program design will grow into a life skills curriculum consisting of courses such as cooking and nutrition, personal finance, health education and even adult literacy. Our prayer is that we will be able to form deeper, more positive relationships with our clients and be seen as people who can help educate and counsel them."
To volunteer at the center, visit Hobbs.SalvationArmy.org.