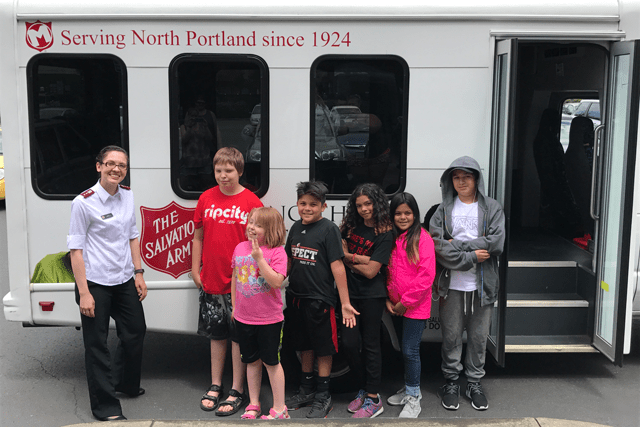 Salvation Army Oregon Headquarters opens ministry center
Clackamas Ministry Center sends community kids to camp.
By Jarod Arnold, Captain –
Captain Christina Arnold watched the group of first-time campers as they stepped off The Salvation Army bus.
"A look of both exhaustion and excitement resonated from their faces," said Arnold, Cascade Divisional Program Officer who heads the new Clackamas Ministry Center.
Arnold figured the children, who had spent almost a week at Camp Kuratli at Trestle Glen in Boring, Oregon, were eager to share their adventures with their families.
"One of the girls ran to her mother and proudly showed the first-place medal she received earlier that week for fastest runner; another begged her mom to go to the store and get some paper and envelopes to start writing to the cabin mate she befriended," Arnold said.
None of these children would have had these experiences if not for The Salvation Army Clackamas Ministry Center, located at Cascade Divisional Headquarters in Clackamas County, Oregon.
A new initiative of the Cascade Division, the center's mission is to discover the needs of the community surrounding Divisional Headquarters and to meet those needs in the name of Jesus Christ. Although the Ministry Center's doors are not yet open for regular services, it is already making an impact in the lives of those living around Clackamas County through The Salvation Army summer camp programs.
"Many of the homes surrounding the center are low-income or transient housing," Arnold said. "Single-parent homes are common, and with school out for the summer, parents struggle to find activities for their kids that they can afford."
Parents have expressed their gratitude.
"Camp is really expensive, and it's not something that really fits in our budget," said Andrea, one of the moms picking up her two children. "So for The Salvation Army to help us out with a cost we can afford, our kids get to have a great time and I don't have to worry."
Sending kids to camp is the first of many programs coming to the Clackamas Ministry Center, and each program will be crafted and implemented to meet a specific need in its community.
Meanwhile, with the first group of children safely back from camp, the Ministry Center is set to send its second group off to camp soon.
"Camp holds a special place in my heart and I am thrilled to be able to help coordinate the camp experience for this new group of children," Arnold said. "I am excited to see how God is going to use the Clackamas Ministry Center in the future."