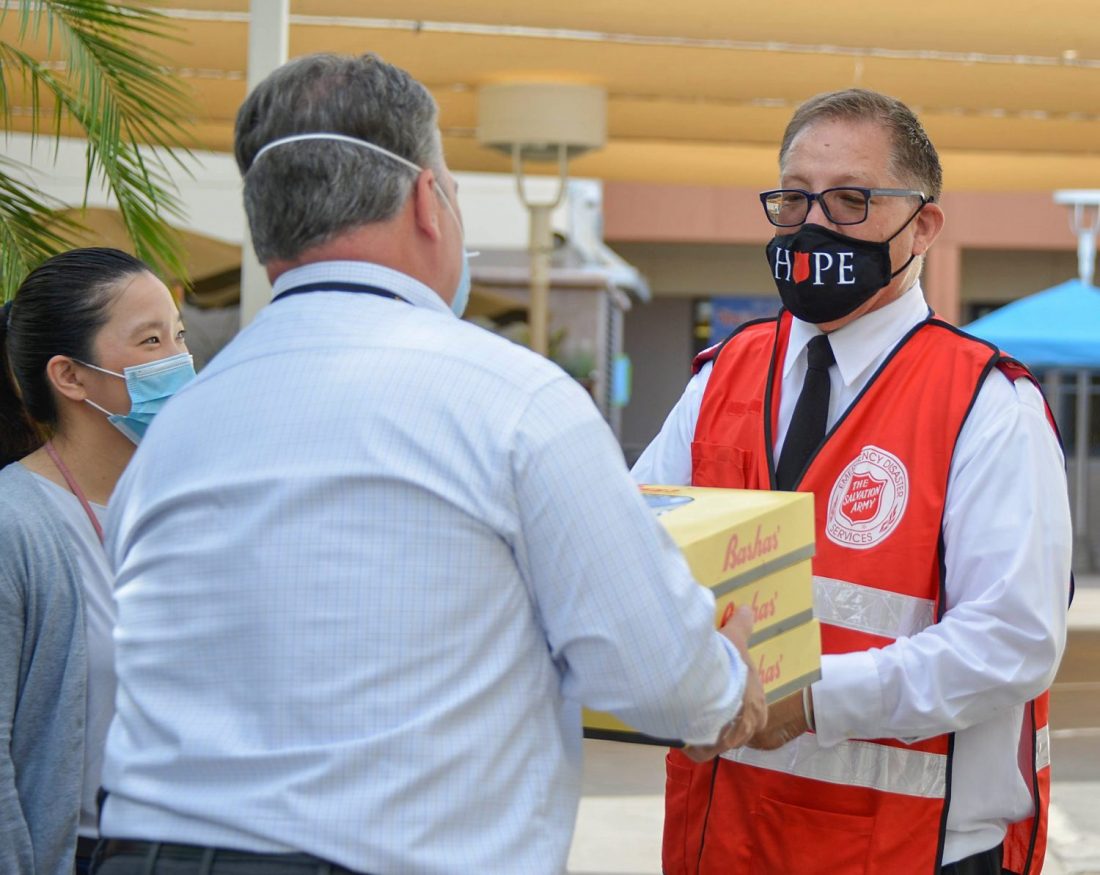 Salvation Army honors frontline workers on National Donut Day
In 2020, a doughnut celebration like no other
Across the Western Territory, The Salvation Army is commemorating National Donut Day June 5 by honoring frontline workers for their continued service during COVID-19. 
Held annually on the first Friday in June, National Donut Day has long celebrated America's heroes. The holiday was originally established to honor The Salvation Army's service to soldiers during World War I after the Army's doughnut lassies hand-delivered fried confections to the front lines. Today, the heroes on the frontlines include nurses, doctors, law enforcement and other essential workers serving people during the pandemic.
ALASKA
In Anchorage, The Salvation Army distributed doughnuts to its hometown heroes in several locations including the Anchorage Police Department, the Alaska Native Medical Center and the city's 12 fire stations.
"The Salvation Army has been a beacon of hope for Alaskans since 1898 when we entered the state to provide assistance to those struggling along the Klondike," said Alaska Divisional Commander Major John Brackenbury. "Donut Day celebrates the lassies who delivered doughnuts to our soldiers on the front lines in World War I, and this Donut Day, we celebrate our men and women who have been on the front lines against COVID-19."
CALIFORNIA SOUTH
Across the California South Division, The Salvation Army gave out a total of 1,500 doughnuts with BakeMark to hospitals in Los Angeles, Orange County and San Diego to thank the heroes doing essential work during the COVID-19 crisis. The division encouraged others to celebrate National Donut Day by doing the same.
"Doughnut day is a celebration of these courageous [doughnut lassies] and those courageous young men in uniform who fought so bravely. Today, there are other men and women in uniform fighting a life or death struggle across the globe, and once again, The Salvation Army is there alongside them," said California South Divisional Commander Lt. Colonel John Chamness in a video message. "Yes, we will still bring people doughnuts, but we have also brought more than 2.5 million nutritious meals to hungry families and vital N-95 masks to frontline workers. This Doughnut Day, let's celebrate the heroes in a different kind of uniform—the doctors and nurses and first responders who are fighting and winning this war against COVID-19."
CASCADE
The Cascade Division incorporated National Donut Day into its Operation Share Hope food distribution—a coordinated effort of three corps to reach more people in need. Franz Family Bakery has been providing bread each week for food boxes for Operation Share Hope, and to make Donut Day extra sweet, the bakery donated over 500 half-dozen boxes of doughnuts for the Army to include in food boxes June 5. Since the division began Operation Share Hope, as of June 3 it has served 20,877 people.
DEL ORO
The Salvation Army of San Rafael, California, honored Marin County's first responders and the Coast Guard on National Donut Day. Salvation Army officers, board members and volunteers delivered doughnuts to 69 locations, including fire stations, police stations and the U.S. Coast Guard Motor Lifeboat Station Golden Gate.
The Salvation Army Echelon of Sacramento honored medical workers for their efforts during COVID-19 by delivering 1,800 Krispy Kreme doughnuts to South Sacramento Medical Center and Sacramento Medical Center. The effort marked Echelon's third year delivering doughnuts to first responders, and its largest one yet.
HAWAIIAN AND PACIFIC ISLANDS 
In the Hawaiian and Pacific Islands Division, The Salvation Army pivoted its National Donut Day observances to encourage support of its longtime community partners. Rather than the usual promotion of free doughnuts at various locations, the Army encouraged the public to support its partner businesses as Hawaii's economy begins to reopen. These longtime National Donut Day supporters include Aloha Sweet Delites, Daylight Donuts Lihue, Dunkin' Donuts, Krispy Kreme, Pipeline Bakeshop & Creamery, Regal Bakery, 7-Eleven Hawaii and Zippy's.
Also during June, 7-Eleven Hawaii will transfer the customer donations collected from its Canister Change Program from all statewide locations to The Salvation Army, benefitting programs and outreach efforts on each island. 
"Now, more than ever, we could all use a little more hope," said Divisional Commander Major Jeff Martin. "And, while we pause the regular observances of National Donut Day in Hawaii for 2020, we're continuing the century-old tradition of bringing comfort to communities with our ongoing response efforts for COVID-19. We also encourage our communities to patronize longtime Donut Day partners and to support our efforts by making a monetary donation at any 7-Eleven Hawaii location during June."
INTERMOUNTAIN
The Salvation Army Intermountain Division partnered with LaMar's Donuts to treat the staff at VA Eastern Colorado Health Care System in Aurora, where about 1,400 staff members received doughnuts. Divisional Commander Major Mike Dickinson posted a video from the event, giving some history of National Donut Day and thanking the Army's partners for making events like this possible. 
"We want to serve our modern-day frontline workers and today that's at the VA Center," Dickinson said.
NORTHWEST
For National Donut Day, Major Ken Perine and Lt. Chase Tomberlin-Green from The Salvation Army of Spokane, Washington, delivered doughnuts to first responders—including members of the Spokane Fire Department and Police Department—and the media; these individuals have served on the front lines during the COVID-19 pandemic. Perine was interviewed by one TV station and two radio stations.
SOUTHWEST
The Salvation Army in Phoenix delivered doughnuts donated by Bashas' Supermarkets to healthcare workers of HonorHealth Scottsdale Osborn Medical Center and Phoenix VA Health Care System in celebration of National Donut Day.
"This meant so much to us today," said Debra Stevens, Senior VP, Communications and Donor Relations, HonorHealth Foundation. "A doughnut is a little bit like a warm hug and I know that our health care workers at HonorHealth really appreciate it. Thank you." 
In Southern Nevada, the Army delivered doughnuts to Las Vegas Fire and Rescue Station 42 and to Las Vegas Metro Police Department Northwest Area Command.
THQ
Officers, cadets and employees at the Crestmont Campus in Rancho Palos Verdes, California, were treated to Krispy Kreme doughnuts in celebration of National Donut Day outside in the Fountain Courtyard while practicing social distancing.