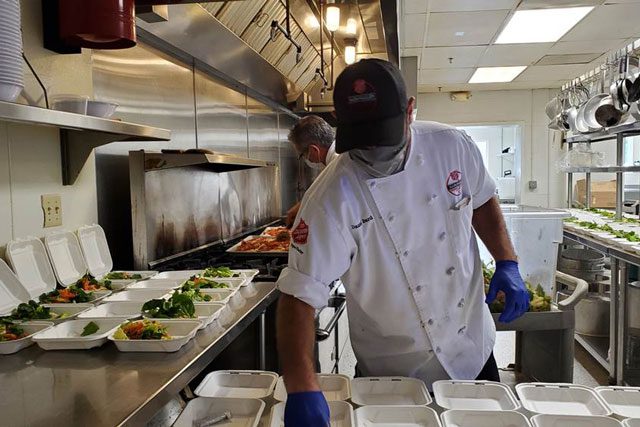 Napa Culinary Training Program adapts, responds to COVID-19, wildfires
The team prepares more than 1,200 meals a day. 
By Caitlin Johnston – 
The white board keeps order.
Every morning when Chef Paul Fields enters the dining room of the Napa Valley Culinary Training Program, he looks to the large board to get a sense of the day ahead of him. Meals, drop-off locations and daily counts cover it in a neat grid.
It used to be that Fields and his team of instructors and students would prepare 1,000 meals a week for those in need in Napa County. But then COVID-19 hit. Weekly numbers swelled to 3,000. When fires swept through the region, displacing hundreds, the numbers shot up to more than 1,200 a day.
"You just have to stay organized," Fields said of the increase. "The white board, that was the law. What was on the white board, that's what we did."
Starting with breakfast, Fields and the team would cook and pack hundreds of meals for first responders and those affected by the fires. When those meals were done, they'd turn the board around and do the same for families affected by coronavirus. Then they'd wipe everything down and do it all again for lunch and dinner.
"We've been doing this basically seven days a week since March 20," Fields said. "You just do it. In the food industry, that's what you do."
Napa Corps Officer Lt. Roger McCort said the corps has been working for a couple years on a new structure to deal with emergency responses that involves functioning as a central kitchen location as opposed to operating mobile canteens. The team works with the county to prepare meals and package them for distribution.
"This system helped us prepare more food for more people in need and get it to over a dozen different locations in a small window of time," McCort said. "We were able to scale up from our daily meals to our COVID response quickly and easily. Adding the fire response changed the quantity of the food we prepared, but that took much less effort than it would have any other way."
There are going to be times when the old way with mobile canteens is more effective, McCort said, but probably not when facing the pandemic or the potential of future outbreaks.
One particular challenge that comes with the coronavirus pandemic is that each meal needs to be individually packaged, Fields said. The team can't just send bulk meals like they did during the fires of 2017.
They lay out hundreds of clam-shell containers and fill individual meals for each person at each shelter. Each week, the team goes into planning mode, looking at the easiest way to bulk up, starting with rices, pastas and potatoes. 
"You just go into a mode where you are making as much as you can on a daily basis," Fields said. 
Dinners one week could include chicken and rice, pulled pork with beans rice, chicken pasta with veggies, grilled chicken on an asian noodle salad, and pesto pasta with meatballs and greens.
Staff worked overtime to deal with the increase in meals and the corps brought in every volunteer it safely could. Because of coronavirus, the program has its own restrictions in place to keep students and cooks healthy, including wearing masks and limiting the number of people in the building at a time.
Eight students started the culinary academy in March, just weeks before things took a drastic turn. They've completed typical course work while getting first-hand experience of how unpredictable the food industry can be. They're set to graduate this month.
"This particular session of students has risen to the challenge and done an excellent job of supporting our regular and disaster staff in everything that needs to be done, from prep to clean up," McCort said. "The skills they are building will make them an indispensable part of the hospitality industry as they move into the workforce in the coming weeks"
Many of the students are in recovery from addiction, McCort said. They have been homeless. They have been hungry. They have been on the receiving end of similar initiatives when they weren't in the situation to provide for themselves. The culinary program gives them the opportunity to give back by serving others. And that's only heightened in a time like this.
"Preparing and providing meals during a disaster is an opportunity to serve in a way most of them would never have imagined possible," McCort said.
Supporting people with food during a disaster is a tangible way to make a difference, Fields said. But it's also very delicate.
"Everything has to be done right every single time," Fields said. "But we're able to be a consistent stress reliever for people that are in this unfortunate time period where they just don't know and everything is up in the air.
"At least providing breakfast, lunch and dinner on a consistent basis, that's an immediate fix we can do."
HOW TO HELP:
If you'd like to make a monetary donation, please

click here to make a gift.

Text 'GIVE' to 52000 to make a $10 donation to The Salvation Army. This will automatically add a one-time donation to your next mobile phone bill.

For information about volunteering, please visit

volunteer.usawest.org

.

To learn more about how to support The Salvation Army's relief efforts, please click here.