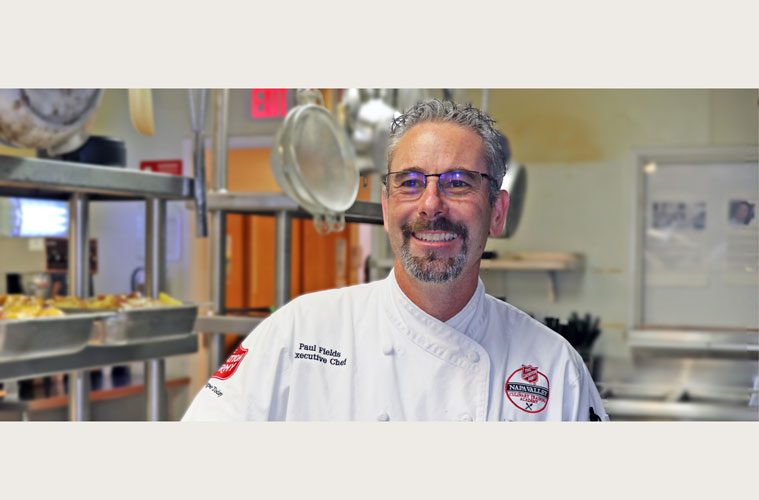 11: How Salvation Army Culinary Students Train for the Workforce with Chef Paul Fields

What's 18 square miles with a riverfront promenade and legendary food scene?  
You guessed it—Napa. 
This central California town is considered a world-class destination with plenty of culinary star power.  
And Chef Paul Fields is at the heart of it all, having worked for the Pebble Beach Company, Silverado Country Club and several local Napa wineries. He honed his culinary skills at Oenotri, which was recognized as one of the Bay Area's top 100 restaurants. And he was the Executive Chef at the prestigious Inn on Randolph, a boutique bed and breakfast that is considered one of the country's top inns.  
Now, Chef Paul is cooking in a different kitchen as the Executive Chef of The Salvation Army Napa Valley Culinary Training Academy. 
Designed in collaboration with the Culinary Institute of America, the program is for those with at least six months of sobriety to support their transition back to the workforce. 
Since launching in 2016, the academy has successfully placed 87 percent of its graduating students into jobs—thanks to intentional partnerships with the local hospitality industry. 
From sautéing, to safe knife skills or how to plan a menu, Chef Paul leads students through the 15-week course and serves as a mentor along the way. 
In this episode, he says cooking and food are means to community and a way to instantly make someone's day better. 
And that passion led him from commercial kitchen to commercial kitchen in The Salvation Army, preparing students for successful employment and thus self sufficiency.  
Show highlights include:
What is Paul's favorite thing to cook? Seafood.

Switching to The Salvation Army: Asked for input and encouraged by family and friends to be a part of the culinary training academy.

What's different about being an executive chef vs. chef instructor? Managing a kitchen and crew was easy, the classroom wasn't as simple or familiar.

What is the academy, and who is it for? Curriculum created to utilize commercial kitchen to full potential to support The Salvation Army's program to get newly sober adults back on their feet and at work.

Paul's passionate about solving two problems: Get qualified, trained professionals into culinary and hospitality industry, as well as focus on workforce housing.

Academy Stats: 40 graduates with 87 percent placed in workforce, thanks to partnerships in the industry.

Curriculum and content covered in culinary course includes food and kitchen safety, hands-on experience, methods of cooking and creating menus.

Student success story: From server with a gung-ho attitude at Denny's to academy graduate who was hired at Napa resort, promoted to supervisor, and now runs a cafe with the help of two fellow graduates. 

Mentor and friend: Paul's role is more than teaching best practices in the kitchen and working in hospitality.

Walk away with more than a certificate: See it all the way through and be proud about completing course.

What everyone should know about hospitality industry: Instant gratification from great customer service.

Students test Paul's limits at times, but he has learned something from every class. They have made him more patient, compassionate, and humble.

Why Paul continues to choose to do good through The Salvation Army: Cooking and food equals community, and passion for food makes a difference.

Good words from Chef Paul Fields in this show:
"My wife and my friend…kind of coerced me into getting involved. Once I got involved, it was absolutely what I was supposed to be doing." 
"I was actually kind of shocked at how much I knew. Once I started talking about my experiences, I got a lot more comfortable. Now, I love being in the classroom." 
"Workforce housing is huge in our area because Napa is a very expensive [place] to live. We're trying to create a wraparound service, where not only are we training them, but we can give them transitional housing." 
"The whole atmosphere of customer service—it really gives you a good sense that you've accomplished something and that you're making somebody's day better."
"For me, cooking and food equals community." 
Additional resources:
Download this episode wherever you get your podcasts. Connect with Chef Paul Fields via The Salvation Army Napa Valley Culinary Training Academy.
[button color="yellow" size="normal" alignment="none" rel="follow" openin="newwindow" url="https://podcasts.apple.com/us/podcast/the-do-gooders-podcast/id1462063355″]SUBSCRIBE AND LEAVE A REVIEW[/button]