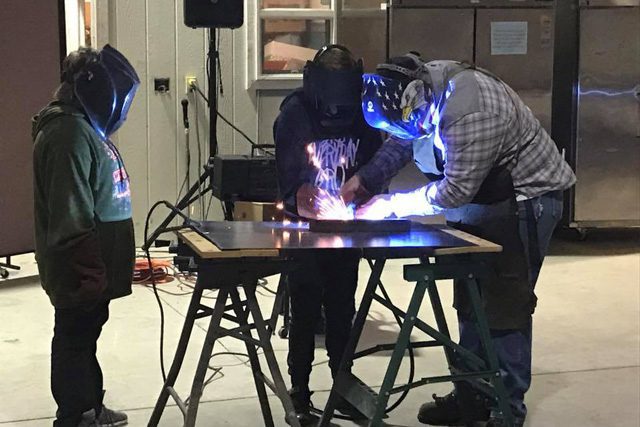 Youth welding group fuses mentorship, craftsmanship
By Vivian Lopez –
On Friday nights at The Salvation Army in Chico, California, sparks fly—literally.
Five kids don safety masks while they learn to weld in a new group at the corps, taught by Salvation Army Chico Corps member Pedro Castro, a professional welder.
"Pedro really had a heart to reach out to young kids," said Lt. Craig Rodriguera, Chico Corps Officer. "Because he was given a second chance, he wanted to make sure that kids their age make the best of their first chance or prevent them from even having to get to the point in life when they get into trouble."
Castro is a graduate of The Salvation Army Adult Rehabilitation Program in Chico. After completing the program, he was selected for a welding apprenticeship.
"Pedro is a member of our church and he's always looking for a way to give back," Rodriguera said. "Part of his recovery for him is learning how to serve others and wanting to do that, and he really takes that to heart."
He dedicated his life to Christ and wanted to do something to help his corps community, Rodriguera said. In February, he decided to start the Youth Welding Group to teach kids a new skill and serve as their mentor.
"Growing up, I didn't have role models in my life who were there to teach me things for my future or a career," Castro said. "I just wanted to be that light or to be that role model that would say, 'Hey kid, pick this up and let me show you how to do this before you go out into the world.'"
The class curriculum includes welding basics, primarily with mild steel, but Castro plans to expand it to include more welding methods and techniques. He also has the kids working on a final welding project to build a new bike rack for the new Chico Corps building under construction.
"The class is really about trying to let them know that there are people who want to teach them things, but also to make them understand and know that God puts us in places to go up the ladder and be able to advance, but we have to be willing to listen to what he is putting on our hearts," Castro said.
Rodriguera said the kids are enjoying the experience.
"It's so new. They're kind of just eating it up," Rodriguera said. "Once the kids get hands-on…it's a totally different experience for them as they see that they're actually creating something."
Adam Holt, 10, said he likes putting on his mask and getting to "stick the stuff together with the metal." He loves learning from Castro.
"He's the best!" Holt said. "He teaches how to weld stuff, and how to turn the machines on."
Holt's mom, Hillary, is grateful her son gets to be part of the welding class.
"It's a good opportunity for him to learn something new, and get an idea about what he wants to do when he gets older," she said. "It's a good way to build his self-esteem up and for him to show himself that with instruction and a little bit of guidance, he can learn anything."
Castro said that if he helps even just one student learn, he will feel like he has accomplished his mission.
When he sees lessons click with his students, "All the glory goes to God," he said, "because it reminds me of myself.
"I came to Chico, had no work experience at all and a company hired me as an apprentice welder, and I knew nothing," Castro said. "Without God I wouldn't be able to teach this class. The kids are doing very well, and it's making my heart happy to know they are doing as good as they're doing."
Castro wants the class to open opportunities for the children in the future, as Chico is an agricultural town with a high demand for welders.
"This is one changed life trying to change other people's lives," Rodriguera said. "The more that the kids see, the more confident they are to do something challenging in life or to tackle something they may never feel like they can accomplish…We're just hoping this opportunity changes how they see their future."