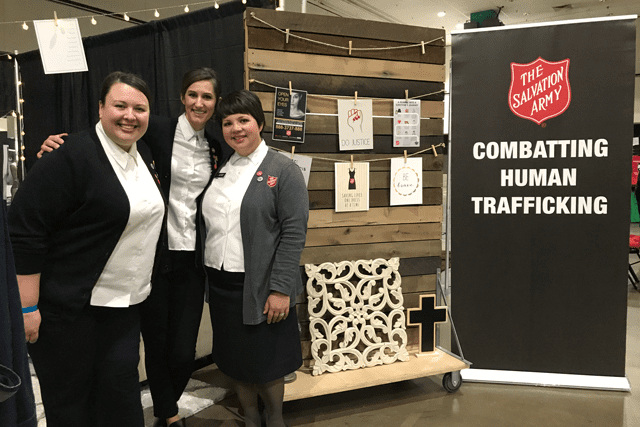 Women from the California South Division attend 4th AdultCon
Each with a burden to 'do justice' and desire to bring light into dark places
By Erin L. Wikle, Lt. –
A year ago, I wrote in retrospect of a weekend spent at AdultCon, Los Angeles' only X-rated convention, comparing the likes of this sordid place to that of "Darkest England." Salvation Army Founder William Booth wrote of "In Darkest England and the Way Out," likening it to that of "Darkest Africa," the 1890s narrative detailing the harrowing expeditions of Henry M. Stanley throughout the largely unexplored continent. After describing the surprising behaviors and environments in which certain tribal people groups subsisted while "men with the hunger for gold in their hearts," exploited and stole what was not theirs, Booth wrote:
"It is a terrible picture, and one that has engraved itself deep on the heart of civilization. But while brooding over the awful presentation of life as it exists in the vast African forest, it seemed to me only too vivid a picture of many parts of our own land. As there is a darkest Africa is there not also a darkest England? Civilization, which can breed its own barbarians, does it not also breed its own pygmies? May we not find a parallel at our own doors, and discover within a stone's throw of our cathedrals and palaces similar horrors to those which Stanley has found existing in the great Equatorial forest?"
He begs a particularly good question—"May we not find a parallel at our own doors?" I mean, do you? Who darkens the doorstep of your corps, program or community center? As I considered this question, I was struck by the reality that, neither the exhibitor selling sex toys, the fledgling porn star, the couple trying to fix their marriage or the group of young guys looking for a good time weren't actually at my doorstep. I was at theirs. This was our "Darkest England" and this was our way in.
I write this having spent yet another weekend alongside 17 other women from the California South Division, each with a burden to "do justice" and desire to bring light into dark places. Now our fourth year at AdultCon, The Salvation Army, again, found its niche educating about the problem of human trafficking, bringing awareness to its direct link to the sex-trade industry, and praying with individuals—offering free "spiritual readings" to the displeasure of our psychic reading counterpart who claimed we were "taking all her business" and asked us to change the wording on our sign. (We did, by the way, to "Free Spiritual Encounter.")
As part of the Western Territory's 10-year plan to help eradicate trafficking, our purpose entailed an understanding that education must be made available at the intersection of truth and non-judgementalism. No one wants to be told they shouldn't be at a porn convention; but people do want to be empowered to be part of a solution to a modern-day evil. Funny how that works.
Setting up shop
This year, we were presented the unique opportunity to set up a pop-up thrift shop, showcasing high-end and brand name clothing, jewelry, handbags and shoes sourced from the Santa Monica Boutique. The shop was a huge success, offering both a beautiful space to explore and spend, while providing the perfect means to highlight how Family Store sales directly benefit the drug and alcohol recovery programs at our adult rehabilitation centers throughout the nation.
Yet, it seemed the enemy worked all weekend to convince us we were on his turf. His territory. The space he occupied. Across from us, a young gay man set up t-shirts and other merchandise featuring anti-Christian messages like, "Satan Loves You" and "Satan Is Your Daddy." No sooner had I determined to walk over and introduce myself did the guy wander my way. We struck up a conversation, mostly about how we both thought we would "do" during the weekend. He worried about turning a good profit for the company he worked for; I shared openly about who we were and why we were there. Unlike our fully stacked crew, Jacob was alone all weekend, so we offered him bathroom breaks and said we'd look after his area and brought him meals when we ate. He was blown away at our willingness to help and didn't seem skeptical about our kindness. By Sunday, I shared my contact information with Jacob and took an opportunity to pray for Jacob, having learned of his struggle with anxiety and loneliness. I don't think Jacob cared that we were Christian. I think he wanted to be known.
Another draw to those passing by was our offering free "spiritual readings" and prophetic prayer. In a place where so many come seeking something—love, gratification, belonging, satisfaction, happiness, you fill in the blank—it stood to reason that offering to hear from heaven wouldn't be too outside the box.
And we saw salvation happen.
A volunteer shared about her experience praying with an ex-Marine turned pornstar who repented of his past and received healing about something he hadn't verbally shared, but the volunteer was prompted by the Holy Spirit to ask about.
Keriena Tillery, sister of Major Keilah Toy, Western Territorial Secretary for Social Justice, shared, "Initially, I declined the invitation to attend AdultCon this year, because the grief of those who are lost overwhelmed me. But as I began to pray on it, the Lord began to strengthen and encourage me in my spirit. In fact, I was beginning to even get excited to see what the Lord would do. That day, I prayed for him to send whomever he wanted to us, so we could pray for them and so that they could experience and know God's deep love for them."
In another encounter, a young man, Isaiah, inquired about the spiritual reading. I explained how we believe in bringing our requests and concerns to God and that he will not just hear, but respond to us. After sharing that any one of us could listen and hear from God, I invited Isaiah to consider what question he'd like to ask. After walking through the simple process of listening prayer, I asked if he heard, saw or felt anything at all. Isaiah shared how he saw himself embracing those around him—unafraid, boldly, with love and joy. He didn't hold back—he had love for others that he doesn't have now. But what he shared next rocked me. "I felt something. Like a sensation on my shoulders. A tingling feeling, like someone had their hands on me." I responded, "Like someone is embracing you?" "Yes," he replied. I looked at him and said, "Isaiah. I have faith to believe the Lord has physically touched you tonight." And he began to cry. We continued to talk about what he saw and heard, then I shared similarly. I cannot tell you how powerful it is to invite people into a brand-new understanding that the God of the universe not only cares but has deep regard for us. Not only watches, but sees us. Not only listens, but speaks to us—and that we have access to this all-knowing God through Jesus Christ, his son.
I was blown away—story after story, some my own, some belonging to the faithful and fearless women who gave up their weekend to slum it with the scantily clad stripper across the way. Lt. Jennifer Bearchell shared her experience overcoming nervousness about volunteering. "My life was dramatically changed because of this event," she said. "God broke some deep seeds of fear in my life and showed me his grace and favor in ways I had never experienced it before. I saw him opening up space and conversations with people that I could have never imagined speaking with."
What are we doing?
We have been so long convinced that storming the forts of darkness requires we fill our pews, preach a powerful sermon, then send everyone on their way. We have, for too long, turned church goers into soldiers that lay hold of paper weapons, idly waiting for the war to come to them. I believe we have long expected and perhaps even invited the least and lost to darken our polished and pristine doorsteps, but have failed to find them where they reside, wherever they reside.
It's time to go back in.
Places like AdultCon, are where we, as an Army, need to be. What better an opportunity than a convention where thousands of the most dejected, purpose-seeking people you will ever meet converge with the likes of our do-good organization purposed to share truth, love and hope? What better opportunity than the illicit massage parlors tucked away in your local strip mall or across the street from your community center? What better opportunity than the worst street in your city where girls are traded like commodities instead of treated like human beings?
It's time to go back in.
"As there is a darkest Africa is there not also a darkest England?"
As there is darkest England is there not also a darkest Los Angeles? Seattle? New York? Miami?
I suppose I'm tired. I'm tired of telling the story of yesterday, recalling the "glory days" of William Booth, and resting on an inheritance we've near bankrupted. Our legacy as a Salvation Army will show itself as long-lasting when we choose to forcefully advance into places no one else dares to go. The "glory days" our children and grandchildren will boast of will no longer be centuries old, but will be from their time and from their own memory.
It's time to go back in.