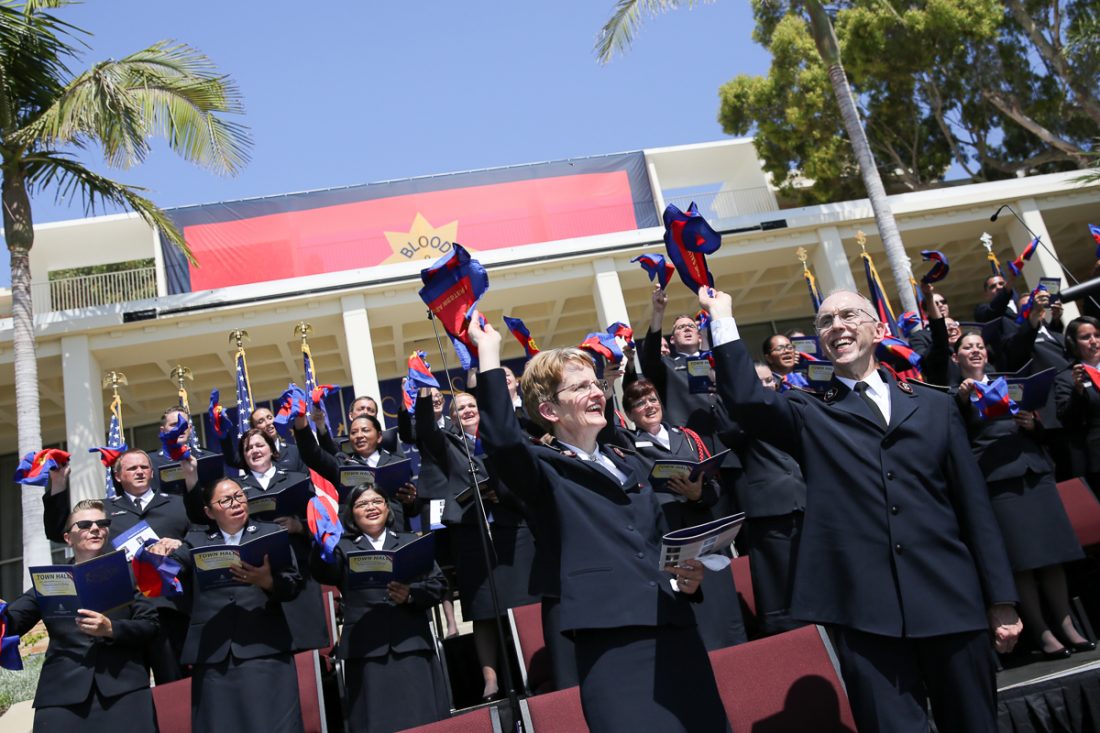 West welcomes Messengers of the Kingdom
Twelve cadets begin training at the College for Officer Training at Crestmont in 2018–2020 session. 
Kingdom building took center stage at the Welcome of Cadets Sept. 8 on the front lawn of The Salvation Army Crestmont Campus in Rancho Palos Verdes, California, as the Western Territory welcomed 12 cadets of the Messengers of the Kingdom Session.
Ten cadets are from within the Western Territory while two cadets will join from the Congo Brazzaville Territory upon issuance of U.S. visas.
"Their love for God and others has spread like wildfire because of a tiny spark," said Captain Joanne Louangamath, Territorial Candidate's and Recruitment Secretary, in presenting the cadets to territorial leaders Commissioners Kenneth G. and Jolene K. Hodder, "and that spark ignited into something much greater."
For Cadet Paul Chisholm, the fire started in an Adult Rehabilitation Center. He said in his testimony that he went into the addictions recovery program knowing that he needed to become sober to reclaim custody of his infant daughter.
"I've learned whenever I'm scared, lost or confused the Lord is right there with me. I am learning that God has given me talents and skills that I had once used for evil in my addiction, but now he is refining and using them to further his kingdom for good," Chisholm said. "We are all miracles here on stage today. The real miracle is in the heart transformation that occurs when living in and abiding with Jesus. Jesus is after the heart of us all. He not only wants to heal our physical conditions, but he wants to heal our heart condition. Jesus calls us to be disciples, followers of him. In following him, he brings the kingdom to us. It starts in our hearts, with love for Jesus and is spread to the rest of the world."
Taking the stage together, the Hodders rededicated the Crestmont Campus to God, noting the impending move of Territorial Headquarters from Long Beach to the ocean-view campus this fall.
"There are those who might think that this is a retreat, that this is simply a symbol of The Salvation Army wanting to retrench. Yet, nothing could be further from the truth," Kenneth G. Hodder said. "If anything, this is a step back to the future. From this point forward, as you can see from the construction on campus, it is an entirely new place for our headquarters. This campus symbolizes the renewal and dedication of the resources God has blessed us to serve with. All that happens in our corps and rehabilitation centers take first priority…it is the blessing of souls for which we work."
Jolene K. Hodder prayed over the campus, publicly acknowledging that the place belongs to God and asking that it "continue to be the light on the hill."
The Hodders recognized the work of The Salvation Army around the world, now in 130 countries with the recent addition of Samoa, before welcoming summer Service Corps participant Carlos Olivo to give his testimony.
"God has used music as a bridge to keep me connected to him," Olivo said. "Being able to share that with children who may not otherwise have that opportunity is a passion of mine and I'm grateful God used me in that."
In his message, Hodder asked attendees to pause and ask themselves: How do you define your life?
He said that there are many ways we can choose to do so, from our appetites for money or fame, to our appearances or accomplishments.
"Why is it that all of these ways of defining our lives—appetites, appearances, accomplishments—are not enough?" Hodder asked. "They stem from who we understand ourselves to be or how the world understands us. That's simply the wrong place to start."
In contrast, he asked: How does the Bible define our lives?
"That begins from God's perspective. The Bible says the creator of the universe chose to create creatures in his image and he loved those creatures deeply. He wanted that love to be returned to him, so he gave them the power to choose so they could freely decide to love the one who had created them."
But, noting that each one of us is imperfect in the choices that we make, Hodder said the separation grew between man and God.
"His love was undiminished, and he sent his son Jesus Christ to walk the earth and tell us what it would be like to have a relationship with the living God. The world did not appreciate that message, though, and they killed him, crucified him on a cross. But God's love is still incomparable."
Christ rose from the dead so that anyone who expresses a relationship with God through faith in Jesus would be restored and live forever, Hodder said.
"That's the power of the Bible. Because of Jesus, we need not worry about our appetites, appearances, or accomplishments," he said, "but only the preservation and development of our relationship with Jesus Christ."
It is because of Jesus, Hodder declared, that we are not victims nor addicts, but overcomers.
"We are not simply an accident, but people created for such a time as this," he said. "We are still God's special creation and he loves us deeply. We can experience that today—and every day—because of Jesus."
Hodder prayed over the cadets, offering them to Christ before inviting each one to the mercy seat where they were joined by family and friends. He asked attendees, again, to consider: "How do you define your life? Who am I?"
Following a time of consecration, Training Principal Major Brian Saunders led congregants in song, "I Believe We Shall Win," before Personnel Secretary Lt. Colonel Steve Smith offered the benediction and a final song, "Majesty."
Music throughout the service was provided by the California South Divisional Youth Band with special presentations by Phil and Hannah Da Silva and Hannah Danielson.