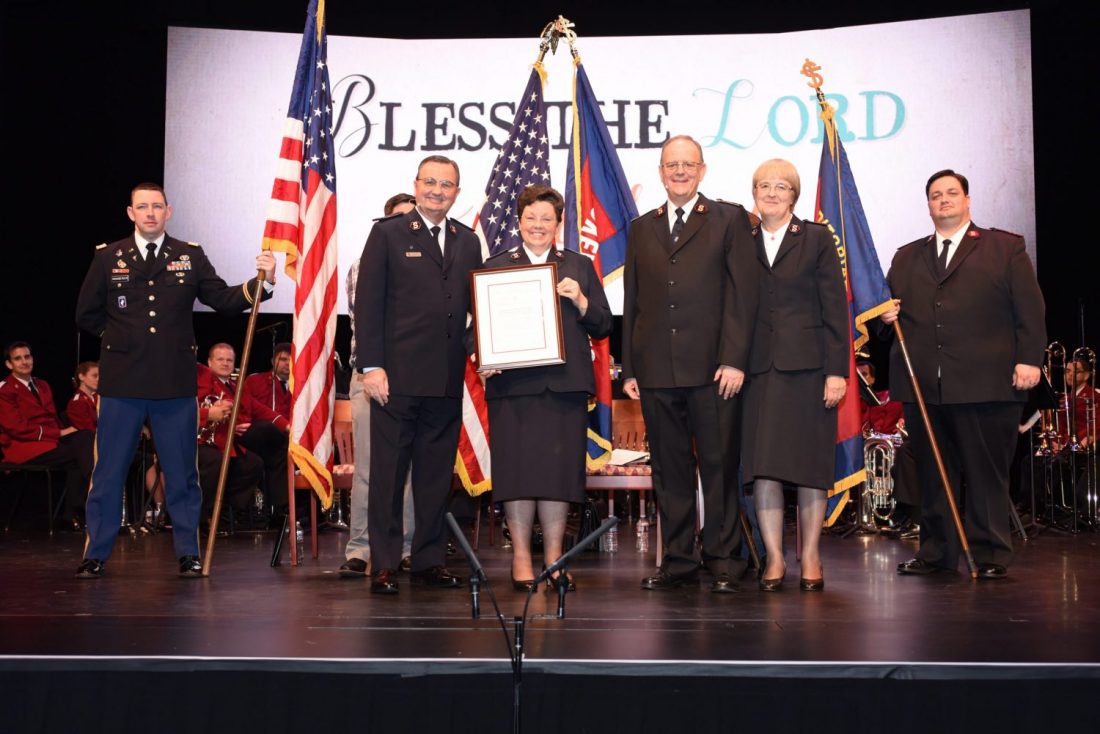 West says farewell to Knaggses
Nearly 1,000 Salvationists of the Western Territory—along with International Leaders General André and Commissioner Silvia Cox—said farewell to Territorial Leaders Commissioners James and Carolyn Knaggs today in a public retirement ceremony at the Cerritos Center for Performing Arts in Southern California.
The Knaggses retire Dec. 31 after more than 40 years of service as Salvation Army officers.
The event featured many of the soldiers, officers, and family members influenced by the Knaggses, starting with a reading of Psalm 103 by family and friends.
"We are grateful to God for leaders who have been willing to stand up for Christ, and who have been willing to challenge us to 'show up to work,' to stand in the gap for others, and to stand victoriously with those who have been saved," said Colonel Colleen Riley, Territorial Secretary for Women's Ministries.
She first reminded the crowd of James Knaggs' words upon arrival in the West in 2010: "As an Army—a movement—the time has come to accentuate and strengthen the role of soldier. We'll continue to campaign hard for more officers, but it's not just about the officers. It's time to bolster the role of 'soldier' and leverage that strength into a soul-saving movement that will really honor God."
Representing the territory's 20,000 soldiers, Bandmaster Bill Flinn, O.F., of the Pasadena Tabernacle Corps, recounted the positive emotions he associates with summer camp as a Salvationist. He first met both of the Knaggses as a young man at summer camps in the Eastern Territory.
"Their love of people and dedicated Christian service has been a hallmark of their officership," he said. "They were not afraid of heading into uncharted waters, where sometimes rough tides came back at them. Their creative energy came forth, with resolve to make things better…With their progressive leadership style, they have moved the pendulum forward for the good of the kingdom."
Riley noted the growth in creative arts, increase in book publication, recording of music and the establishment of SAVN.tv, which has reached 5 million people, under the leadership of Commissioners Knaggs. Attendees experienced some of that arts ministry with musical performances including soloists Derek Lance on trumpet and Captain William Francis on piano with the Western Territory Staff Band. Soloists Barbara Allen and Matt Woods sang with the Western Territory Staff Songsters, which also presented "Bless The Lord, Oh My Soul," based on Psalm 103 and written by Major Len Ballentine for the occasion.
Lt. Colonel Diane O'Brien spoke of the Knaggs' encouragement to the territory's officers, in recruitment, development and support, and noted that each is a leader that one can easily follow.
Captain Jason Knaggs and Jonathan Knaggs, the Commissioners' sons, brought laughter to the room with family photos, stories and even a music video their parents made in the 1980s.
"They have taught us so much, but we think we've taught them more," Jason Knaggs said. "We helped them improve their prayer life, helped them search the Scriptures for hope, helped them meet teachers and principals and other community leaders on our behalf."
"Mom and dad taught us family is always there, prayer works, Jesus is real, the New York Yankees are the best ever, and during Christmas, you better believe in Santa," Jonathan Knaggs said. "They taught us to always ask the 'what if' questions, to always call your mother on Sunday night, to be holy and to show up for work."
André Cox presented the Knaggses with a certificate of honorable retirement and Silvia Cox offered a prayer of blessing over them.
"It's great to know great people. Not only have you been a great influence to your family, but a great influence on The Salvation Army as well," the General said. "I thank God that there are leaders like you in The Salvation Army with vision, daring, and a 'can do' attitude—those who go boldly because Christ calls us to win the world for him."
Cox acknowledged their leadership, but also their friendship as they are people, he said, who "what you see is what you get."
"What a legacy you have left, forged not only in the happy days, but when crosses have come to bear," Cox said. "It is by his grace you have become what you are and are still becoming it. God is still using and will still use you in the days ahead."
Carolyn Knaggs shared the verse she chose to live by—He who calls you is faithful, who also will do it (1 Thess. 5:24 NKJV).
"I remember thinking: I hope this verse is true. How the Lord has proved to me the truth of these words," she said. "The Lord has helped us to walk on paths of righteousness and on paths that have been extremely difficult. He has helped us articulate to others a way to grow and influence his work, and he has heard our collective prayers and people are being saved."
James Knaggs spoke from Ephesians 3.
"There's no denying that God is doing a great work among us," he said. "God doesn't have a plan B for your life. God's plan for you and for me started from the beginning of the world."
He urged attendees to allow Christ to dwell in their hearts through faith. "My prayer is that God would strengthen you with power in your inner being, and that you would grasp how wide, deep and high is his love," he said. "That you would be filled with the measure of all the fullness of God."
If he could do anything different, he said, he would pray more in order to better strengthen his relationship with God.
Wherever you are, he told the crowd, when you see a chair, let it be a reminder to kneel before God; to sit in the chair as a student, willing to learn the way forward; to stand back and teach the students sitting in the chairs by the way you talk and live; and to stand on the chair to let your life shine like a beacon on a hill.
"Why would you want to stay on the ground?" Knaggs asked while standing on a chair on stage. "Wouldn't you want to shine, to be evident to everybody?"
His prayer for the crowd, he said, was that each person be filled with the Holy Spirit, so that their witness is stronger and their light can shine.
Chief Secretary Colonel Doug Riley led an altar call before the congregation joined in singing "O Boundless Salvation" and a benediction.