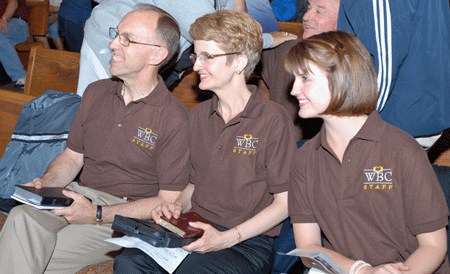 WBC: 'Rooted in Christ'
Western Territory's third Bible conference brings together over 500 Salvationists and friends.
By Lawrence Shiroma, Major and Karen Gleason
And I pray that you, being rooted and established in love, may have power, together with all the Lord's holy people, to grasp how wide and long and high and deep is the love of Christ (Eph. 3:17b-18).
The territory's third Western Bible Conference (WBC), themed "Rooted in Christ," took place Aug. 24-29 at Mount Hermon, near Santa Cruz, Calif., with territorial leaders Commissioners James and Carolyn Knaggs and over 500 delegates from the Western Territory. Attendance at this event exceeded that of the first two conferences.
WBC delegates came "to be spiritually refreshed and renewed, and to be physically rested," said Major Vickie Shiroma, conference coordinator. "WBC is a time to dwell in God's presence, and offers a unique opportunity for spiritual growth and Bible study in beautiful surroundings."
Special guests included Dr. Jonathan Raymond—president of Trinity Western University, British Columbia, Canada—as Bible teacher, and Commissioners Kenneth and Jolene Hodder, U.S. Western Territory officers currently serving in London as international secretary for personnel and associate international secretary for personnel, respectively.
The speakers coordinated their messages, exploring the benefits of staying rooted in Christ as well as the responsibilities of being rooted. In his teaching, Raymond said that dissipation is the greatest threat to experiencing the fullness of God.
"Christ is the vine and we are the branches only if one continues to abide in him," he said. Left to one's own strength, the struggle to abide in Christ may seem impossible, but Raymond reminded delegates, "With man, this is impossible, but not with God; all things are possible with God" (Mark 10:27 NIV).
Raymond noted that one is never static in his or her spiritual walk. "We are either growing in our faith or dissipating," Raymond said, "for continuance in a state of salvation depends upon our continued obedient faith in Christ."
In his message, Knaggs focused on personal holiness, referring to 1 Peter 1:15 and Heb. 12:14, while the exploring fundamental questions: What is God saying to us today? How does one please God?
"Without personal holiness," Knaggs said, " people cannot see the Christ in you. The witness comes after the Holy Spirit fills you." He said our mandate, our calling, is holiness; our manner, our character, is to exemplify the ways of God; and our mission, our challenge, is to live a holy life…and show up for work!
Hodder noted that the pathway of duty involves accepting changes in God's direction of the river of life.
"The mark of a godly man or woman is one whose feet are muddy," Hodder said, explaining that we sometimes must wade through difficulties to get to God's plan for our life.
He recalled Founder William Booth, who said that the greatness of a man's power is the measure of his surrender. "How much have you surrendered to God," Hodder asked. "Christ is asking us every day to surrender what is most important and give it back to him every day, every moment."
This WBC offered sessions and workshops in Spanish, and for the first time brought TradeWest, the Western Territory's retail store, onsite. "Sales have been exceptional," said Piers Fairclough, territorial director of enterprises. "It's good to know we are helping to meet the needs of Salvationists in the field."
Attendees also included families connected to the Army's Adult Rehabilitation Centers (ARC).
"It's good for ARC families to attend WBC…to identify with The Salvation Army as their church home," said Major Henry Graciani, San Diego ARC administrator. "WBC is for beneficiaries, officers, families, anyone."
During the conference, a special offering raised $4,025 to support the work of The Salvation Army in Kenya and Warsaw, Poland. Through a matching grant, each location received $4,025.
In Kenya, the offering will support the purchase of new Braille machines for the School for the Blind, which annually serves over 300 visually impaired children. In Poland, the money will help establish and maintain youth work by Majors Patrick and Kitty Granat, USA Western Territory officers, in Warsaw.
The Granats took command in Warsaw in 2010, five years after the Army began its ministry there.
"Every day is different and we see how God is working in our lives and in those around us," said Kitty Granat. "We have said, 'Lord send us whenever you want us to go' and he has blessed our lives."
The next Western Bible Conference, themed "In His Presence," is scheduled for July 2-7, 2013, at Pine Summit Camp in Big Bear Lake, Calif.